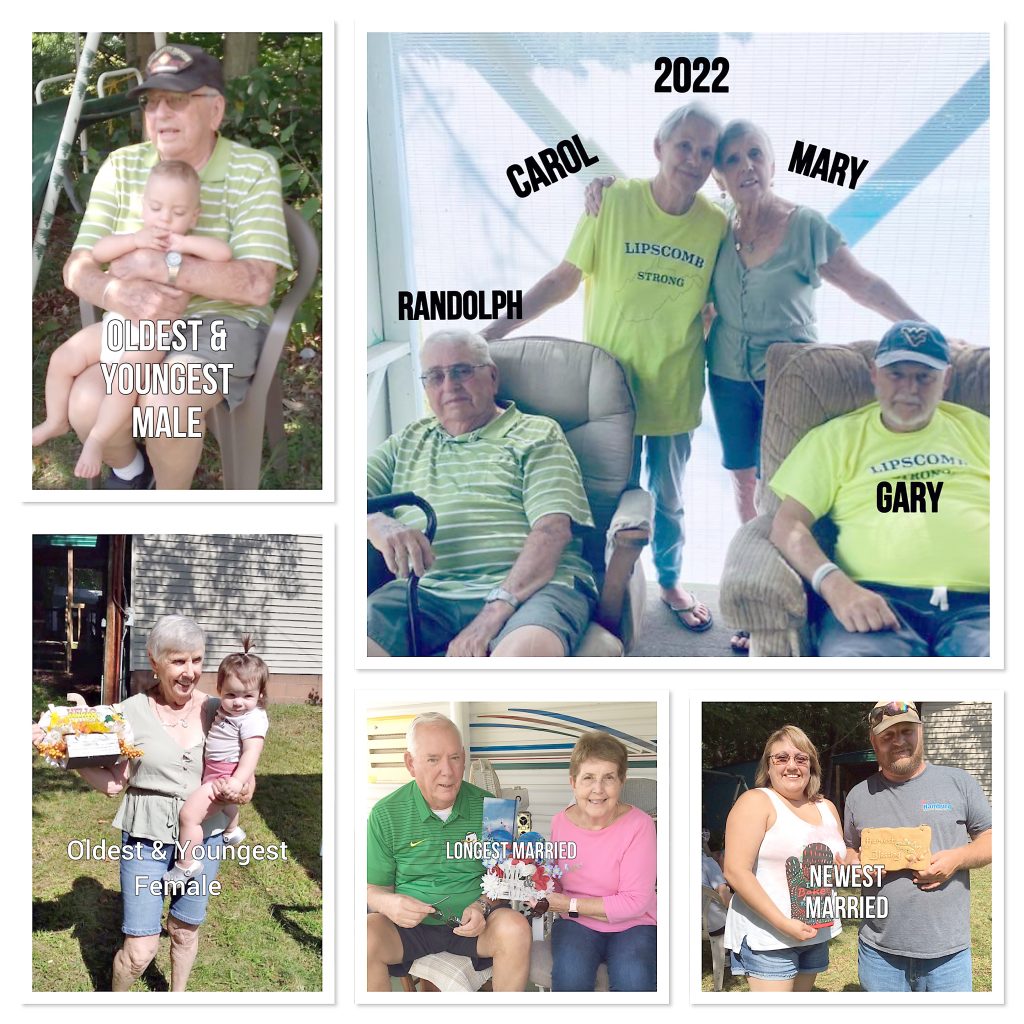 Friends and family gathered for the annual Ruth and Arthur Lipscomb reunion, which was held August 20, 2022, at Ferrell family campground in Leadmine, WVa with 70 people attending which was down from previous years but it was great to see all that were able to make it. The day started with a circle of hands, then the count off and ended with the blessing.  
The oldest man in attendance was Randolph Lipscomb (89), son of the Ruth and Arthur.  The youngest boy was Thaddeus Barnhouse (11 months).  Thaddeus is the son of Linda and Travis Barnhouse and grandson of Skipper and MaryLou Niemenski.
The oldest female went to, Mary Lipscomb Litman (84), daughter of Ruth and Arthur for the second year in a row.  The youngest girl went to Alaina Muccioli (16 months), daughter of Caity and Steven Muccioli , granddaughter of Marc and Linda Lipscomb, great granddaughter of the late Allen Lipscomb and Ann Lipscomb and great-great granddaughter of Ruth and Arthur.   
Longest Married couple went to Joe and Linda Roy with 62 years of Marriage.  Joe is the son of the Late Poke (Lipscomb) and Hank Roy and grandson of Ruth and Arthur).  Newest married couple went to Patty (Roy) and Rob Parker, married 1 year and 11 months.   Patty is the daughter of the late Richard Roy, granddaughter of the late Poke (Lipscomb) Roy and great granddaughter of Ruth and Arthur.  
Lois Hartman won the 50/50 prize for the second year in a row winning $67.00 some of which was donated back.  Brenda Poe won the candy jar guessing game provided by Shirley Lipscomb and Lois Hartman. The remainder of the day consisted of kids playing in the creek behind the camp, some walked to the family he Pine grove family cemetery in honor of those who have passed.  There was a thunderstorm that passed threw in the late afternoon, but the skies finally cleared enough to gather around the Campfire to roast hot dogs and make smores.  Unfortunately, it was too wet for the annual late night trip to the family cemetery so hopefully next year will be better. 
Those who attended:
Karol and John Underwood, Tink Knotts, Rusty and Nancy Collett ,
Cindy McCann, Mary Lipscomb Litman, 
Ike, Debbie and Melissa Lipscomb, Hylton Lipscomb-Zuspan
Randolph Lipscomb, Lois Hartman, Brenda Poe, Aaron Fagons,
Shirley Lipscomb, Michael Lipscomb, Staci Smith, Jonathon Anderson
Gary and Lynn Lipscomb, Jennie Sue Smith, Carol Godfrey
Tehya Smith-Maize, Beatrice Rhodes,  Punkin (Lorri) Lipscomb 
Patty and Rob Parker, Tina Wood, Tessa Drenning, Melissa Johnston, 
Kathy and Rick Helmick, MaryLou, Skipper, Grayson, Christian and PeeWee Niemenski, Aubree McClung, Marcella Poe,  Mark, Cheryl, Bethany and Jonah Lipscomb, Tim and Latisha Poe, Jared Roy,
Tom, Lori and Nathaniel Lipscomb, Gavin Bohlman , Joe and Linda Roy,
Shannon, John Wayne, Gabriel and Nathaniel McDonald
Carrie, Joanna, Isaiah and Alexander Leary; Travis, Linda and Thaddeus Barnhouse, Linda and Marc Lipscomb, Caity and Alaina Muccioli ,
Kimmy and Pat Markley, Elizabeth Anderson.  Hopefully we did not Miss anyone. 
Sadly, a few weeks after the Reunion Carol (Lipscomb) Godfrey passed away unexpectedly on  September 7th.  Carol was the youngest child of Ruth and Arthur. She will be missed so much by so many.  A special thanks to all who took and posted pictures this year from the reunion and especially of Carol.   Memories will help us all heal as we mourn her passing but also celebrate the time we had with Carol. 
Hope to see you all and more next year so mark your calendars for the 3rd Saturday in August 2023.