Thomas, WV – – At Cortland Acres, Certified Nursing Assistants, or CNA as they are more commonly known, are very special people and are the front line of care for the residents. They act as personal assistants, best friends and confidants as they provide the necessary care for daily living. Typically, CNAs have more contact with residents than other members of the staff and often develop close relationships with residents.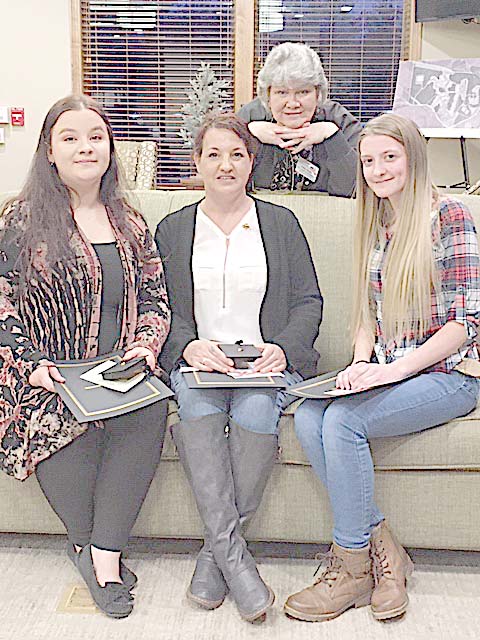 Cortland welcomes three new CNAs to their ranks after completing the in-house six-week training course. Jaime Johnson, Kaitlyn Keplinger and Marissa Metz officially graduated on Monday, March 2nd in front of family and friends. As with past graduations, each graduate received a "Lady of the Lamp" pin in addition to an embossed certificate of completion and gift.
"I always feel so honored to instruct our Nurse Aide Program," states Director of Staff Development Kathy Supak with pride. "For some of the students, this is their first step into health care. Others are renewing skills and learning new techniques. But we come together as strangers. In just a short time, the bonds begin to form and the students become friends.  I am privy to seeing their development as their skills and confidence improve on a daily basis.  I can honestly say with confidence that our students are outstanding."
The graduation ceremony and pinning of the Florence Nightingale pin has become a tradition in welcoming graduates to the Cortland family. New for 2020 is a mix and mingle event added prior to graduation to help introduce the graduates to their fellow staff. More than just a celebration of the end of training; it's a celebration of the accomplishments of each student and the vision of Cortland Acres to provide members of the community with viable careers in healthcare.
The U.S. Bureau of Labor Statistics projects that employment of certified nursing assistants will grow 9 percent by 2028, faster than the average for all occupations. So, what are you waiting for? Healthcare workers are in high demand.
Cortland Acres provides CNA training on a rolling admission basis. The next class is starting mid-March and then again in May, 2020. The course is totally free and available to anyone interested a career in healthcare. Anyone interested in enrolling in this free course, please contact Lois Nelson or Kathy Supak at Cortland Acres at (304) 463-4181.
Cortland Acres is a non-profit corporation offering state-of-the-art nursing care and skilled rehabilitation on a spacious 35-acre campus is the heart of scenic Tucker County, West Virginia. The Cortland campus includes a 94-bed long-term care facility, inpatient and outpatient rehabilitation and therapy options, as well as a variety of independent living opportunities. For more information call
304-463-4181
or visit www.cortlandacres.org.