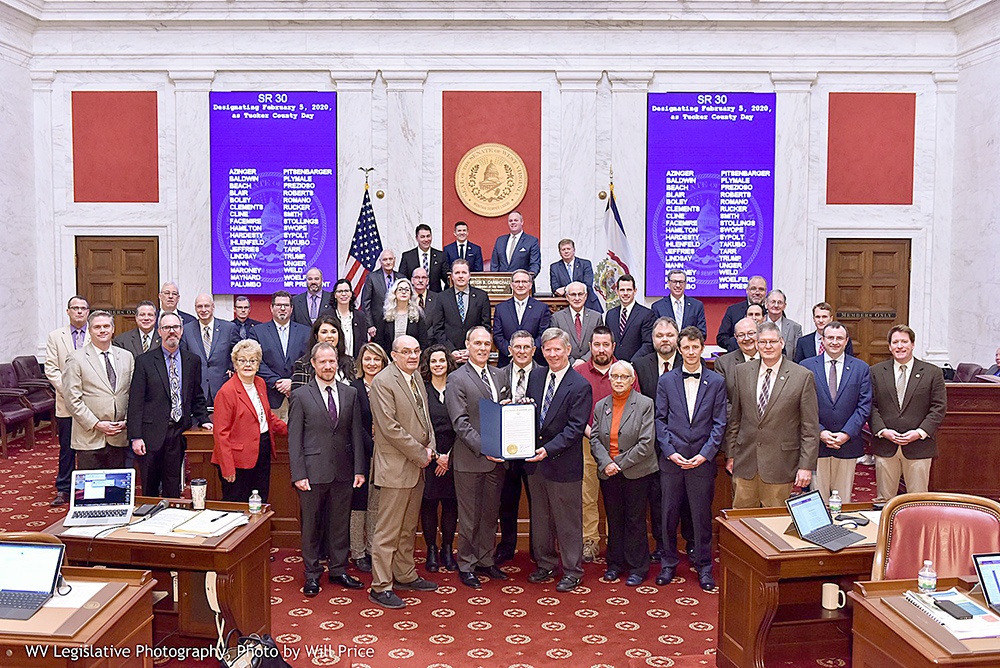 The Seventh Annual Tucker County Day was held at the Capitol in Charleston on February 5, 2020 with dozens of county officials and business's attending. The Tucker County Chamber of Commerce and the Tucker County Development Authority co-sponsor the event that gives organization and business leader's time to meet with their elected officials on important issues that affect all county residents.
Steven Leyh, Executive Director of the TC Development Authority planned and set the agenda with various state agencies including Departments of Highways, Commerce, Tourism, DNR and WV State Parks. This event is beneficial to many of Tucker County's agencies that rely on resources and funding to many programs and projects ongoing in our county. Senate President Mitch Carmichael read the resolution recognizing and honoring Tucker Counties' many achievements that Senator Randy Smith described to the Senate Chamber.
The Canaan Valley National Wildlife Refuge was featured at this year's Tucker County Day and displayed the progress on the new seven million dollar multi use visitor's center. The new facility will replace the former Oriskany Restaurant established in 1975 to serve the visitors to the area. The facility will provide a state of the art interactive experience for visitors, a community meeting space and a book store for the Friends group. The new building will also provide office space for the US Fish and Wildlife Service as well as the West Virginia Ecological Field Office.
The day ended with a reception at Culture Center where Senator's Smith and David Sypolt and Delegates Buck Jennings and Chris Phillips met with constituents attending to discuss issues face to face. Jessica Waldo, Executive Director of the Chamber of Commerce and Steve Drumheller, General Manager of Canaan Valley Resort made arrangements for the reception that featured the Smoke House Restaurant at Blackwater Falls St. Park. Mt State Brewing and Stumptown Ales provided beverages for the event.