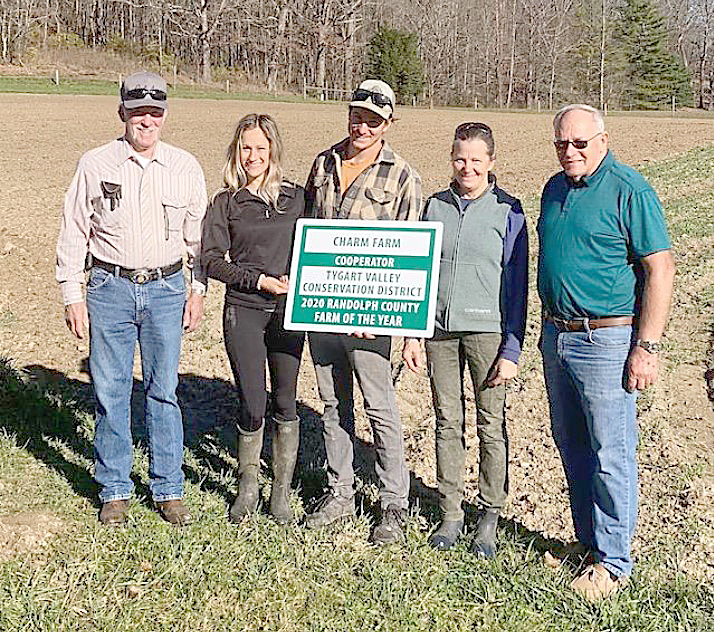 By Doug Bush
District Supervisor
The Tygart Valley Conservation District recently announced their Conservation Farmers of the year. These farmers were recognized for their efforts to build a healthier more prosperous and productive farm.
Our District and County Farm of the Year was awarded to the Charm Farm of Beverly in Randolph County. Mike, Leah, Pam and Herb Kwasniewski work together as a team on their 450 acres on the Georgetown Road. The farm has high tunnels, livestock, poultry, vegetable gardens and orchards of apple and cherry trees. This variety is needed because the Charm Farm offers a popular concept in which local families share and purchase the farm's bountiful harvest of food products. This CSA, community supported agriculture, allows the farmer to offer food directly to the consumer's plate. In return the consumer or family in this case receives the benefit of safe, high quality, freshly grown food directly from the farm. The Charm Farm can supply up to 50 families with beef, chicken, pork, eggs, vegetables and fruits. Always looking for more opportunity to serve their community, they recently opened up an on the farm shoppe/market to sell meats and produce to the general public. It takes all working together to keep up with all these farming demands. The day that I visited their farm, Mike was moving cattle, Leah was working the shoppe and Pam and grandchildren were gathering eggs. What a hardworking, well deserving family. Congratulations to the Kwasniewskis.
Paul and Pattie Wilmoth of WW Farm represent Barbour County's 2020 as its Conservation Farm of the Year. The Wilmoths just recently moved back home to Barbour County after spending much of their successful careers in the Eastern Panhandle. They jumped into the challenge of developing and improving their piece of Barbour County. They have ended up with fields of fertile, rolling green pastures and breath-taking mountain vistas. Their farm, between Audra Park and Belington, had its challenges. The Wilmoths did not shy away from these challenges. Developing a sufficient amount of water for farm and home, improving grazing, fencing and cattle handling were improved and dealt with. Their healthy and thriving cattle herd reflects their devotion and hard work. Welcome home Paul and Pattie Wilmoth.
Representing Upshur County for 2020 Conservation County Farm of the Year are James and Bertha Tomey whose farm is near Hall, seven miles outside of Buckhannon. The Tomeys have always been involved in private businesses but truly love their farm and spending time on it with their family. They run a small cow/calf operation but have always looked for innovative ideas to improve their farm's success. This year they were able to build a large, highly functional high tunnel. This high tunnel will allow them to extend the growing season and provide them and their family with highly nutritious vegetables and fruits. Their hard work is evident when you see their beautiful, historic family farm near Hall.
Representing Taylor County this year as its Farmer of the Year 2020 is Jim Kinsey. Jim has been a successful life time farmer working 200 cows on 1000 acres outside of Flemington. He has been involved with multiple conservation practices such as spring developments, installing water troughs, constructing feed pads, rotational grazing, and liming. His son, Jamie, has taken over a large part of running this large-scale farm operation. When I started my farm thirty years ago and I was trying to find not only quality in stock but quality in person to deal with. Jim Kinsey's name came highly recommended. I wasn't disappointed. Congratulation Jim Kinsey for this well-deserved award.