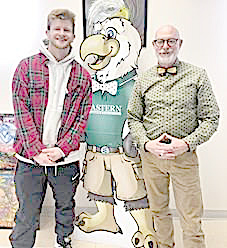 Eastern West Virginia Community and Technical College welcomes artist Kelson Thorne and his exhibit to campus. The exhibit will be on display from Feb. 15 until Feb. 29 in the Eagle's Nest Gallery. Admission is free.
The public is invited to a reception to meet the artist Feb. 15 from 3 until 5 p.m.
Thorne is a painter based out of Morgantown, West Virginia who recently earned his BFA from West Virginia University. Over the last year he has painted everything from murals in private homes and local businesses, to clothes and accessories.
Growing up in Petersburg, West Virginia, Thorne was raised by his mother and late grandfather, who pastored the Brushy Run Church of God for over fifty years. His art reflects the contradictions between his religious upbringing and life experiences in his early 20's. In his work, viewers find apparent influences from pop culture infused with a neo-expressionist style. The emotion is conveyed from his expressive line quality and brush work. The compositions may look chaotic and overwhelming at times serving as an analogy for the multiple decisions that shaped him as a person and artist.
For more information about Eastern West Virginia Community and Technical College, visit easternwv.edu.