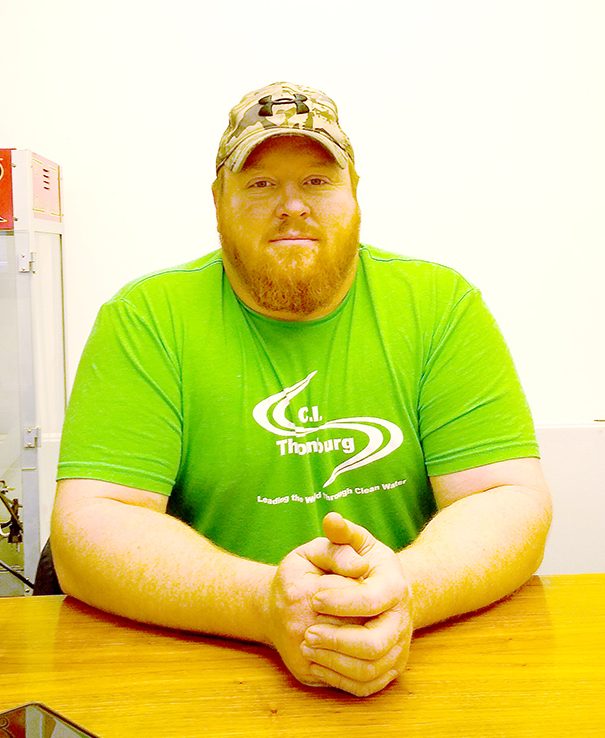 By Heather Clower
The Parsons Advocate
            We all go through times when we're struggling to make ends meet no matter how hard we try.  It can make us bitter, frustrated, and blind to opportunities we may have presented in front of us to continue to do good for others even if it doesn't result in a reward at the end.  Fortunately, that is not how John "Red" Lipscomb lives life.  "Things work in mysterious ways," claims Lipscomb as he retold his story of performing life saving measures with only $1.10 in his checking
Lipscomb had an appointment in Morgantown so he decided to treat his wife Jennifer to a nice lunch.  Unfortunately, the day prior, an unexpected dental bill arose that chiseled away to the funds he had set back to spend that day, which lead to next to nothing in their checking account.  Lipscomb said in order to have enough money to fulfill their plans in Morgantown; he borrowed money from his three kids' piggy banks.
As they were on their way home from a day in Morgantown, Lipscomb recalled "We were going to go back Route 7 but something told me to go this way (through Gladesville.)  As they were making their way, they came upon a vehicle pulled over with their four way flashers on.  As they slowly went around, he noticed a man lying on the ground with another gentleman hovered over him performing CPR.  Wearing his dress clothes and no jacket on this 18 degree day, Lipscomb jumped out offering his assistance.  "I just bailed I didn't think," he said.
"He wasn't doing very good," he recalled as he approached the man on the side of the road.  The appointment earlier that day was for a severely damaged shoulder that Lipscomb will need repaired that is causing considerable pain.  However, as he began compressions, he noted, "I never felt any pain."  As he continued CPR, another good s amaritan was on the phone with 911 and a couple ladies had stopped by and offered spare jackets and blankets to cover the man as they continued compressions.  Lipscomb said every so often, the man would begin to fill up with fluid and he would have to turn him to clear his airway before returning to chest compressions.
After paramedics arrived on scene and loaded up the gentleman, Lipscomb returned to his vehicle and headed home.  He recalled a quiet ride the remainder of their trip with little to no conversation or radio playing.  "I just prayed for that man all evening," he stated.  Unfortunately, Lipscomb discovered the victim passed away later that night at Ruby Memorial Hospital.  He was on his way to Morgantown Cancer Center as a stage four cancer patient when he went into cardiac arrest. As well as being sore the next day from performing CPR for so long, Lipscomb recalled not being able to sleep for three nights. "I'm a firm believer that God puts you in the right place at the right time," he added as he expressed his sincere gratefulness that the City of Parsons, his employer, requires training and certification in CPR and First Aid.
When Lipscomb and his wife returned home, he received a notice in that day's mail informing him of a second attempt to deliver a piece of certified mail.  Being tax season he thought the mail was related to taxes or jury duty, therefore he wasn't in a hurry to pick up the mail at the post office.  The next day he decided to make a trip to sign for this piece of mail.
After being handed the envelope, he noticed it was from the W.Va. Lottery Commission.  "I opened it up and immediately started shaking," Lipscomb explained.  He called his wife to tell her he just won $10,000 from a game he had been playing at Jim's All Star called "Truck of All Seasons".  He said if you scratched off a key that revealed a code, you had to go online to set up a profile and enter the code to be considered for a prize.  Just a day after borrowing money from his kids to go to a doctor's appointment that ended in an attempt to save a stranger's life, Lipscomb had won a significant amount of cash in a time needed.
Lipscomb again borrowed a few bucks from his kids to make the trip to Charleston to pick up his winnings.  This money helped pay ahead on some bills and set some aside in savings.  Fortunately for his three children, Lipscomb not only repaid his debt to them, but he added a little interest as well.  "It was a blessing in disguise," proclaimed Lipscomb as he always tries to do good deeds and pay it forward and will continue to do so no matter what the amount is in his bank account.  "God works in mysterious ways."