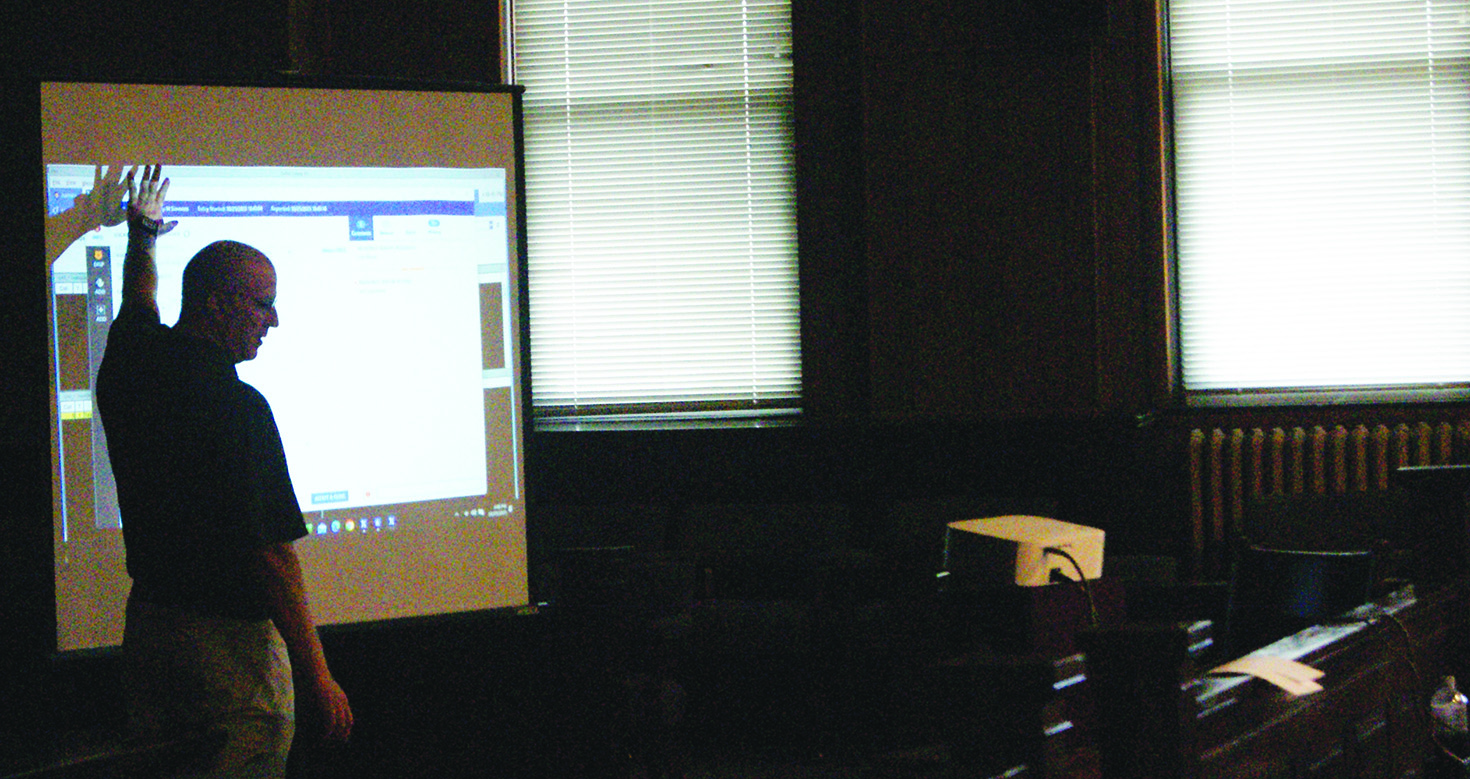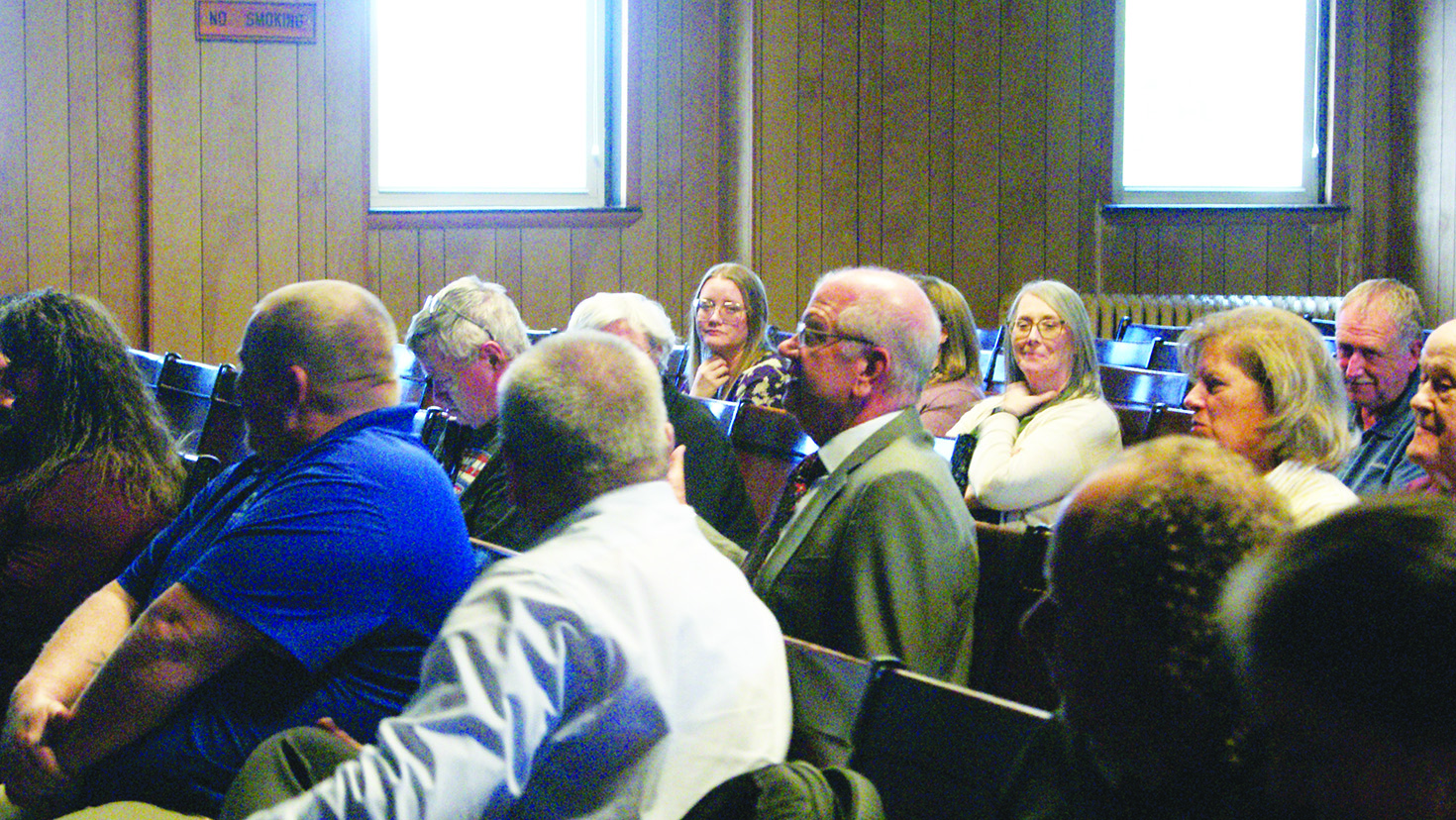 By: Lydia Crawley
The Parsons Advocate
911 Center Director Michael Simmons provided members of the public with a demonstration of some of the features of the new equipment the County Commission has funded for the center.  The demonstration was held at the Old Courtroom of the Tucker County Courthouse immediately following the recent meeting of the Tucker County Commission.  Several members of the public were in attendance for the event.
Simmons outlined the County's investment in the 911 Center over the past year.  "Over the past year, the County Commission has invested a good sum of money to the Com Center because a lot of our equipment was either not what we needed or was outdated and that stuff just plays such a large role in the efficiency of getting responders where they need to go and us getting the best information, we can to them," Simmons said.
Simmons said that the Computer Aided Dispatching system at the Center was outdated and needed upgrading.  "One of the main issues that we come across was we had an older CAD system," Simmons said, "that had the ability to see street view pictures of everyone's house in Tucker County.  As technology does, it changes."
Simmons said that the initial upgrade to the system lost the picture capability in the system.  "So, when it comes time to update to another CAD system, there's pictures that go along with it," Simmons said.  "So when these Commissioners got back into the office, they noticed because they were there before, they were asking, 'Where are the pictures at?'  Well, they didn't come with this CAD system."
According to Simmons, the old vendor refused to include picture capability with the system.  "So, we started talking with that vendor and it was something that they really weren't willing to do and it didn't really matter about the price," Simmons said.  "We offered them money, they weren't able to do it, they weren't willing to do it.  It was a pretty shut case."
Due to the vital role the photo capability played in the system, the Commission decided to change vendors, Simmons said.  "But it played such a vital role in what we do up there that the Commission opted to change vendors," Simmons said.  "We went with Motorola because the product that they offer puts everyone on the team, participating on the same call."
Simmons said that earlier systems kept the call strictly within the Center.  "Before the information would come into the Com Center and that's where it stayed," Simmons said.  "We could give it verbally, but that's as far as it went."
According to Simmons, outside agencies needed to radio or call in any notations for the call before, but with the new system, each has equal access.  "If an officer was on a call and he needed to add some comments to the report, he had to call us or radio us and we would have to enter it in for him," Simmons said.  "Now everybody has this CAD system with all the agencies."  "
Law Enforcement was used as an example that the agency can enter notations and information on the calls in real time or even initiate a call in the system.  "So, like with Law Enforcement, he doesn't even have to be notified of a call," Simmons said.  "He's driving down the road, sees a crime taking place, he can create his own call, he can assign himself to it, he can put his own notes in there."
Simmons said that when another agency initiates a call in the system, his Center has instant access to it.  "And when he does that, it shows up in our system as if we created it," Simmons said.  
Simmons said that other agencies also have the capability to see and respond to a call immediately even if the 911 Center has not been able to assign the case yet.  "And it works the other way, as well," Simmons said.  "We create a call, but haven't assigned anybody. Somebody in the public needs something and we create the incident, before we assign anybody, if it's a law nature, it will show up for Law Enforcement and he can take the call.  He can assign himself to it, he can enter notes."  
According to Simmons, the new system also benefits the EMS efforts and can allow the responders to update cases while they are actively engaged on scene.  "Same with EMS," Simmons said.  "There's been some cases where they've had walk-ins.  If we dispatch them to a call and they say, 'We are leaving the station and are in route.'  If it's a hectic scene and they don't have time due to the nature to call in and let us know they're there, what they're going to do, they have the ability to do that.  They can change their status to on scene, they can make notes of what they're doing, any pertinent information.  The same way with Fire Department."
Tucker County Commission President Mike Rosenau said that all law enforcement agencies have laptops in their vehicles to communicate with the 911 Center.  "So, Michael, what you're saying is each law enforcement officer now has a laptop in their vehicle that will communicate and talk to the 911 Center and in that CAD it will show up," Rosenau said.
Simmons said each vehicle has a VPN connection that is connected directly to the 911 Center servers.  "Yes, sir," Simmons said.  "We put in a VPN connection in each vehicle that connects directly to our server at the 911 Center.  No matter where they're at, as long as they have wifi, which they all have wifi in their vehicles now, they can log in just like they are a dispatcher at the Com Center and participate in everything."
Simmons also stated that law enforcement can also run routine checks from their own vehicles in the case of emergencies where the Center may not be readily available to run a license check.  "And Law Enforcement also has the ability now that they can run license plates and driver's license at traffic stops," Simmons said.  "In the event of, say there's a   heart attack, a cardiac arrest call comes in and we're giving CPR instructions over the phone until EMS can arrive.  If they pull somebody over, they can hear that we are occupied.  They can do it themselves.  We prefer them not to, it's still our job, but they do have that ability in case of emergency."
Simmons said that Motorola custom built their map based on Assessor data and flyover.  "This was a completely new, custom-made map by Motorola," Simmons said.  "This was based on our 2018 flyover that the assessor's office did do."
Besides data on residences and towns, the new map also has all the trails in the area plotted as well, according to Simmons. "It was an aerial view of the town with all of the topography and stuff,"  Simmons said.  "Address points, center lines, they have the trails mapped, which comes in handy up in the Dolly Sods area.  We have all those trails mapped."
Simmons said the trails will include GPS mile markers on the map come the first of the year.  "And at the first of the year, they are going to be GPS mile markers," Simmons said.  "So, if a person calls in… we will be able to see that they are three tenths of a mile from this entrance point."
Simmons said when he started at the Center, horseback riders were utilized to search the trails.  "I remember back when I first started, they would have people up there on horseback looking for lost hikers, missing people," Simmons said.
Simmons said the system includes pictures of properties that are updated on a regular basis.  "In those hyperlinks we have all the assessors street views of pictures…Those are updated every year when they take new pictures," Simmons said.  "There are new addresses, those are updated quarterly."
According to Simmons, the new system also has the capability to add warning labels for addresses that will show up for all agencies that can include information on safety, medical or special instructions such as hidden keys or door codes for entry.  The system also has the capability to operate other 911 Centers with the same software in case of emergency or disaster in another county, according to Simmons.  
Simmons also said the Center has a fully automated switch over system for communications.  In case of an outage on the main connection, the system will automatically switch over to the backup system with no interruption in service.  "The dispatchers don't even know it's happened," Simmons said.
At the demonstration, Commissioner Rosenau and Simmons discussed hosting a future event at the basement of the 911 Center to fully showcase the system due to a lag that was occurring at the Courthouse due to Simmon's computer operating on a hotspot internet connection and a backdoor into the system.  No date has been set for a future demonstration.