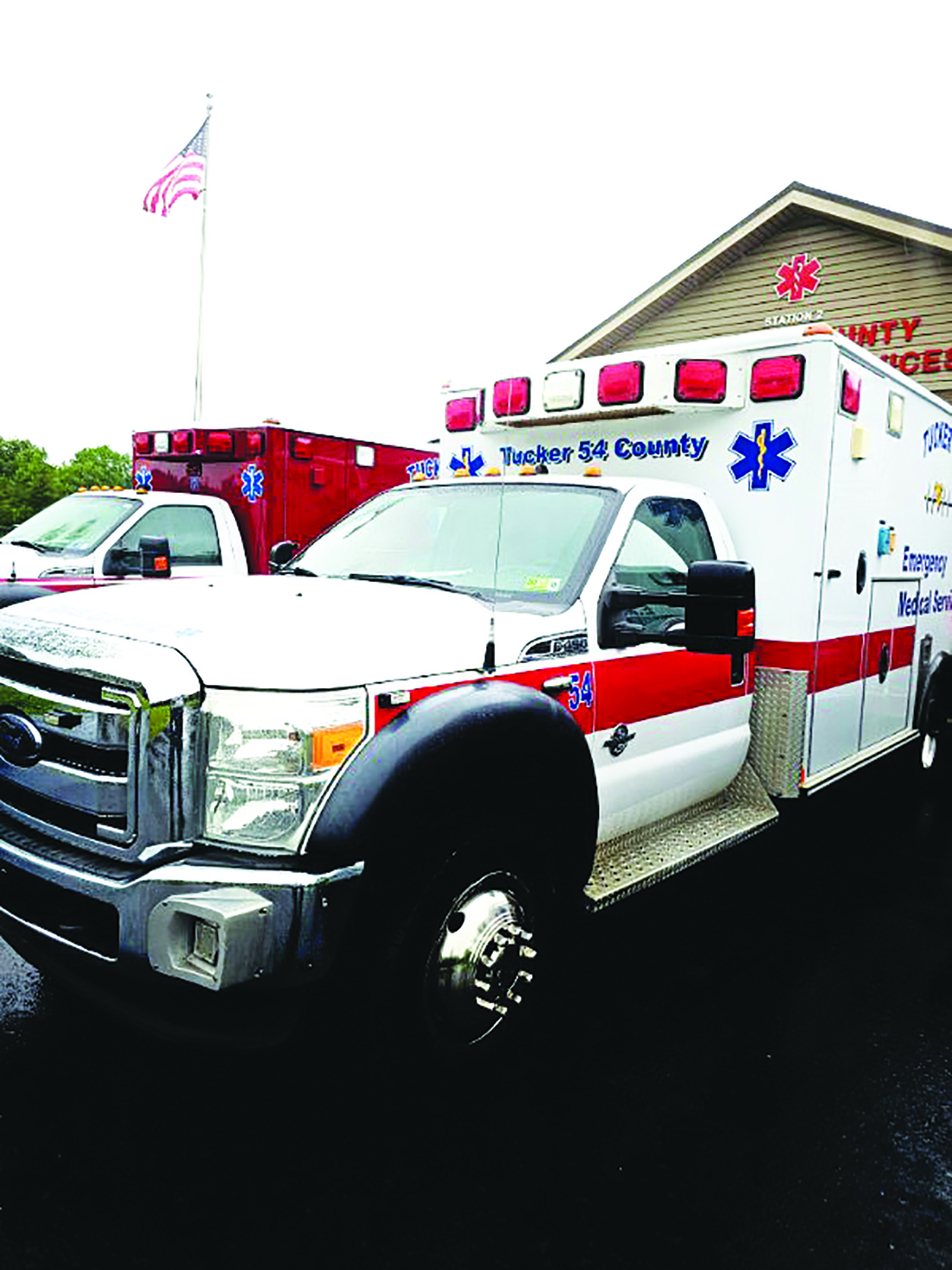 By: Lydia Crawley
The Parsons Advocate
Dylan Oliveto, Regional Account Manager for Atlantic Emergency Solutions updated the Tucker County Ambulance Authority on the status of the contract signed by the authority to purchase a new ambulance.  The update was part of the agenda of the authority.  TCAA President Dennis Filler introduced Oliveto to the board.
According to Filler, the new ambulance is costing the authority approximately $210,000.  "I have invited Dylan Oliveto, who is Regional Account Manager for Atlantic Emergency Solutions and he is here to address any questions the board may have regarding the contract which we did sign to purchase a new ambulance, to the tune of $210,000," Filler said.  
Filler said delivery of the ambulance would be in approximately 180 days.  "We expect to have that ambulance in 180ish days or so," Filler said.   According to Filler and Oliveto, the new ambulance is expected in April or May.
According to Oliveto, the wait times and pricing of trucks are "just out of control" with most trucks seeing a three year wait for production and delivery.   "Truck situation is just out of control with both prices and times," Oliveto said.  "We originally quoted a truck that was much more expensive than this.  Due to buying power of Atlantic, we have acquired a smaller company and this truck was one of their trucks that was already in line to be built.  So, the chassis for this truck is already on the ground and it is a very similar match to the current unit that you guys are already operating out of now, Five-three.  And I thought this might fit your bill…We were able to work some numbers and get us down to this price," Oliveto said.  "And get us into a unit that was going to be available without a three-year waiting time."
Oliveto said that most new ambulances are looking at 2026 and 2027 models, but a UAW strike could set production back a further six months.  "Right now, buying brand new units, I'm quoting 2026, 2027 models," Oliveto said.  "So, we were very, very fortunate to get this opportunity.  If the strike for the UAW goes in next week, we are going to be set back another six months automatically.  They've already said that because next week they are going to go after the truck market if this strike doesn't resolve."
Oliveto said that many of his company's trucks are already in various stages of production and his company hopes to wait out the strike. "But the good thing about us at Atlantic is, we have 716 on order," Oliveto said.  "Which means, and out of that about 400 of our chassis are on the ground at our various dealers which means we will be able to keep building trucks and hopefully wait it out."
Oliveto also said that his company has plans in place in case a similar situation every occurs again.  "So we are trying to get ahead of the game so that f this situation comes up again, we can produce a truck," Oliveto said.  "We already have vendors that are 12 to 18 months build time, which is great for us."  
"This truck is going to be a Wheel Coach," Oliveto said.  "So, you guys have a couple of Wheel Coaches already."
Oliveto explained what a Wheel Coach model was to the board, as well as the benefits the design gives the unit.  "The one with the kind of funky looking lights out front, which houses our air conditioning unit," Oliveto said.   "This truck will have that.  For our environment, it is a great tool to have.  It keeps it the road grime and the salt out of your air conditioning system, cuts down on a lot of corrosion."  
Oliveto said there were few other additions to the truck that were designed for the unique environment of Tucker County, especially in reference to winter conditions.  "A few things that we added to the truck, we did the severe weather package, which insulates the truck better.  We did undercoating packages, which will be more rust protection for our harsh environment here in Tucker County because we expect this truck to be out in the snow and the ice and salt.  So, we want to give the best protection possible."
"Included in this is the truck, the graphics," Oliveto said.  "It will come with pre-wired to put the Stryker load system in.   Load system and cot are separate."
Oliveto explained to the board the process that will happen once the main production of the unit is complete.  "Two things that will happen is, when the truck is completed on the line," Oliveto said, "we will reconvene with you all and get signed off that you are still willing to accept the truck and then I'll send it to get the graphics on it.  So, any time before that, if something catastrophic happens, we can get out of the deal and the truck just becomes available stock for us and that's all written out in both your P.O. and in our contract.  And then, final inspection of the truck, to whoever you want to send, will go with me to Florida to look at the truck, take a factory tour, make sure everything is right on the truck, if there are any problems, they will fix it and we'll ship it to the local dealership."  
According to Oliveto, the truck should be on the line in February or March.  Oliveto also said that the board would receive weekly progress reports on the build and clarified when final decisions would be needed based on the progress of the build.  "I'm going to say February/March-ish before I can see that truck on the line," Oliveto said.  "So, what will end up happening as well is, when that truck is built, we get weekly progress reports and they will come to you.  So, you will watch it come from a sheet of metal to a fully painted box and then at that point, when we're in the final stages of building the box, is when it will be decision time."
Oliveto said the reports would be in writing for the board and he assured the members that he would be available throughout the entire build.  "They will do it in writing so guys are comfortable with that," Oliveto said.  "And I'll be with you every step of the way.  So, I'm just a few minutes down the road and if you have any questions or any other meetings you want me to come to, I would be more than happy to hop in the car and come on up."
Oliveto clarified that the weekly reports would begin as soon as the build commences.  "That will start as soon as we start building it," Oliveto said.  "So, the chassis itself is sitting in Florida right now.  We are slated to cut metal on this truck, I believe, in January.  So, starting in January – February time-frame they send me weekly report and then we have a guy down there that works just for Atlantic and all he does is go around and make sure our trucks are getting built right.  So, he takes 10, 12 pictures a week and he sends them on Friday.  Oliveto said that reports should begin around January unless the build gets ahead of schedule, in which case it could be sooner.
Filler said the board would need to make final approval on the new unit at the February meeting.  "Bottom line is we will have to have all our decisions and options made relative to financing and everything else whether that be ERCC money or other options," Filler said.  "We'll have to have, I'm assuming, probably in our February meeting, a go/no-go decision."
EMS Director Amanda Simmons said that her department was already in contact with a company for financing.  "We have contacted  and talked to Freedom Financial," Simmons said.  "We are looking at for $210,000 for a five year, I believe, we are looking somewhere around $46,000, I think is what it was for a year payment."  Simmons also said that the payment would be made as a lump sum payment once a year, as opposed to the typical monthly payments of other loans.  "One payment per year of about roughly 46 to 50,000 is what we are looking at per year for a five-year term."
According to Simmons, the financing quote included a special rate for emergency services provided by the lender.  "Their percentage was at, I believe, 5.9% fixed," Simmons said.  "Which they do that especially for  nonprofit emergency services."
There were questions by the board about the possibility of price increases during production being passed along to them.  Olivero addressed these sections of the contract by saying that with the particular unit the board has ordered, there would be no increases.  "So, all of the price increases we have had, have been chassis specific," Olivero said.  "This chassis and unit have already been ordered, it is already scheduled with the build spot.  So, the only times we would see a chassis increase, if something would happen and we would have to move into a 24.  That won't be the case.  We already have a VIN number for this vehicle.    I expect zero and the only price increase that would occur on this vehicle is if there were customer specific changes." 
According to Filler, there was no need for board action on the matter as it was strictly for information and to make sure the board was aware and comfortable with the purchase decisions that were made over email by the group previously to sign the contract and reserve the chassis.  "We don't need to find out how we are going to finance this thing at this meeting," Filler said.  "The real thing is I wanted to make sure that everyone on the board is comfortable with the decision that we made by email to go ahead and continue in purchasing this."
The next meeting of the Tucker County Ambulance Authority will be held on Tuesday, October 17 at 5 p.m. at the Five Rivers Public Library Meeting Room at 301 Walnut St. in Parsons.