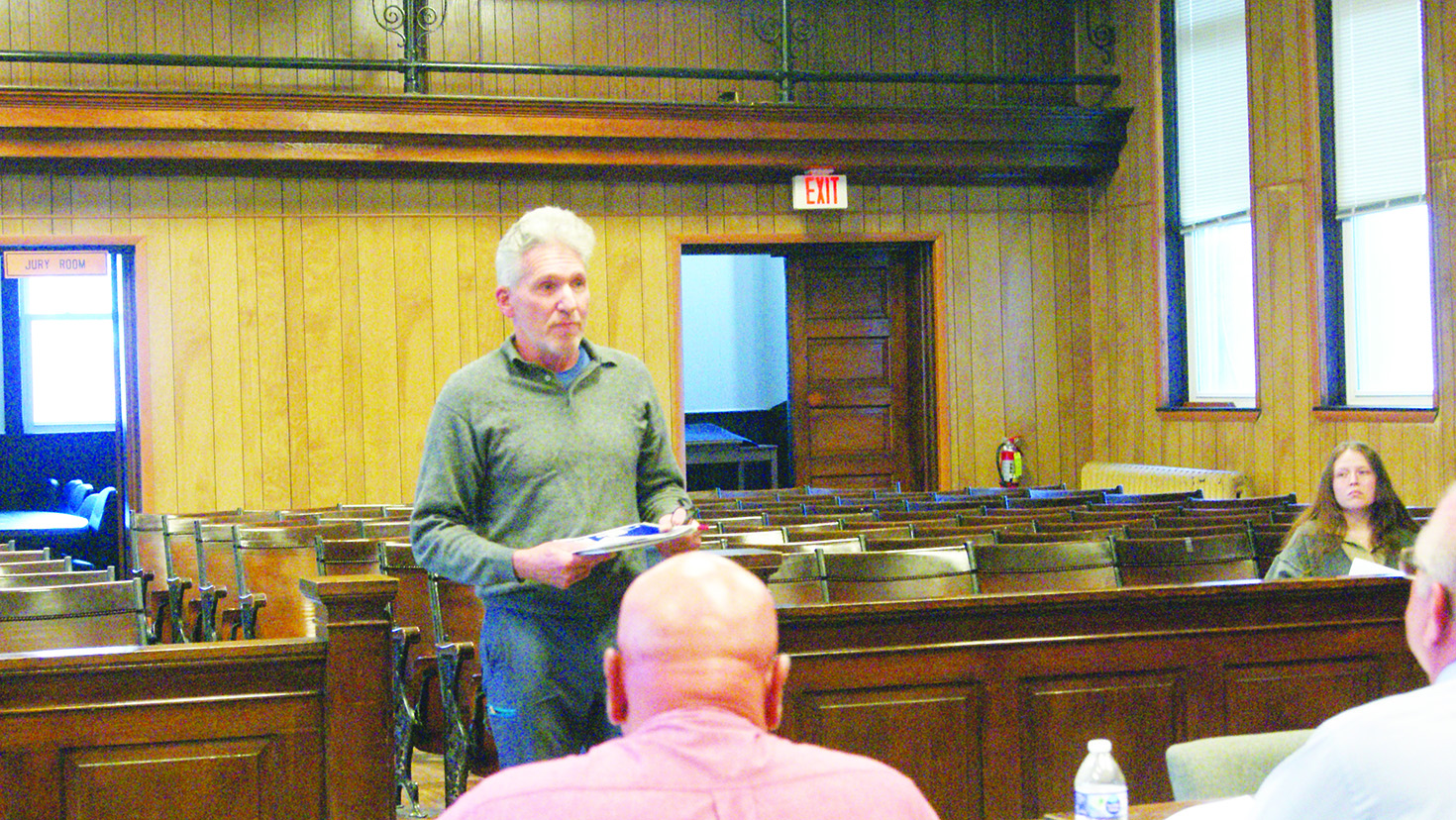 By: Lydia Crawley
The Parsons Advocate
Thomas resident Matt Marcus of the Blackwater Bicycle Association addressed the Tucker County Commission regarding bicycles and traffic patterns in Davis, as well as proposed additions to the trail network designed to alleviate bicycle traffic through the town.
Marcus introduced himself to the Commissioners and explained his association to the area and the bicycle club.  "I just wanted to introduce myself," Marcus said.  "I'm Matt Marcus.  I work in Davis at Blackwater Bikes.  I'm the manager.   I live in Thomas.  Used to own the bike shop, but really today I come  by representing the bike club which is called Blackwater Bicycle Association."
According to Marcus, the bicycle association helped with extracting an injured mountain biker recently.  "The whole reason I'm here," Marcus said.  "I've been talking with Commissioner Davis over the years and we  had a little extraction we had to do.  We had a mountain biker break his tib-fib out on a trail near Camp 70 Road and we were involved in the extraction."  
Marcus said his group had been considering safety and how they could assist local EMS.  "We were talking about what we could do the help EMS extracting people," Marcus said.  "Since then I have had a meeting with the Volunteer Fire Hall in Davis, their Fire Department…We have also sent a list of names down to the 911 Center…So if we had to do a bike related extraction of somebody, that we could assist in finding them."
According to Marcus, the group already has equipment to assist with rescue efforts in the woods.  "We also have a litter that we use with a wheel under it that we have gotten people out of the woods with," Marcus said.  " That's what we used to get that guy out to where the helicopter came to get to him."
According to Marcus, there is a dire need to get pedestrians and bicycles off of the roads in the Thomas-Davis area, especially on Route 32.  "We're really concerned with the safety of residents and visitors and the people out in the woods," Marcus said.  "Really the big need that I see that we have to keep people really safe is to get the bikes off the road.  In particular, the section between Davis and Thomas because there is no other alternative route for people besides the highway."
Marcus said he has personally seen pedestrians and bicyclists along the highway all year long.  "I go on that road everyday," Marcus said.  "I used to ride my bike back and forth on that road everyday and I see pedestrians.   I see bikes out there everyday, winter, summer.  A group of associations and people in general have come up with this plan."
According to Marcus, the West Virginia Department of Highways has a plan to create a trail between Davis and Thomas for foot and bicycle traffic.  "With out discussions with the Department of Highways, at the meeting we were out in Thomas where they unveiled some of the changes that they made," Marcus said.  "They said they were going to do a separate trail off the road on Route 32 between the towns."
Marcus said his group's proposal would extend the proposed trail around Davis using old railroad grades to parallel the road.  "So what this does is extend that around Davis, basically almost following the old rail grade parallel to the road there," Marcus said.   "Around Davis, across the Blackwater Road and around the back.  This crosses Mon Power.  Well, actually here its  Cooper and the other attorney, Pat and around back by Pete Johnson and across the city park and back under the bridge, Blackwater River Bridge in Davis, around there.  That's Mon Power property there behind the Shop-N-Save  there."
According to Marcus, the proposal would allow off road trail access from Camp 40 road and the State Road Yard in Thomas.  "So, if this gets completed, you'll be able to go all the way from Camp 70 Road all the way up to at least the State Road Yard in Thomas which is where they're talking about ending it," Marcus said.
Marcus said there are still details that need explored around Thomas.  "Now the part in Thomas still needs to be worked out," Marcus said.  "Also, I believe Western Pocahontas has this on their maps as a future trail.  The old Francis Grade, the old rail grade between Thomas.  So that would make a bunch of different routes for people besides the road."
According to Marcus, there is a new pedestrian bridge planned for Davis.  "And another thing, I don't know if you guys are aware of the bridge,  that they are putting a pedestrian bridge in Davis that will connect the City Park to this trail that I'm talking about behind the Town Hall," Marcus said.  "Actually, the DNR was in there…weed whacking on Monday  on the other side of the river to start planning."
Marcus outlined the impact the proposed bridge would have on the area.  "When you're in Davis and you're on 32 and you cross the bridge, that little parking area there on the right, that's a trail head.  That trail leads you over to Balckwater Falls," Marcus said.  "Now there's a hiking trail or biking trail that goes upstream all the way out to Camp 70.  So that's a trail head there.  That will be hooked in and you won't even have to get on Route 32 once that bridge is built.  You'll be able to ride from Thomas all the way into Blackwater Falls without getting on the road."
"Now what kind of support are you asking," Tucker County Commissioner Mike Rosenau said.
According to Marcus, he was seeking a letter of support from the Commission.   "You're only the second entity that I have come in to ask for support," Marcus said.  "But like the Davis Volunteer Fire Department, they thought that was a great idea.  And if you guys could write a letter of support.  I'll try to get this more formalized, obviously.  This is the most important piece we have because I know, you know how beneficial the trail is down here and how many people that attracts and how its great for the health of all our residents."
"Just so they know, tell them how many bikes come through Davis every Thursday,"  County Commissioner Fred Davis said.
According to Marcus, as many as 100 bicyclists can be in the area.  "Sometimes 50, 100," Marcus said.  "When we do our festival down there, it was  a couple of hundred people, just on Thursday night."
Davis commented that the Association is a volunteer organization.  "The main thing is, they do most all their work for nothing," Davis said.  "The volunteers do all of the trail building themselves."
According to Marcus, their group is small and usually has the same five people volunteering.  "Which is unfortunate," Marcus said.  "Because we are such a  small community that the same five people show up twice a month to do trail work and a lot of these land managers don't do a whole lot."  
Marcus gave credit to the State Parks for their efforts in maintaining the areas under their control.  "The State Parks are the best," Marcus said.  "I will give them a lot of credit for actually doing something.  They're talking about building a little trail system along the river near where the bridge is going to go.  The pedestrian bridge.  On that hill where the water tank is for Davis. And that would be nice to have another little trail  just to ride around town."
According to Marcus, he wants to coordinate with the State on the project, but is seeking local support for the project.  "But really, I just wanted to be able to when I try and coordinate with the State, because that is really my biggest fear is they have come in and said, 'Oh, yeah we're going to build this trail, well, they need to be talking to us.'  Like I said, I've talked to Pat and I've talked to John Cooper, and we have really good relationship with the Power Company, the bike club, because we manage that little corner piece of property off Camp 70 Road that's power company owned.  About where that gas line crosses from there in between the creek  and the river.  We think its 600 acres, something like that.  Our bike club actually manages that.  We have an agreement with the power company so we have a really good relationship with them."
Marcus said representatives from Mon Power toured the area recently and are on board with the proposal.  "They had a couple of their big wigs in town last week or two weeks ago, I think Al Tomson went out with them also.  We showed them around and they're behind it, too," Marcus said. 
According to Marcus, he was approaching the Commission for input prior to approaching the State. "So we kind of contacted everybody.  I wanted to get you guys in on it, knowing what's going on and what I'm trying to do and I could kind of tell the guys at the Division of Highways that the County Commission is behind this," Marcus said.  
Marcus said the Visitor's Center was behind the project as well.  "Also, if the Visitor's Center does end up buying from Cooper, I know that they are behind it and I would think that that would be a great place for extra parking, too, and to be a trail head.  If we can get a trail there, then we could have trail head parking there.  Because parking is becoming a huge issue in Davis."
Rosenau asked Marcus about potential impact on private property.  "So from where that ends, the proposal from the State," Rosenau said.  "How much private property would the proposed trail go?"
Marcus said he had spoken to the two private land owners in the area that would be inpacted by a trail.  "When I talked to  Pat Nichols, he was talking about doing an easement," Marcus said.  "He thought it was a great idea.  I talked to John and he was like, 'We're kind of in negotiations right now.  I can't  really say anything.'  So, that's where I stand with those two guys."
Rosenau asked about Dillan and Davis.  "That's power company back there," Marcus said.  "You know where their little sub station is behind the trees there?  So that's power company all the way around back until you hit Pete Johnson, which is behind the Bistro and the distillery.  He owns that, but it is all a conservancy down low and that is where he wants to put the trail.  So, that would not be available for development.  So he's already had that trail planned.  He even named his little development after that.  Its called River Walk."
Rosenau said that the Commission would provide a letter of support for the proposal.  "I think that if you need a letter of support from the Commission," Rosenau said.  "I'm pretty sure the Commission would have no problem doing that, Matt."
The next meeting of the Tucker County Commission will be held October 11th at  9 a.m. in the Tucker County Courthouse Old Courtroom.