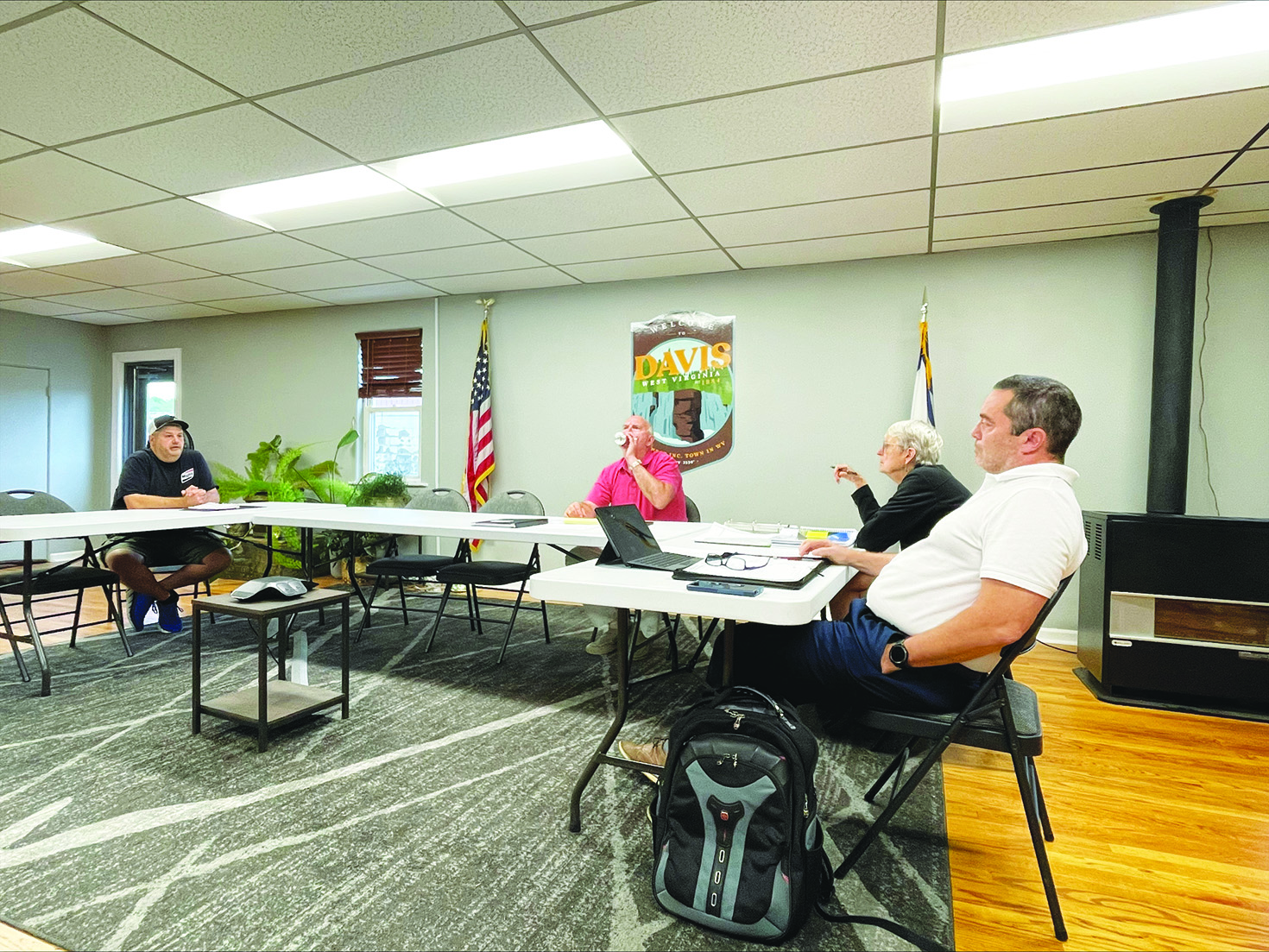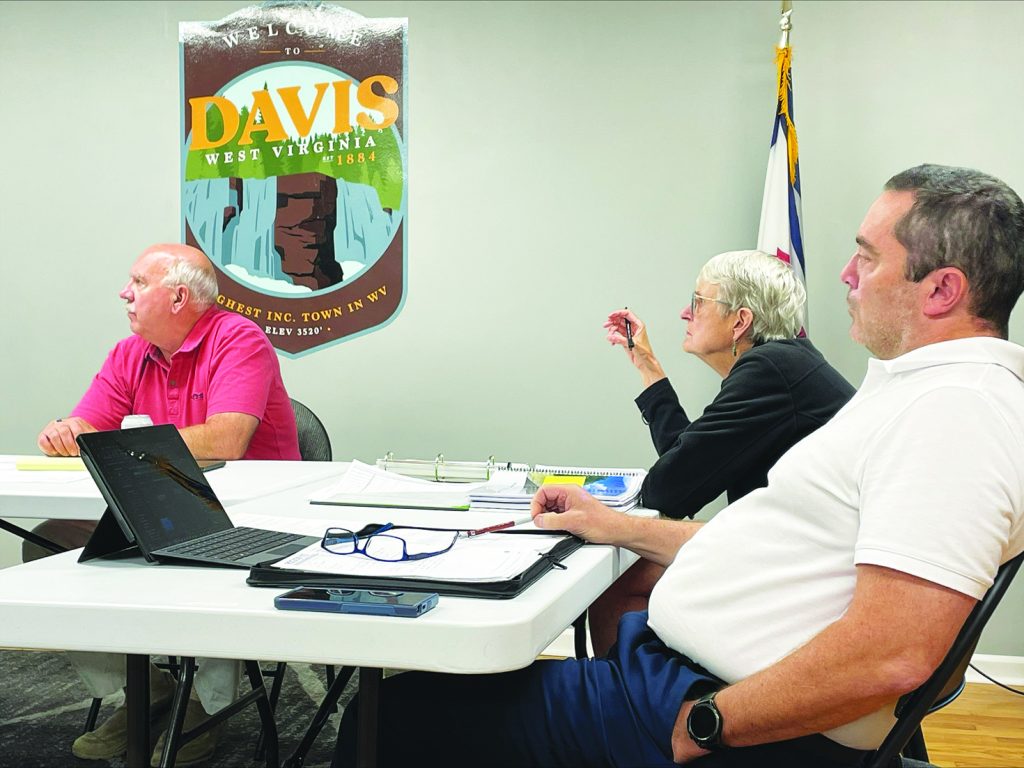 By: Lydia Crawley
The Parsons Advocate
The Blackwater Public Service District Advisory Board met at the Davis Town Hall to discuss the board's recent meeting with the Department of Environmental Protection and Public Service Commission  in Charleston.  Blackwater PSD President Alan Tomson discussed the particulars of the meeting.  "So we had a meeting with the DEP and the PSC," Tomson said.  "It was a combined meeting on the 24th down in Charleston at the DEP Headquarters."
According to Tomson, the meeting went well.  Tomson said the DEP recommended consolidating the towns of Davis and Thomas into the entity as soon as feasible.  "We had a good meeting," Tomson said.  "The first thing that they said that we really need to look at is consolidating Thomas and Davis into the PSD relatively quickly."
Tomson said that revenue was a factor in the need to incorporate the two towns.  "And part of that has to do with revenue," Tomson said.  "But one of the questions that was unanswered at the meeting, the research has to be done, is whether or not consolidation would have an adverse impact on the Federal Earmark that Davis has for our collection system."
According to Tomson, he didn't foresee any problems, but was erring on the side of caution.  "I can't imagine it could make any difference," Tomson said.  "But I don't want to risk five million dollars, either.  So, they're checking on that."
Tomson also addressed the Town of Davis' current corrective order with the DEP.  "We will need an order at some point for the consolidation," Tomson said.  "And once we get the order, it will also establish dates for corrective action.  That's to protect all of us.  For example, Davis has an order right now that protects us because we're not in compliance with some of the things for our sewer plant.    But everyone is aware that there is corrective action being taken.  There's a schedule for the corrective action and EPA and DEP are satisfied with that."
According to Tomson a new corrective order will be issued once the two towns are under the umbrella of Blackwater.  "So, when our problems go into the PSD, your issues go into the PSD," Tomson said.  "A new overarching Protective Order will be written that will cover what you guys are doing and what we're doing and schedule associated with that."
The issue of leachate from the Tucker County Landfill was also discussed by Tomson.  "We also talked about leachate quite a bit," Tomson said, "from the landfill.  And for me the big take away was that they probably need to do some kind of leachate pre-treating at the Landfill to get the ammonia levels down before they would put it into our waste stream."
According to Tomson, the PSD met with Tucker County Solid Waste Authority Presiding Chair Mark Holstine on the issue of leachate.  "So, after the meeting that we had with the DEP and the PSC, we went downstairs and talked with Mark Holstine at the Solid Waste Management Authority.  And he understood where we were coming from when we brought up the topic and said that they should be agreeable to pre-treating and putting in some kind of treatment process to take some of that burden off of whatever we would be getting from the Landfill."
There was discussion by the board about the type of treatment the leachate would require.  "Really all they would need is kind of like the set up that we have over there now," Blackwater Public Service District Treasurer Jody Flanagan said.  "You know, that little mini plant. "
"He said they would look at something else, too," Tomson said.
"If he could pre-treat it like we (Thomas) did before it went into our plant," Flanagan said, "and the new plant have that same set up that we had, it would be treated at the Landfill, pre-treated again at the PSD and then again before it goes into Plant.  That would probably help out a tremendous amount for that leachate because it takes a lot of air pre-treating it."
Tomson said the DEP suggested the board focus on the qualifications of the Engineering firms during the interview process in regards to the firm's knowledge and experience with leachate.  "The other thing that the DEP said was that when we interview Engineers for the project, we really need to explore what they know about the leachate issue and solutions for that other than dilution."
"This solves a lot of problems, this PSD, for both the towns," Flanagan said.  "Basically on top of the mountain, all of the water and sewer issues.  And they've been waiting for this for years, the DEP has for years."
"So, they're pretty happy with this," Tomson said.    "They couldn't be happier."
Prompted by a question by a member of the public, Rachelle Davis of Douglas, Tomson clarified the board's current opinion on placement of the new treatment facility.  "We really don't know where the plant is going to go," Tomson said.  "We are going to leave that to the Engineers when they actually do the Engineering Study.   We've talked about Douglas Falls and we, in this previous meeting, talked about the Thomas Waste Treatment Plant Site as another possibility, but we are going to leave it to the Engineers to figure it out because they have to take into consideration factors like the volume of water that's in the stream that you are going to put your output into and also the slope of that stream so it can be aerated.  And we all are not the experts."
Davis had voiced concern during public commentary on the placement of the plant in the Douglas area.  She also asked the board about a proposed DEP project.  "When you met with the DEP folks in Charleston, did anybody mention anything about the treatment project with Friends of the Blackwater there that they've proposed?" Davis said.  
"They did not," Tomson said.
"So, in one case it would be below – if you stayed in Thomas – it would be, their treatment would be, below the facility.  If it was at Douglas, it would be, sounds like above, DEP facility would be above.  I don't know a lot about it."
"What would they be servicing?" Tomson said.
"They're trying to treat the Blackwater," Davis said.  "Reintroduce aquatic life and I don't know if it's feasible, but it is a DEP project and I thought that they might have mentioned that."
"They're going to put some sort of a lime station in," Flanagan said.  "They have some of the funding, but they're still short of funding…It's a liming station to neutralize the water.  But, yeah, that will be a DEP project if they can get that funded."
Davis asked the board about the focus on "current customers" in the project scope and asked about someone she knows in Davis who currently did not have service.  Tomson also clarified the board's definition of "current customers."  "Well, when we say 'current customers,' what we're saying is the Town of Davis.  So, if somebody, for example, was not in Davis for whatever reason, we would suck them in.  Same thing with Thomas.  Thomas is a customer and we are assuming everybody in the Thomas area will be brought in, whether they are currently on  or not.  They will get brought in one way or another and the other customers will be the State Park and the Landfill and the Industrial Park and so on and so on."
"So if you were a resident of Thomas and didn't have any service currently?" Davis said.
"We would look at getting you service somehow," Tomson said.
According to Tomson, the current treatment plants in Thomas and Davis will be decommissioned, as will the Blackwater plant, once the Blackwater PSD plant is operational.  "They (Blackwater) would decommission it.  We will decommission ours in Davis.  Thomas will decommission their existing plant."
The board scheduled interviews with the top three Engineering firms for September 12th. The next public meeting of the Blackwater PSD has not been announced yet.