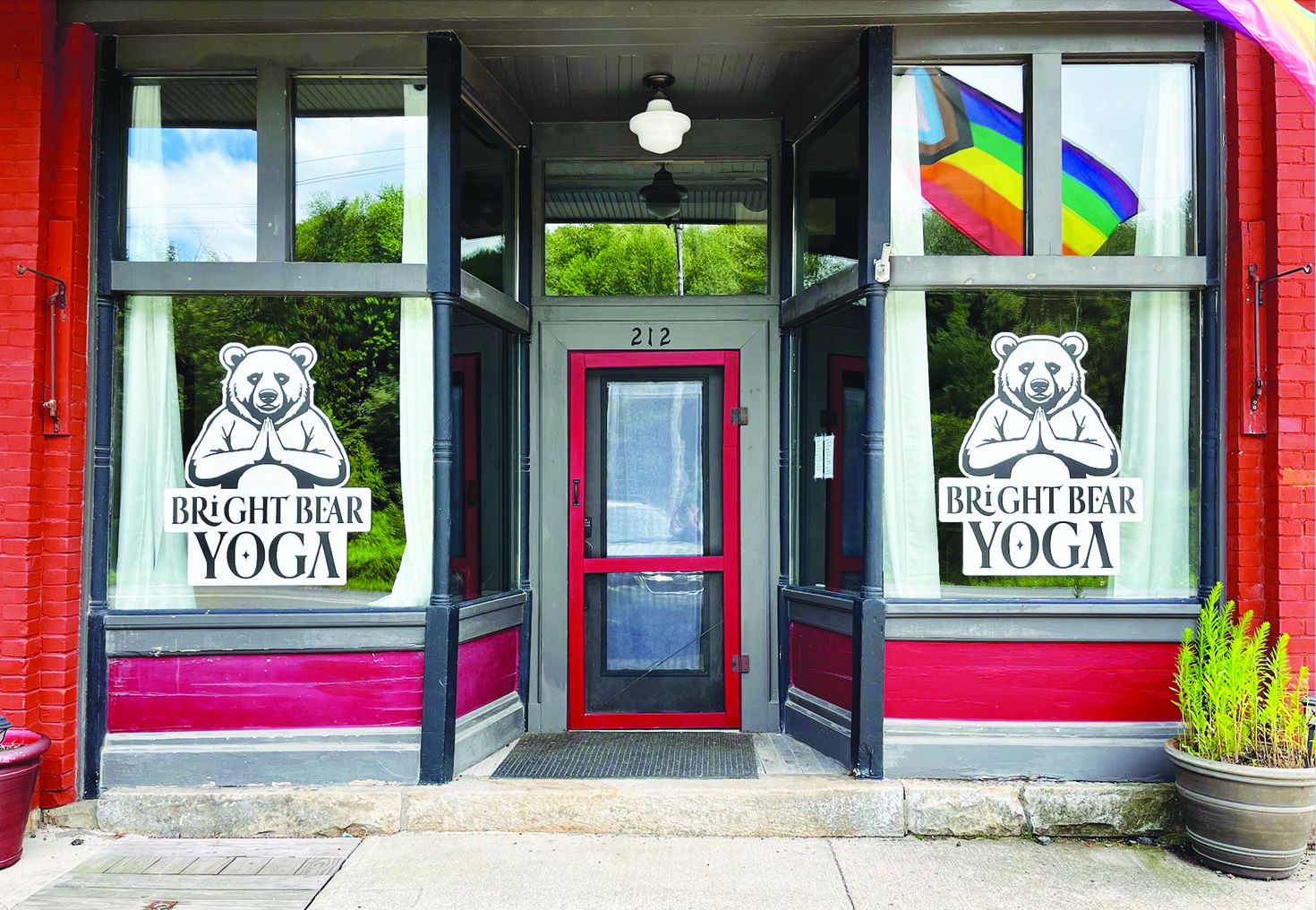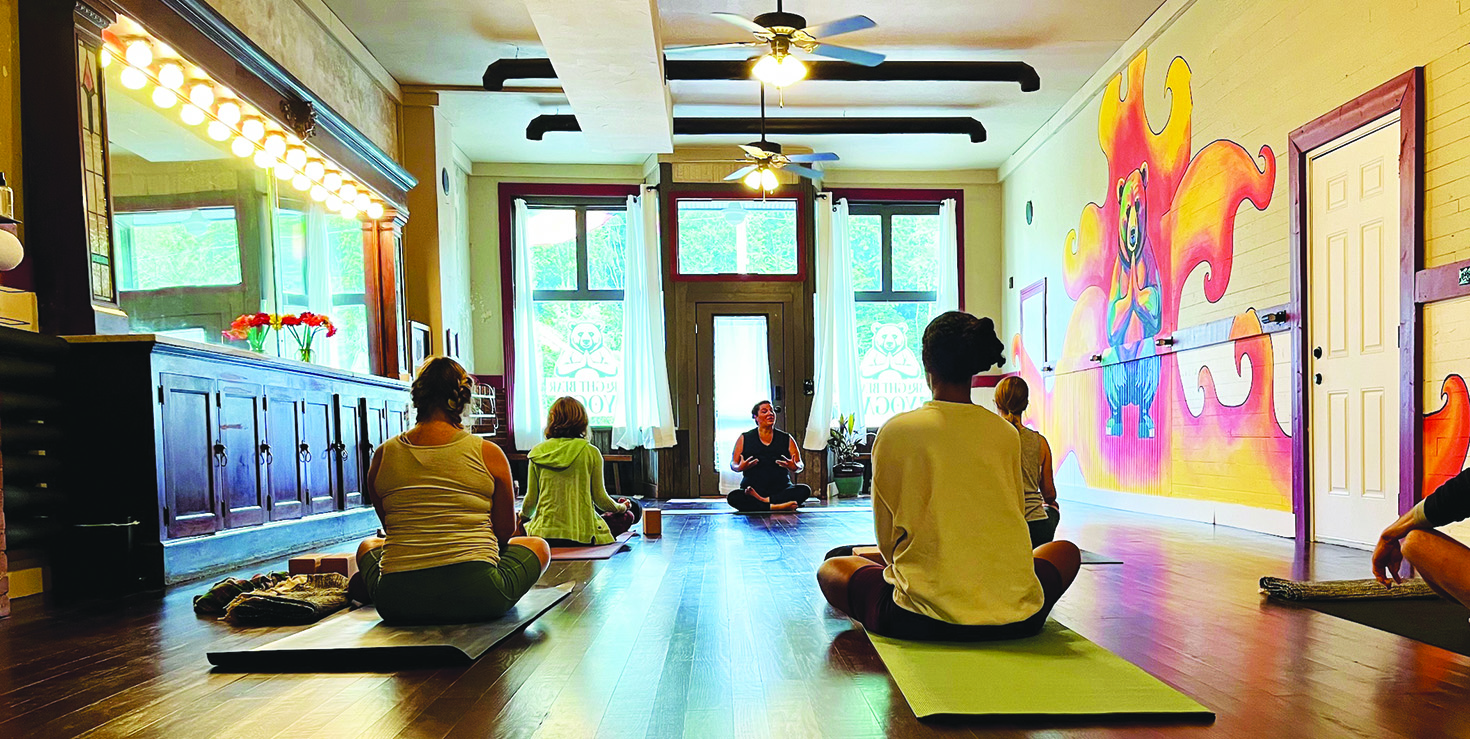 By: Lydia Crawley
The Parsons Advocate
Erica Koster of Davis, opened Bright Bear Yoga in Thomas. The studio is located at 212 East Avenue in Thomas.
Koster described how she came to pick Thomas.  "This summer I was in the area," Koster said.  "I live part time in DC and we also have a place over by Timberline Mountain.  So, we spend a lot of time in the valley in the summer and the winter.  This summer while we were there, we saw the 'For Rent' sign and just started to go down that path of checking out the space and it is a beautiful old antique shop that we had to restore a bit."
As of now, according to Koster, the studio offers seven courses.  "We have right now, just seven classes on the schedule and some special events," Koster said.  
Koster said her studio offers a variety of Yoga styles.  "We have sort of a little bit of everything," Koster said.  "I have some instructors who tend more towards like a Slow Flow style, really sort of meditative with an emphasis on breathing and just moving, nothing too charged up or anything like that.    I have some instructors that do a Vinyasa Flow, which is a little bit more medium and can be kind of tailored to up level or lower level, whatever people want and need that day.  And then we do offer a Power Flow class on Saturday's at 10:30, which is probably one of our most sort of pumped up, vigorous class."
Koster said she will begin hosting special events with a Yoga and Live Music event.  "Now we are also starting to do special events." Koster said.   It will be Yoga and Live Music in our studio."  
According to Koster, EMay will be performing live to a Yoga class by instructor Elena. "[Elena] is our most experienced instructor," Koster said.  "She has her 500 Hour Certification and she has many, many, many hours of experience teaching, as well." 
Koster said she has several plans for the future of the studio including the addition of a Yoga class for individuals with mobility issues.  "Our next class that we will be adding, hopefully will be a Chair Yoga Class.  I have a local instructor; she is going to add Chair Yoga which is really great for anyone that has mobility issues because some folks have a tough time getting up and down off of the ground and so the chair is there for those people.  Yoga is really great for anyone with mobility issues so this will be a way to make it really accessible."
Koster said she has plans to host a beginners Yoga workshop in the near future.  "We are hoping to do more special events, too," Koster said.  "We have a Yoga fundamentals workshop coming up.  Its going to be a two hour session where people can come and learn all the basics in a very solid, thorough way."
Koster said she also plans to expand on the type and number of special events her studio will offer.  "I'm also hoping to also plan this fall, before it gets too cold, a hike," Koster said.  "I'm thinking maybe Table Rock, hiking and then Yoga at Table Rock.  This winter I have an idea of an upright ski sort of session.  [Also] a class Saturdays in the evening.  Some people don't want Yoga on their Saturday evenings, but I know I do.  So I thought I'd offer a Saturday evening…cool down, wind down class.  Also, I've had someone who has expressed interest in doing some dance classes.  She said come October maybe we could talk more about that.  So, maybe some dance classes."
Koster said she would like to offer a family or kid's Yoga class in the future but has not found the right instructor yet.  "The last thing that I would really like to add to the schedule would be a kids and/or family Yoga of some kind," Koster said. "But I haven't found the person with the ability to teach that just yet.  We just plan on growing and adding more and more to the schedule."
According to Koster, she tries to keep the pricing of her classes budget friendly.  "Basically, a big goal of ours is to make the studio really accessible," Koster said.  "And so, our pricing reflects that also.  We've got just $15 drop-in, $12 a class if you do a 10-class pack and we just introduced an unlimited monthly for $89 a month. So if you're taking two or more classes a week, you're going to get them for even less than the $12."
Koster said she hopes to begin offering Senior Discounts soon.  "The last piece of the puzzle, that I'm trying to look at is coming up with a Senior's Discount," Koster said.  "I want to strike the right balance of creating this space and affording the space: pay the rent, the bills and the overhead, but also paying my instructors fairly and also being as accessible as possible.  So we are working on that at the moment."
For more information on Bright Bear Yoga, visit brightbearyoga.com.