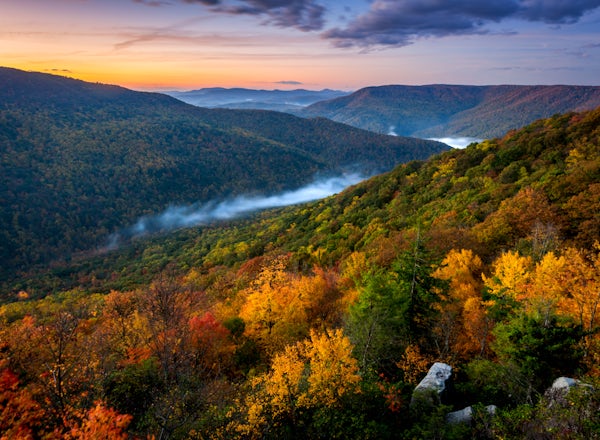 Davis, W.Va. (September 2023) – Offering the opportunity to witness the progressively changing fall foliage and breathtaking scenery in the highest mountain valley in the Eastern U.S., Canaan Valley Resort has developed a variety of guided hikes and activities throughout September for guests to experience.
"Our September guided hike series offers a variety of Saturday hikes throughout the month that will take guests' breath away," said Matt Baker, general manager at Canaan Valley Resort. "The crisp mountain air and cooler temperatures make this the perfect time to escape to Canaan Valley."
Baker said the resort will host the Douglas Falls/Blackwater Canyon Guided Hike from 9am-4pm on Saturday, September 9. Passing by abandoned coke ovens, Douglas Falls, the junction of the North Fork of the Blackwater River and the main river, and views of Lindy Point, this 10-mile walk traverses' history as well as breathtaking scenery. The cost to participate is $15 per adult and $10 per child (6-12).
On Saturday, September 16, the resort will host the Brew-Hike Thru-Hike from 10am-3pm. This 7.5-mile hike features a variety of landscapes and ecosystems as guests will travel through seven of Canaan Valley Resort State Park's most prominent trails. Once the hike is completed, guests will be treated to a taco bar and local craft beer. The cost to participate is $35 per hiker.
For those that have ever wondered what it might be like to walk on the moon, the resort will host the Moon Rocks Hike from 9am-3:30pm on Saturday, September 23. The trail, located beside the Blackwater River near Davis, includes massive formations of "moon rock" sandstone bedrock some 480 million years old. The hike is approximately 4-miles long. Shuttle bus service will be provided from the Main Lodge.  The return trip to the resort features scheduled stops at local breweries to enjoy craft beers. All participants must be age 21 or older. The cost to participate is $15 per hiker (beverages not included).
For additional information or to register, contact Canaan Valley Resort at 1-800-622-4121 or visit the website at www.CanaanResort.com.