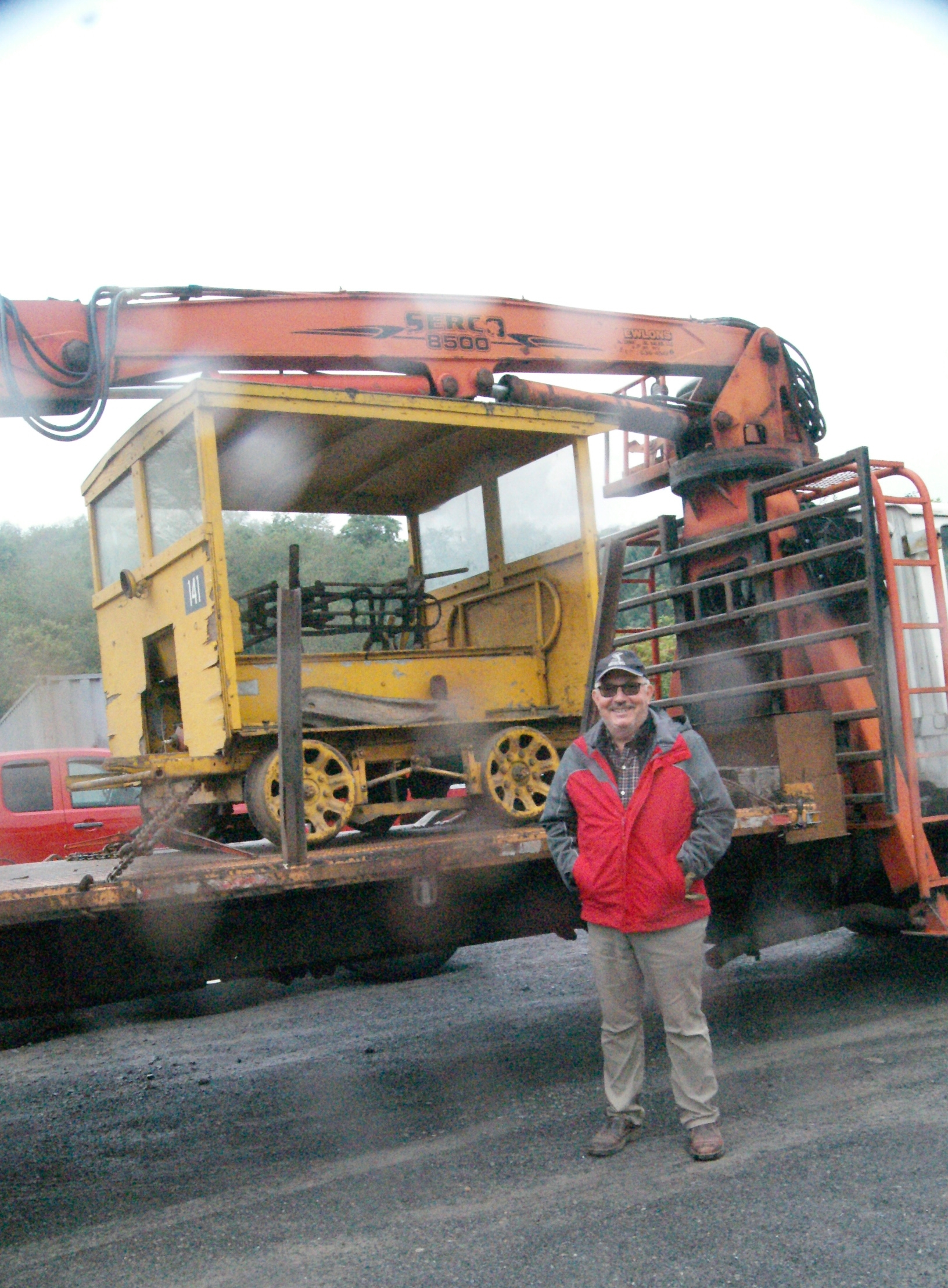 By: Lydia Crawley
The Parsons Advocate
A crew from the Cass Scenic Railroad was in Thomas to take possession of  a Two Truck Heisler steam locomotive that hasn't seen the light of day in 20 years.  Stuart Thayer, of Thomas, has stored the steam engine in one of his buildings at Sunrise Sanitation since the engine was purchased over 20 years ago.  John Smith of the Cass Scenic Railroad and Durbin & Greenbrier Valley Railroad was on hand.  "He has a great understanding of Steam Locomotives," Thayer said.  "He loves them to death like I do."
Thayer said he has had a love of railroads and steam powered trains since he was a child.  "I grew up in coal company house behind (the D&L Store)," Thayer said.  "There was a railroad track that come within a couple of hundred feet.  I used to go out there every time I heard the engine come.  I could hear the engine.  They made quite a bit of noise.  So I went down and wave at the Engineer and they'd always ring the bell and blow the whistle at me."
Thayer said he was even picked up and given a ride by one of the trains he admired as a child.  "One day, I was five or six, they stopped and they took me in the engine and ran me clear around the mountain with them," Thayer said.  "They dropped off the empty cars and picked up the loaded coal cars from what was known as 36 Coal Mines, which my dad worked at, and then they brought me clear back and dropped me off.  You know they couldn't do that today."
According to Thayer, it would take eight engines and two pushers to get some of the heavily loaded trains up the mountain when he was a child.  "Back in the day they would bring up all this coal through the canyon from Parsons and came out of Randolph County," Thayer said.  "They'd have three engines for coal, what they called Big 800s Steam Locomotives, in the front and three in the center and then they had two engines, a total of eight engines,  in the back of the train up against the caboose.  They always kept pushers down in Hendricks, Hambleton area to help get those heavy trains up the mountain."
Thayer said that the rail tracks in Thomas were five wide during his childhood to support hundreds of train cars.  "Right in here, there was like five tracks wide," Thayer said.  "There were hundreds of coal cars right around Thomas.  Hundreds."
According to Thayer during the era of Steam Power and Coal Mining, Thomas was a bustling multi-cultural hub with part of Douglas Road called "Tony Row" due to the high population of Italian immigrants.  "The streets were full," Thayer said.  "People would be all dressed up.  It was a big deal."  Thayer also said as many as 17 different nationalities lived and worked in Thomas at that time and the town supported two hotels, a Nehi bottling plant, several taverns and various businesses thrived.  According to Thayer, the town even had its own orchestra.
According to american-rails.com, only two Hiesler Two Truck Models are still in service with Cass's acquisition bringing the number to three in the world.  "It will go into the Cass Collection," Smith said.  "Its where it ought to be."  
Smith said he intends to use the engine as a yard switcher due to it being much smaller than the rest of the collection.  "It can be used as a little yard switcher up there or something," Smith said.  "It looks big here, but its not even half of the size of most of them down there.  So, we'll use it to switch around the yard and play with it."
According to Smith the organization has been in need a yard switcher.  "A yard switcher or something like that is something that we've always needed," Smith said. "Something little.  We can fire it up and not have a big effort to fire."
On hand for the move were a crew from Cass Scenic Railroad, a 60 Ton tow truck from Elkins Truck Service, two flatbed trucks and trailers, and several smaller vehicles.  Along with the steam engine, Cass also acquired a rail car from Thayer as well.  Thayer's wife Vivian was also on hand at the moving of the engine.