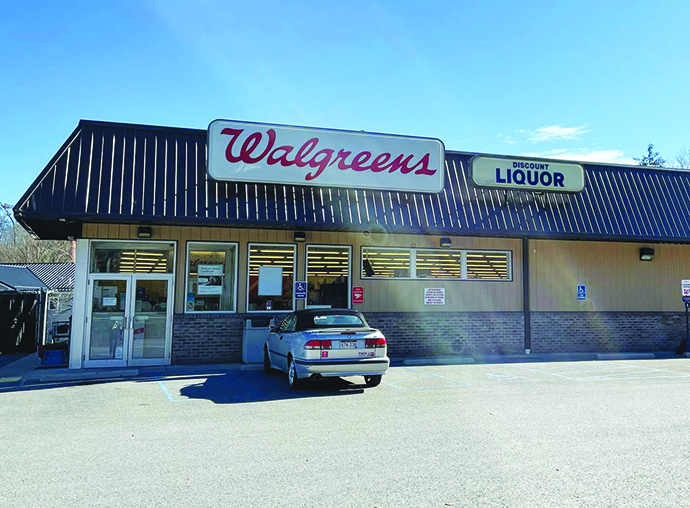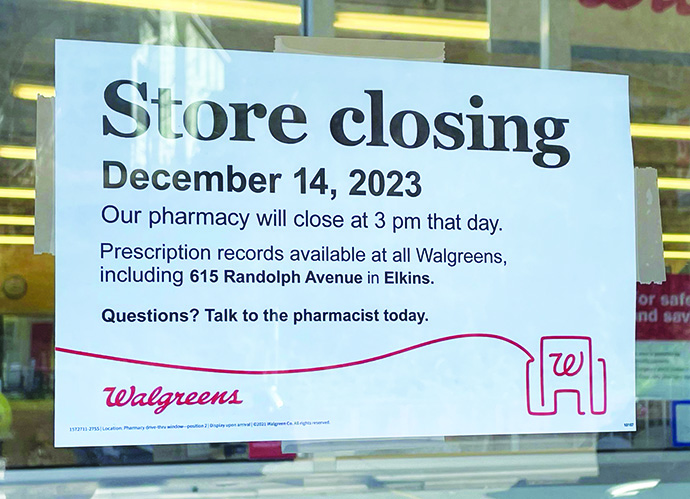 By: Lydia Crawley
The Parsons Advocate
Residents of Tucker County were blindsided Wednesday morning, November 15, by the announcement that the Parsons Walgreens will be closing as of 3 p.m. on December 14.  Community members reached out to their public officials over the issue in droves that morning.  "It was like I just found out about it," Steve Leyh of the Tucker County Development Authority said.  "It wasn't like there was some kind of forewarning that I got.  (Tucker County Commissioner) Freddy Davis called me on the way to the Commission meeting and asked, 'Can you look into this?' and then I found the story."
According to Davis, the Commission and Leyh have been addressing the closure since word first came to their attention as well as coordinating with several other governmental entities.  "Just to let people know," Davis said, "that we have, Steve and I have been working and talking on the phone with the other Commissioners about Walgreens."
Leyh has been acting as a point of contact between entities on the issue.  Leyh said he has been reaching out to City and County officials, as well as Walgreens store manager about the announced closure.  Leyh said, "I reached out to the store manager.  It's going to affect 10 people's livelihoods."
Leyh said he extended an offer to help with employment resources for any displaced workers.  "I wanted to extend an invitation to try and connect them to employment resources if the store closes," Leyh said. 
As well as assisting those displaced by the closure, Leyh has also extended assistance to the local property owner as well. "Also extended an offer to the property owner, the woman that owns the building, and said if you need help securing another tenant, let me know and we can help you in that regard," Leyh said.  
As well as working with local officials, Leyh has also been in contact with State officials, as well.  "I informed the business and retention rep at the Economic Development at the State level to let them know that we're losing a business," Leyh said.  
Parsons newly appointed Mayor Bruce Kolsun has also been contacted by Leyh and is making calls on the issue.  "I know Bruce (Kolsun) is the new mayor," Leyh said.  "I just spoke with him and said if there is anything I can do, just let me know.  He's making phone calls obviously."
Leyh has also been in contact with both Senators on the issue to let them know of the impact the closure will have on Tucker County. "We did reach out to both Senators and let them know that this is an issue," Leyh said.  "And that it is going to impact not just Parsons but everybody that is going to have to drive to Elkins."
At the heart of the issue, Leyh said the closure represented a quality-of-life issue for the community.  "It's a quality-of-life issue," Leyh said.  "It's a healthcare issue and it stinks, but it is what it is."
In the end, the closure comes down to corporate decisions, according to Leyh.  Leyh said the future is uncertain on the issue, but Tucker County is making an effort to ease the transition.  "I don't know what will come of it," Leyh said.  "But, we're making an effort.  So, if nothing else, we will try to transition the best we can for folks and try to find somebody to fill the space, if that's what's needed."
"I'm really disappointed in the closing of Walgreens," Tucker County Commission President Mike Rosenau said,  "It's a big hit to our county."
Rosenau said the Commission was dedicated to working with the Development Authority.  "We'll be working with the Development Authority to see if there are any additional things we can do to bring additional business into the area."
Walgreens had announced in late June that it intended to close 150 US locations.  The Parsons Advocate has reached out to Walgreens Public Relations for comment on the issue, but has not received a response as of press time.