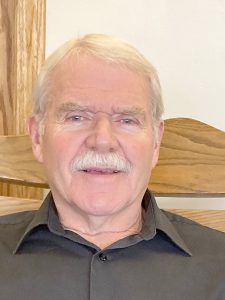 Dan Bucher has made valuable contributions to Cortland Acres, helping to guide the facility's growth and expansion. After four decades of service, he is calling it a career and retiring as the development director.
"Cortland Acres has always been woven into my daily life for more than 40 years," Bucher said. "As I reflect on my involvement at Cortland Acres, I am thankful for the relationships with the current and past residents, the families, the volunteers at the facility, and the dedicated staff. My heart is full of all of the friendships I have made."
Join in celebrating Dan Bucher's retirement from 4 to 6 p.m. Wednesday, June 28, in the Gathering Room of Cortland Acres. Guests may enter through the Blackwater Short-term Rehabilitation Center entrance, located at the rear of the facility. Cortland Acres is located at 39 Cortland Acres Lane, Thomas. Refreshments will be served.
Beth Clevenger, administrator of Cortland Acres, said that Bucher has been an important and integral part of Cortland Acres' history and development.
"The June 28th celebration is an opportunity for the community, families, staff, residents, and friends to thank Dan for his numerous years of service," Clevenger said. "Dan's commitment to Cortland Acres has enriched our facility and staff and ensured we are positioned to provide excellent care for our residents and families. Dan's tenacity laid the groundwork for the growth of Cortland Acres so many years ago, and I'm thrilled he will continue to direct our future by serving on the Board of Directors."
When Dan Bucher accepted a job at the age of 25 as a social worker for Cortland Acres, he could not have foreseen becoming one of the youngest nursing home administrators in the state and the tremendous growth that would occur under his guidance and leadership. 
Bucher's career at Cortland Acres started on April 7, 1980. He became administrator of the facility in 1982 and remained in that position until Jan. 5, 2001. Afterward, he served Cortland as a board of director member for 14 years while employed in administration at Elkins Rehabilitation and Care Center, and then at Davis Health Systems, establishing several programs during his time there. In 2015 he returned to Cortland and accepted the position of development director.
The Cortland Acres campus includes a 94-bed long-term care facility, inpatient and outpatient rehabilitation programs, rental apartments in Pineview and garden and patio homes in The Pines. For more information about The Pines or Cortland Acres or to set up an appointment for a tour of the facility, call 304-463-4181 ext. 203, or visit www.cortlandacres.org.