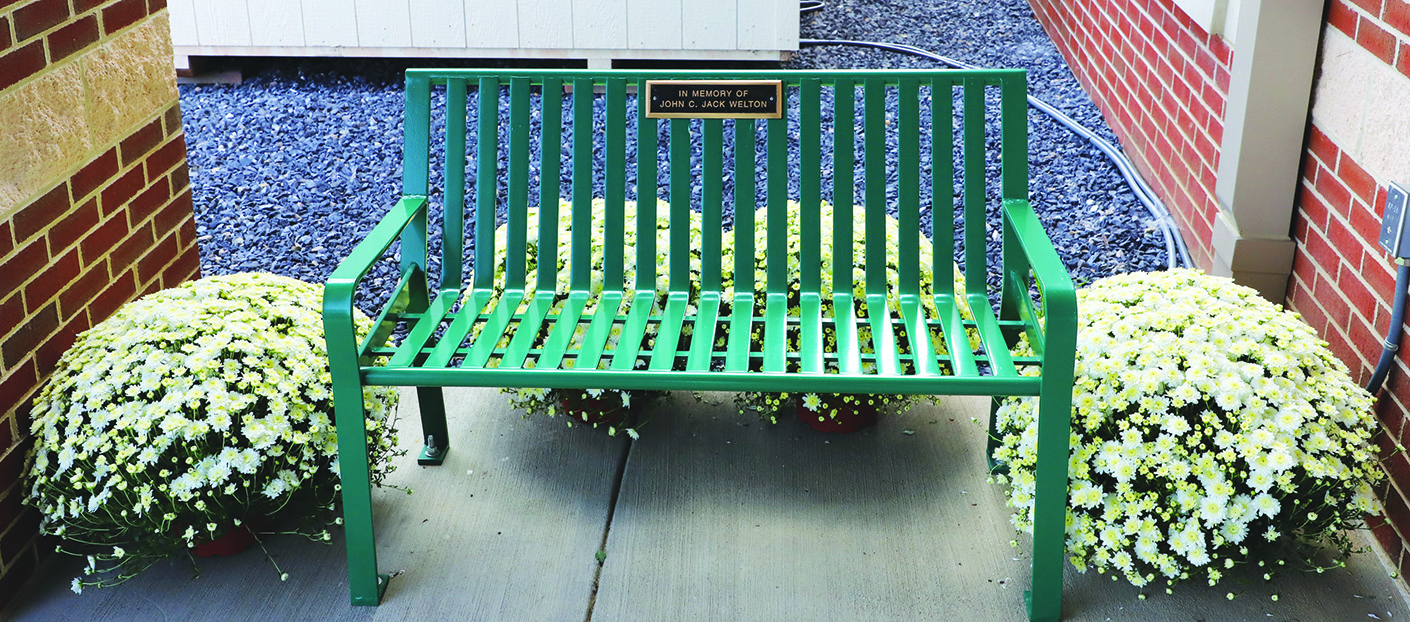 Moorefield, W.Va. – A bench dedication ceremony for John C. Jack Welton was held at Eastern West Virginia Community and Technical College. This event was hosted by the Eastern Foundation for Mr. Welton's family and friends with over thirty in attendance, including his wife, Mrs. Fran Welton, his children, and grandchildren. Mr. Welton's bench is located next to the Ag Innovation suite at the Moorefield campus.
The ceremony began with opening remarks from Dr. Megan Webb, dean of advancement and continuing education, the blessing from Sam Williams, the dedicating of the bench by Rob Burns, director of non-profits, and speaker Lauren Arbaugh member of the Eastern Foundation. Throughout the ceremony, many stood to share stories of Mr. Welton. Mrs. Fran Welton had the most stories to tell and began by saying, "If Jack Welton were here, he'd say, 'Fran sit down they don't need all those details', but I think details are good when you are telling a story." She elaborated on the stories of note that friends of Mr. Welton told to everyone.
Towards the end of the ceremony, Mr. Welton's son, said, "My dad would greatly appreciate this, but the only thing he would say is, it's not needed." Rob Burns then added, "The ones who say it's not needed, are usually the ones who deserve it the most." Dave Workman, Hardy County Commissioner, also provided his thoughts, "I thought of this today, where we are going to be and where we will be looking. We are looking at the fertile valleys of the South Branch, the rolling pastures, the hills, the trees, the majestic mountains. What a fitting place to have, and for the community, to overlook and remember Jack on this day. One of the most fitting sites for Jack and for who Jack was." The ceremony concluded with, Mrs. Fran Welton saying, "There wasn't a stranger he could meet, and if they were a stranger, they wouldn't be afterward." The family of Mr. Jack Welton then took pictures with the bench and went inside for refreshments where everyone could continue talking about their memories of Mr. Welton.
Dedicating a bench in memory of a family member or friend is an Eastern Foundation initiative to provide community members with the ability to memorialize them in their community. To learn more about this and how you can dedicate a bench to a loved one, email Robert.burns@easternwv.edu or go to https://www.classy.org/campaign/a-place-to-rest-and-think/c390695.