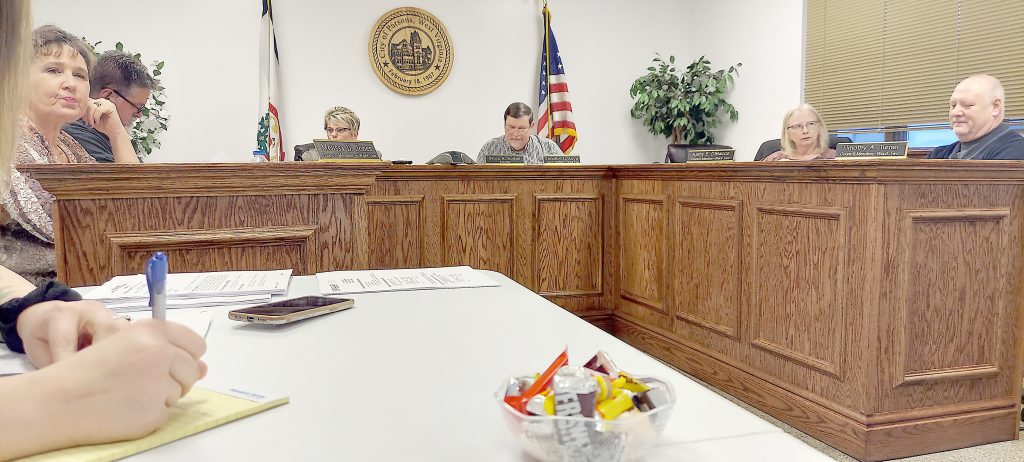 By: Jennifer Britt
The Parsons Advocate
Tammy Wynette recorded and released a song in 1998 titled "Stand by Your Man" and Becki Myers did just that during the last City of Parsons Council meeting.   B. Myers addressed the council members expressing her feelings saying that in her opinion the "new blood" council members, as she called them, were not only causing unnecessary stress and health issues to the Mayor but were unappreciative of her husband's, Jason Myers, work and dedication for the past 22 years to the City of Parsons.
Myers addressed the council and said "I am not happy that I have to come address the Council as a concerned tax payer. But there are some things in the last seven months since new blood has gotten into the Council that I have been wanting to address or was hoping would clear up. But, time after time I read the papers and I hear rumors and I see things and hear things.
I do not feel I should have to address these things, but unfortunately, I have been called by God to do so because you know when we citizens take an oath to become a council member you know that there are things that these citizens out here expect out of all of you. So, when you walk out of here and go out of here every single day there are things that are required if you hold office or if you are a council person then the citizens are going to be looking at you. 
First and foremost, respecting our employees. Not disrespecting, respecting. I know that Tucker County, Parsons, likes their ball teams so I am going to put it like this. When we form a team, you have a captain. They pick a captain based on that person's knowledge of the entire game and how it is played. And how they all respond to the team mates. 
So it is usually the person that is going to put their arms around the entire team and be like ok I got you, I got your back, we can do this and just get that team ready to play that game. Then you have got an entire bunch of people, you have got your medical staff and a bunch of people that run and help that team. 
Then you have got a coach. So, we have a Mayor. Do you think for one second that if these teams players are disrespecting this coach over here that they are going to be able to play? They are not. So, first and foremost I would like to address the fact that the Mayor (Dorothy Judy) is laying up here in a nursing home because she is sick from anxiety, stress, all these things that could have been prevented. Could we still get things, you know, things that would have happened to us on a regular basis that are just your normal medical possibility? Sure. But instead, this woman had to endure things she should not have had to. So, that is one thing.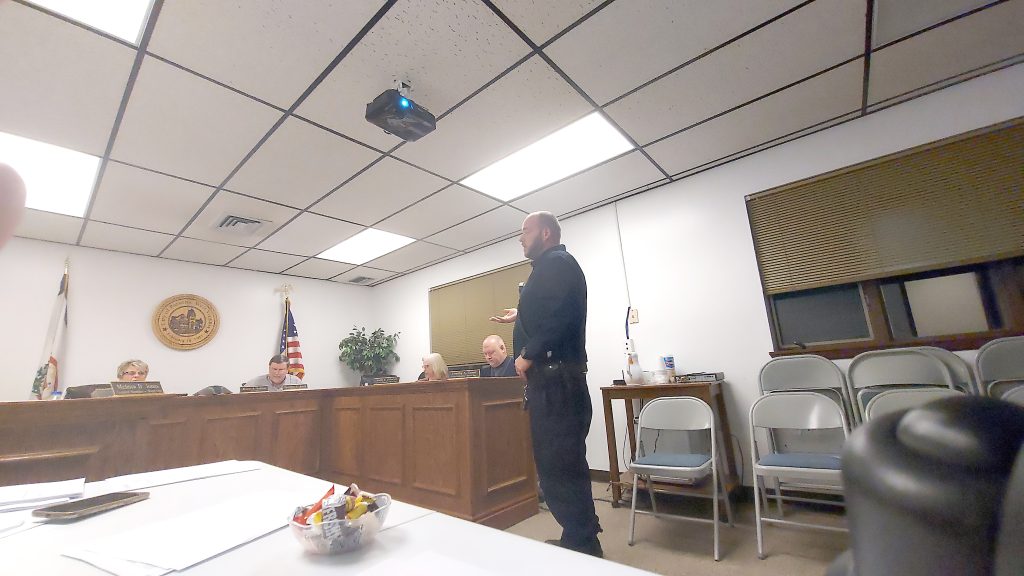 The other thing is that you have somebody that was helping (referring to J. Myers). So, you have your team captain, and your team captain would have been your administrator, treasurer, or whatever. So, you have that. Some of the comments I have heard is well he left us. I am here to tell you that I do not see where he has ever left. He has not left. He has been here the entire time. 
In fact, it is coming up on two years. Two years he has had your back. Are your lights on? Are your employees paid? All of this kind of stuff. You know I am saying to myself ok yeah sure enough you guys need to get another captain in here. 
The problem is where I come into question is this. Does every single person on this team know what the budget is? Do they know how much money they have to hire a new captain? Do they know what that captain's job consisted of? Do you guys know? That is the question. Have you asked? Has anyone gone to that captain that happens to still have your back and asked any of those questions?"
Councilman James "Sam" Humphrey tried to answer that question at this point, but B. Myers said, "As the Mayor was told when she was here before she left, let me speak and then you can speak. How does that sound? Because I read that in the paper." At which point Councilman Tim Turner reminded B. Myers that she was running out of the five minutes that is allocated to guest speakers. 
Myers continued and said, "I understand, thank you. Basically, my concern is if you do not know those answers, how can you pick a new team player. How can you pick a new team captain to your team? You know you come in and you should have goals, some successes, and some achievements. (Holding up a stack of papers) These right here are achievements. Achievements of 22 years. Twenty-two years of the love that a person has for the City of Parsons and its citizens. Twenty-two years never has let you down one time. Has not let this city down and loves his family, his community, but the disrespect that I have seen I do not like it. I do not like it at all. 
In fact, I am embarrassed. Embarrassed by the activity that has come out of some of you. So, honestly I think you need to think long and hard before you decide who your next captain is going to be. That is what I have to say because I am concerned for this city. I am afraid for this city. If you treat your citizens like you treat your employees I fear for how long you will have some. 
I love every single person in this community and our heart is here, but you guys need to get it together." Humphrey said, "I would like to get you together with all the city employees and let you tell them all the same speech because they will tell you differently." B. Myers came back with "And that is not the truth." Humphrey said, "I will guarantee that is the truth." Acting Mayor Bruce Kolsun jumped in and said, "There should not be interaction between the guest. No interaction with the guest, please." 
At this point the Council moved on to other items on the agenda. 
Eric Sharad from Thrasher Engineering provided the Council members with an update on the projects currently in progress. Those projects include the Parsons-Hamrick PSD Emergency Interconnection, the Parsons Sanitary Sewer System Improvements, and the Parsons Water System Improvements Project. 
City Administrator Agnes "Aggie" Arnold presented the Council with invoices in the amount of $27,647.83 for approval. Arnold also presented the monthly financial report for the month ending January 31, 2023, that was prepared and submitted by Acting Treasurer J. Myers. 
A levy estimate worksheet was also presented to the Council. J. Myers explained that the worksheet was just an estimate until the new Harman Fund money was allocated next month. 
Arnold moved on to the quotes for new playground equipment to be placed in Mill Race Park. The equipment will be a Tortugas WillyGoat Playground Climber for the price of $6,637 and a single post swing set for $2,005. The equipment will be installed by city workers saving the City over $5,400. The money for the playground equipment was already allocated in the budget and Council approved the request.
The Council also voted and approved to renew the preventative maintenance contract for the fitness equipment at the Wellness 24 Fitness Center. The yearly contract covers maintenance and repairs for one year at the cost of $2,111.50. 
Councilman Tim Auvil presented the Council with a quote from Cummings Construction Company for labor to complete a 100 foot by 22 foot lean-to that will be added to the City's maintenance building. The materials for the project will be purchased locally. The purpose of the lean-to is to provide shelter for equipment and a hoist will be added at a later date that will help with the loading and unloading of spreaders.
A request was submitted by Nicholas Gidley of the Parsons Police Department for a nonreflective wrap and decals made by Bigfoot Designs located in Belington, West Virginia. These will be placed on the sides and back of his 2020 Ford Explorer police cruiser. The cost of the wrap and decals are $1,400. The Council approved the request.
The request from US Cellular to place a tower on the back side of the water department building was continued until a meeting could be held with Mark Gibbons to discuss the lease agreement and its terms. Councilwomen Melissa Jones and Kathy DiBacco will host the meeting with Gibbons and City Attorney Pat Nichols.
Also continued was the request from GS Millwork to purchase or lease the parking lot adjacent to their facility in Pulp Mill Bottom. The Street Committee met with Eric Wamsley and after the meeting requested a schematic with dimensions and locations for the request to place a awning type coverage over the road.  The line items were continued until GS Millwork produced what was requested. 
There are several events occurring in the upcoming months. The Easter Egg Hunt hosted by the City of Parsons and Parsons Parks and Recreation will be held on April 8 at Mill Race Park starting at 1 p.m. for children up to the age of 12. Arnold thanked the Tucker County Family Resource Network for donating 1700 new eggs for the hunt. 
Tucker County High School Senior flags are also available for purchase. Anyone can purchase a 18 inch by 45 inch double sided banner. The banners will be hung throughout Parsons and Mill Race Park until the end of June and then returned to the purchaser. Anyone wishing to purchase one or has any question should contact Mistee Griffith at (304) 478-2311 or emailing her at mistee.griffith.parsonswv@gmail.com. 
Beginning on February 20, the Wellness 24 Fitness Center began hosting a S.W.A.T. (strength, weight loss, agility, toning) class at the Parsons Community Center. The class will be held on Monday's at 7 p.m. The classes are free for Wellness 24 Fitness Center members and $5 for anyone not a member. Anyone with questions can call (304) 478-2311.
Code Enforcement Officer Ricky Rosier presented his recommendation from the Building and Property Compliance Committee for the demolition of unsafe structures in the City. Rosier said, "I am just bringing the recommendations for the program that we are doing to further reap where we received $110,000. Today we met and we discussed a couple of properties. They decided on two properties that we are looking at, which is the Jividen property at the red light, and the other would 170 Spruce Street. The house that burned. The program really works by what betters the citizens and what is safe. So, we picked those two and we will see how much we have left after we put out the bid for those two and if you want to pick more we can go back and pick another one or more if money allows." 
$80,000 of the Demolition Grant acquired from the State would be used to help Woodlands remove the Jividen property and the remaining $30,000 would be used for Spruce Street and whatever else the funds allow for. The Council approved the request. Arnold thanked Rosier for his help on the project.
The Council approved a request from the STArt (School-Town Art) show to sponsor a $50 award. The art show is hosted by the WVHighlands Artisans Group.
Lastly Council members voted to approve the recommendation from the Personnel Committee to hire Melissa Bibb for the position of part-time/as needed Office Support Specialist. The Personnel Committee also recommended an extension on the full-time treasurer position in order to perform a second round of interviews. Council approved. Turner thanked the committee for moving forward with the process.
The next City of Parsons Council meeting will be held on March 7, 2023, at 6 p.m. and is located at the Charles W. "Bill" Rosenau Municipal Building, 341 Second Street, Parsons.