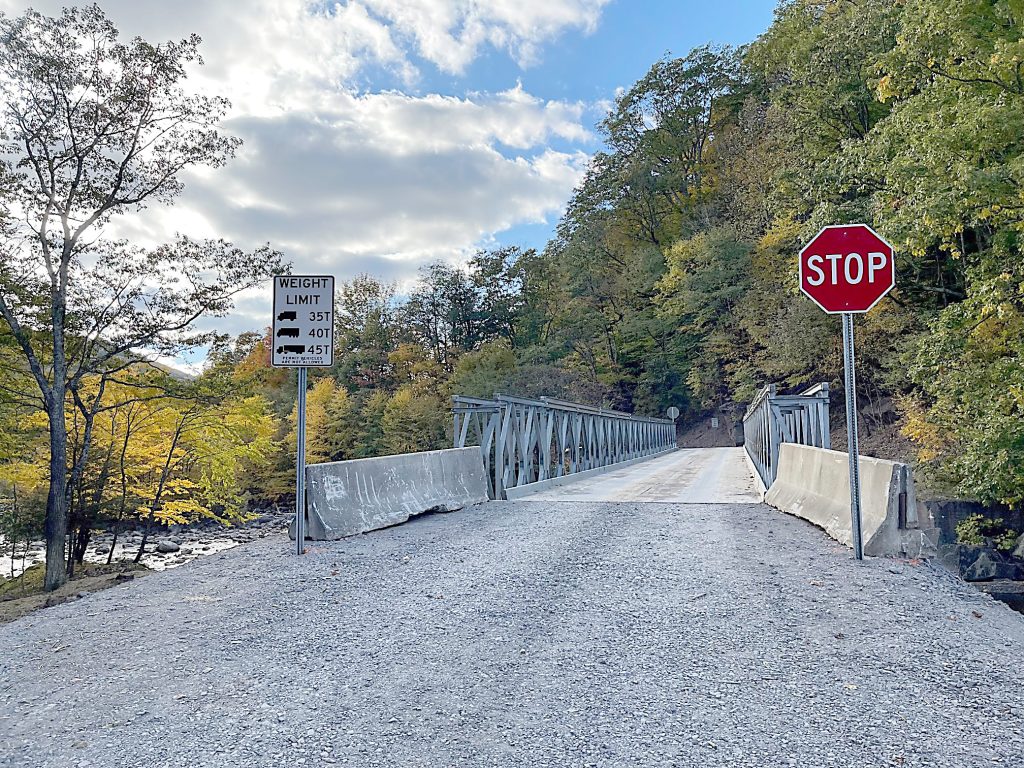 ELKINS, W.Va., An interagency team including staff from Monongahela National Forest, the Forest Service's Eastern Regional Office, and the West Virginia Division of Highways was presented with a national honor award by Forest Service Chief Randy Moore in an online ceremony.
The team collaborated on the replacement of a closed bridge in Tucker County, West Virginia. The closure impacted access to about 20 homes in the Laneville area and a popular trailhead in the Dolly Sods Wilderness.
"I'm proud of these employees and their dedicated work to ensure the safe and timely installation of the replacement bridge," said Forest Supervisor Shawn Cochran. "It's always rewarding to work with folks across agencies and from other offices, and I'm grateful for the assistance of the West Virginia Division of Highways and staff from the Forest Service's Eastern Region."
The team obtained funding and environmental permits, wrote a statement of work, awarded a construction contract, coordinated closely with the contractor and residents, obtained a temporary replacement bridge, installed a temporary pedestrian bridge, and provided public information. Thanks to their efforts, the bridge was opened to the public significantly ahead of schedule and with no injuries or safety issues.
The Red Creek Bridge Recovery Project Team was presented with the 2022 Chief's Honor Award in the category of "Deliver Benefits to the Public". Recipients include:
Amy Albright, NEPA Coordinator, Monongahela National Forest

Brooke Andrew, Natural Resource Specialist, Monongahela National Forest

Chad Arbogast, Civil Engineering Technician, Monongahela National Forest

Clark Bartelt, Contracting Officer, Forest Service, Region 9, East Zone

Mark Beverage, Equipment Operator, Monongahela National Forest

Donald Bolden, Equipment Operator, Monongahela National Forest

David Buck, Equipment Operator, Monongahela National Forest

Jeff Dulka, Bridge Program Manager, Forest Service, Region 9, Engineering

Kendre DiPietro, Civil Engineer, Monongahela National Forest

Zoey Fox, Civil Engineer, Monongahela National Forest

Jeremiah Knavenshue, Design Engineer, West Virginia Division of Highways

Nathan Parsons, Forestry Technician, Monongahela National Forest

John Waggy, Forestry Technician, Monongahela National Forest

Leo Weese, Civil Engineering Technician, Monongahela National Forest

Kelly Bridges, Public Affairs Officer, Monongahela National Forest

Patrick Hampston, Civil Engineer, Forest Service, Region 9, Technical Services

James Rossi, District Engineer, West Virginia Division of Highways

Benjamin Shaffer, Forest Engineer, Monongahela National Forest