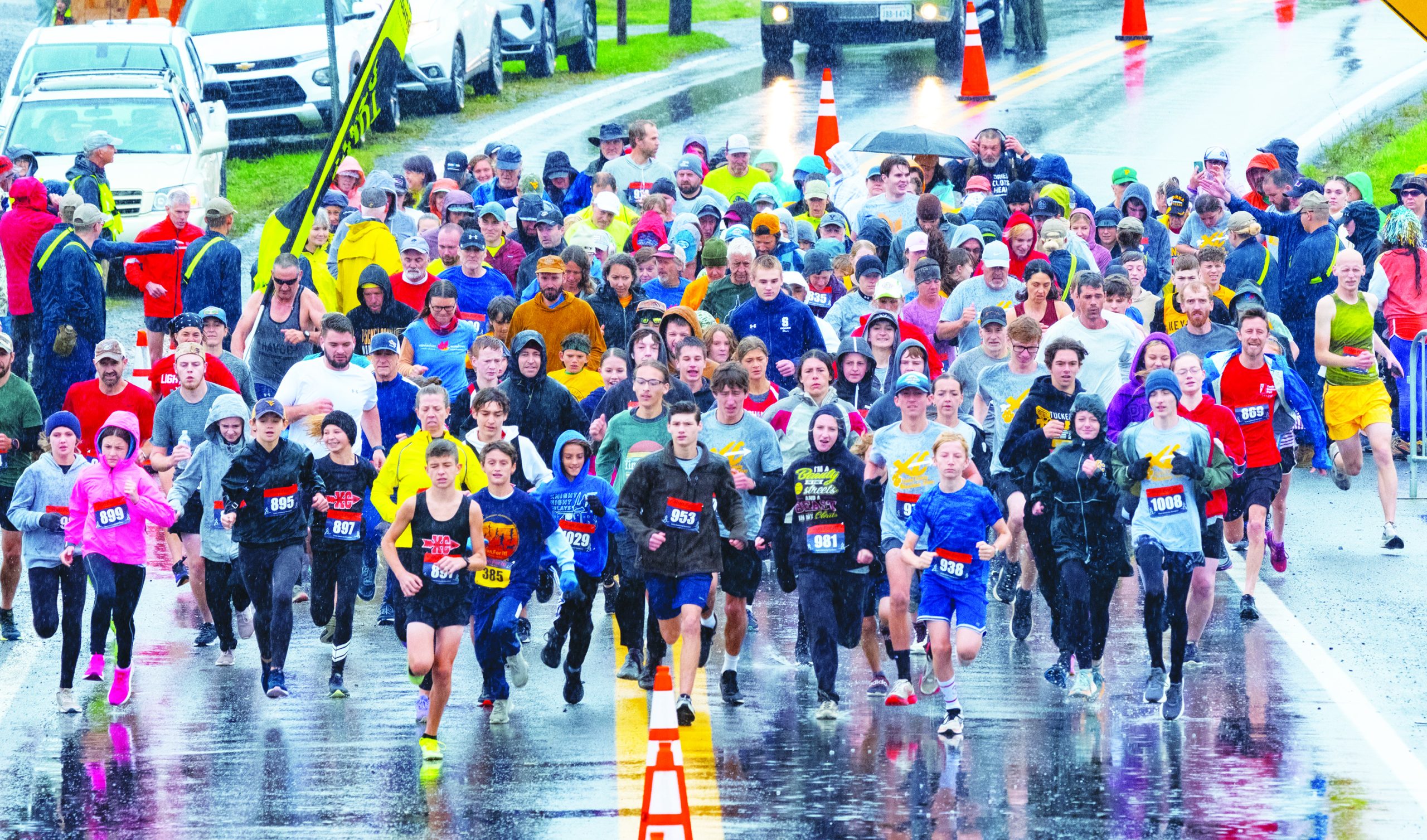 The Tucker Community Foundation's Run For It event had 1,389 participants representing 77 community causes who walked, ran, rolled, and strolled for nonprofits and charitable causes throughout the region (and state). Despite the wet, cool, blustery weather, hundreds lined up to fill the streets of Davis for the 2k walk and 5k run held during the annual Leaf Peepers Festival.
David Cooper, Executive Director of the Tucker Community Foundation, was enthusiastic about the number of nonprofits participating in this year's Run For It event stating, "This year we had 77 organizations who registered as teams for this fantastic event. Rather than groups asking for money for support, these groups engage with their communities and recruit their people to walk, run, and fundraise for their causes."
This year's event raised more than $274,200 for local charities throughout the foundation's region – Barbour, Grant, Mineral, Preston, Pocahontas, Randolph, and Tucker Counties in West Virginia and Garrett County in Maryland.
Hannah Snyder, Development and Marketing Officer, credited team captains for the event's success, "I have to give the team captains credit for rallying so much support for their organizations," she said. "They work hard raising money for team sponsorship which they can leverage to get more award money. Just from my experience this year, it makes a difference when you sign your team up in April and use the entire six-month fundraising period to your advantage."
The Run For It Committee and Volunteer Event Staff also play their part in the success of the event. Those individuals are Hannah Snyder, Dan Lehman, Robby McClung, Tim & Paula McLean, Diane Beall, Martin Williams, David Cooper, Hilary & Chris Boyce, Anne Wardwell, Sue & Joe Callahan, Michael Moore, Bud Parsons, Nora Howell, Barb & Carl Plumley, Wendy Steensland, Robin McClintock, Lizz Yokum, Susan Sutherland, Barb Douglas, Janet Preston, Gary Berti, Jim Baczuk, the Tucker Runners, the Challenge Academy students, JoJo & Vern Patterson, Chuck Nichols, Todd Romero, Kim Bonner, Elaine George, Diana Horne, Ed Worden, Marcia Lemon, Rachelle Davis, Mimi Kibler, Keith Strausbaugh, Ruth Bullwinkle, Vern Patterson, Bill Peterson, Rob Klein, Angie Downs, Kim & Monica Williams, Carrie Allender, Bud Harding, Karen Jacobson, Chris Barnes, Bonnie & Ken Smith, Amy Goughnour, Heather Linkinogger, Christy Rumph, Jeannette Ware, Doug Martin, Ray Lamora, Rod Jones, Bill Cox, Kris Jordan, Crystal Roth, Jane & Ted Fries, Jess Tucker, and Scott & Diane Hinkle.
Special thanks to the West Virginia Department of Highways, West Virginia State Police, Tucker County Sheriff's Department, Tucker County Office of Emergency Management, Tucker County EMS, Canaan Valley Ski Patrol, and the Davis Volunteer Fire Department.
The team award totals will be tallied and distributed to teams by mid-November. For a complete list of the awards results visit www.tuckerfoundation.net/race-results/.
Major Run For It sponsors include: Bernard McDonough Foundation, The Tucker Community Foundation, Kep & Alice Smith Trust, Tucker County Commission, Randolph County Commission, Barbour County Commission, Preston County Commission, Grant County Commission, Pocahontas County Commission, Garrett County Commission, Mineral County Commission, Barbour County Community Foundation, St. George Medical Clinic, Run Jeb Run, Mettiki Coal, Grant County Bank, Canaan Valley Resort, Cortland Acres, Citizens Bank, Dominion Energy, Snowshoe Foundation, Best of Canaan, Blackwater Outdoor Adventures, Hilary & Chris Boyce, Sheetz, Inc., Mountain Valley Bank, PCM Industrial Services, Q & A Associates, Mountain State Brewing, Mountaineer Infrastructure, Kingsford Charcoal, Davis Health Systems, Edward Jones Investments – Chris Fry, State Farm – Bob Gutshall, First United Bank, Preston-Taylor Community Health Centers, Don & Sheryl Kines, Purple Fiddle, Mike Ross, Wild Ginger & Spice, Annie Mac Naturals, Richard Hanlon, Sirianni's Pizza Café, WV Paving, Hinchcliff Lumber, Hinkle-Fenner Funeral Home, Miner's & Merchant Bank, McClain Printing, Grant Memorial Hospital, Mountain Home Design Build, The Davis Depot, Piccolo Paula's Caffe, and Vandevander & Nypl, CPAs.
Since its launch in 2007, Run For It proceeds have surpassed $3 Million being generated for charities throughout the Foundation's service area. Team captains and racers deserve much credit for the success of the Run For It program.
The 2024 Run For It is scheduled for Saturday, September 28. Registration opens on April 1, 2024. Visit www.tuckerfoundation.net/runforit for up-to-date information.
About the Tucker Community Foundation: The Tucker Community Foundation manages more than 140 endowed funds providing annual scholarships and grants to nonprofits and charitable causes throughout the eight-county service area. Inspired by the flood of 1985, the mission of the Foundation is to create opportunities for the communities we serve. For more information on Run For It or to learn about the foundation, visit www.tuckerfoundation.net.