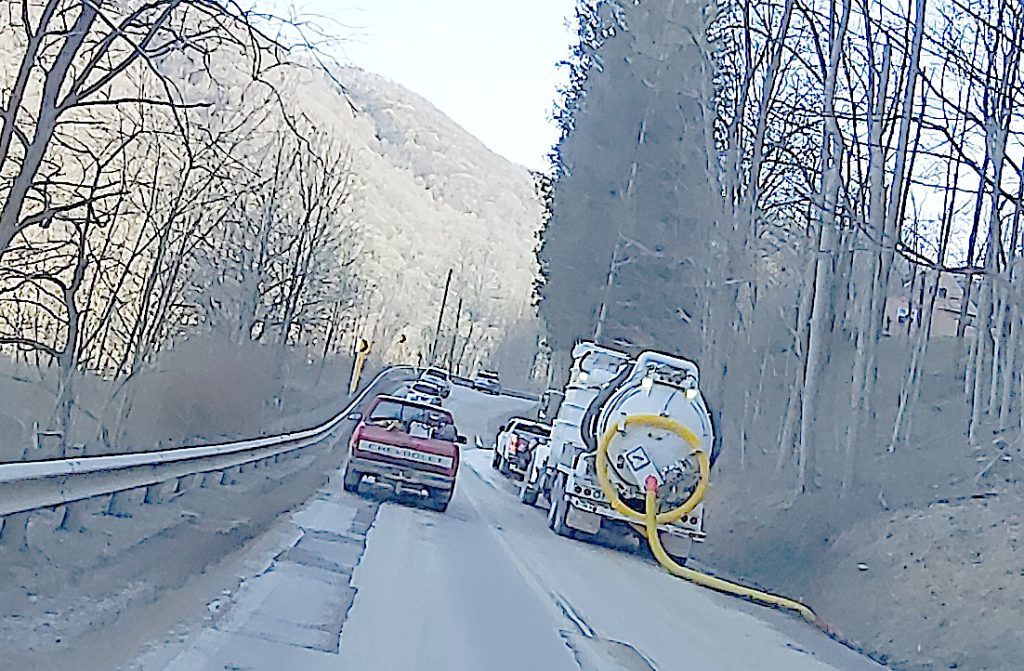 By: Jennifer Britt
The Parsons Advocate
Around 6 a.m. Feb. 22, a Kokosing refuel truck experienced what some are calling an environmental and safety nightmare. The refuel truck was headed down US219, just south of Parsons, in the area of Kingsford's charcoal plant. After refueling other company vehicles and machines overnight the driver was headed back to base camp when the fueling hose on the truck ruptured. 
Unknowingly the driver released an estimated 850 gallons of diesel along a three mile stretch of US219 and Moore Station Road. During the beginning of the investigation, it was unknown just how diesel had been spilt and where. It was still early a.m. and too dark for responders to see.  
Office of Emergency Management (OEM) Director Kevin White stated, "At 6 a.m. Tucker County Fire and OEM were alerted to a hazardous materials incident near the Kingsford Charcoal plant. Crews were dispatched out to investigate and of course it was still dark and raining. When we got there it was obviously diesel fuel in the roadway and you could smell the distinct smell of diesel fuel. At that time, we did not know the extent of the diesel spill and how far it went. 
After further investigation and crews arriving on scene, workers from the company arriving, and daylight breaking we realized it was more than just a few gallons. It was potentially hundreds of gallons. Through the tracking process the company has for their fuel it was determined it was right at or in the ball park of 853 gallons of diesel fuel. 
Basically, it was scattered on US219, south of Parsons and just before Kingsford. It traveled up 219 and to Moore Station Road and then extended the entire length of the Moore Station Road. That is where the piece of equipment that was leaking the diesel fuel was parked at that time."
White continued by explaining that due to the lack of materials for such a huge clean up the West Virginia Department of Highways responded with their salt spreaders on their trucks and spread sand down the road to absorb the diesel fuel. Crews from Kokosing also worked alongside responders placing absorbent pads known as pigs and oil dry along the road way where there was any water runoff that could be seen. 
White said, "That was the initial response to get something on the road to start absorbing that material. At about 8:30 a.m. we made the call to completely close the road. This was due to the fact that it was hazardous. It was still raining, and the material was just getting tracked further up 219. So that was just making a bad situation worse.
That was an agreement among many parties from my office at OEM, the Department of Highways, law enforcement, fire department, and the actual construction companies onsite. We all made that determination as a group."
The river creek and spring that run along 219 and Moore Station Road were checked thoroughly for any contamination. Parsons water department shut off all pumping of water until it was determined the water was completely safe.  White said, "We have monitored the river and Parsons's water has been monitoring everything. As a precaution that morning after speaking with the water plant, that had two days of water supply, was not going to fire up their pumps at all and did not. 
After 48 hours of monitoring the situation of getting in tune of where the spill was and the type of water ways we had, nothing has been at any time been detected in the stream or in the river. It was able to be contained with Haz-mat being able to come out and put pigs, pads, and materials around all drainage that led to a stream or a river."
As the clean-up is still ongoing with traffic being let through the area with only one lane of traffic it is extremely difficult to determine how many man hours it will take to complete the project. White stated that hundreds of men have worked hard to make sure the roads are safe to travel. White said, "With the construction, all the entities involved, with the outside sub-contractors coming in there is literally hundreds of men that is working around the clock on this project. They are working to make sure the road is made safe, and there is no contamination getting into any infrastructure such as water supply."
White explained that crews have worked with Kingsford and Ricottilli Lumber to ensure employees and trucks were able to access the plants. 
White ended by saying, "All of our entities have worked well together be it local, be it state, or be it the construction companies themself. Kokosing has been more than cooperative. They have agreed to everything we have asked them to do and they are even taking measures beyond what we expect them to do. They are going above and beyond. They realize that is a bad situation. They cannot change the situation. They can only be willing to help fix it and that is what they are willing to do.
I cannot name all of the entities with all the police departments, the fire departments, the Department of Environmental Protection, State OEM, Tucker County OEM it has just been one collaborative effort. We reached out to all the local infrastructures, all the emergency services, and the school board."
It is a very big operation that we do not take lightly, and we are going to make sure everything is going to be made safe for the public before it is released." A reevaluation of the situation was set for Monday at 1 p.m. with US219 remaining as a one lane traffic until then.