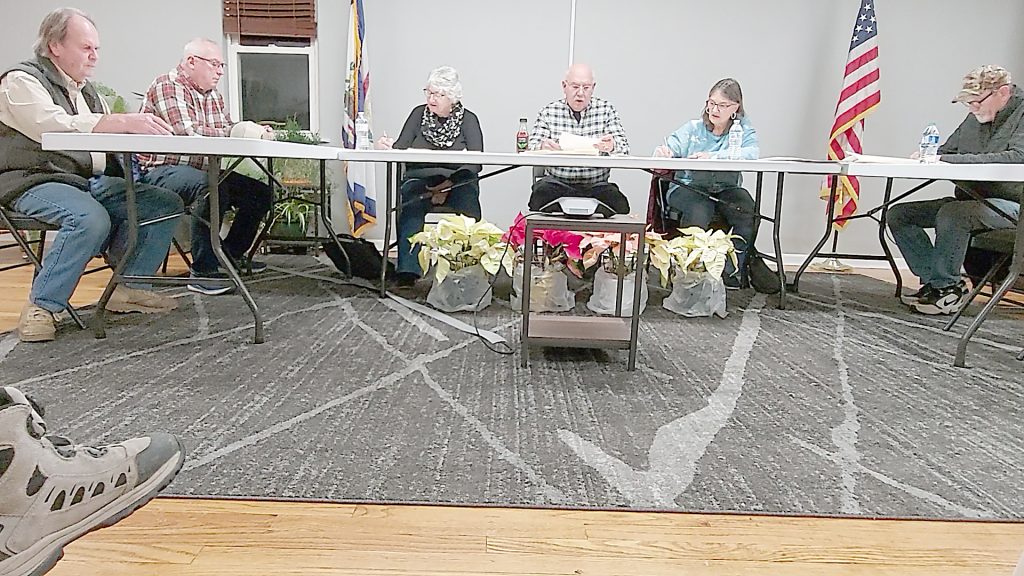 By: Jennifer Britt
The Parsons Advocate
The Town of Davis Mayor, Alan Tomson, appointed Robert North as the newest member of the council. North has lived in Davis for the past two years after moving here to care for his mother. North will serve as council member until the end of June. North said, "My parents have been here for years. They lived down in Deerfield Village and then they moved up here to Thomas Avenue. My mom broke her hip back in 2006 and she could not get up and down steps. So, I ended up buying the house at the end of Henry Ave from the Walters. I now live here full time and have been here two and a half years. 
I put all the excavators in the Washington subway system. I have been involved in construction supervision for the last 40 years. I am looking forward to dealing with the community here and just helping out." The council members thanked him for volunteering and welcomed him to the council. 
There will be another council seat available after the next council meeting. Ron Hollis will be relocating to Arkansas in February and leaving the council. 
Guest Nancy Luscombe asked if there was an update from the Corridor H Committee report. Tomson responded saying that the report from the committee would be ready by the end of January. Tomson said, "We shot for a target date of sometime in January. So, end of January we are looking for a report. That will be a report that basically says this is what we investigated, and we are presenting the facts." 
Judy Cronauer expressed gratitude to the water department staff for keeping the water going during the Christmas holiday and asked if water services were going to be included in the Blackwater PSD. Mayor Tomson responded by saying, "There is no discussion at all that has been had with regards of putting water into the Blackwater PSD. That question was specifically asked if there was any intention to do that and right now the answer is no. It is still just sewer." 
Tomson then explained why it was just going to be sewer in the new PSD and said, "Water in Davis is not a problem. Sewer is problematic. We have a collection system that needs to be fixed, which we are working on. We have a lagoon system that is antiquated and can be an issue at times. So, really the question was is Davis going to do something with its lagoon; is it going to upgrade it, which is tough to do; is it going to replace it with a package plant. Then the question came up then let us not just focus on Davis let us come together as a larger based community and talk about what we need on top of the mountain."
Tomson presented an update on where the Town of Davis is financially. Tomson mentioned hearing rumors that the Town was broke and running out of money. Tomson stated, "Sometimes statements are made that the Town is running out of money and that may apply in certain situations, but it is not an across-the-board statement." Tomson explained that in the municipality and sales tax account that is also known as the one percent account has $289,000, the hotel/motel tax account has $124,000 but the Town does not own all that money due to disbursement issues with Air BNB, and of the $280,000 American Rescue Plan received there is $180,000 remaining. 
Tomson also explained that the general account that pays all of the Town's bills except water and sewer is solvent. Solvency is the ability of a company to meet its long-term debts and other financial obligations. The water account is also solvent, but the sewer remains the only account with a money shortfall or deficit. Tomson explained that the sewer rate increase went into effect in October and the funds are starting to increase but it is not where they need to be as of yet and may not by the end of the fiscal year. American Rescue Plan funds can be used to help with the shortfall in a revenue account. Tomson said, "I just want to make everyone aware that Davis is not rolling in dough (money), but we are not in fiscal jeopardy either."
Digging will start at the industrial park to fix the sewer leak that has been happening for many years. The leak was seeping into the wet lands. To help with funding the Town has applied for an emergency requisition from the State and received $191,000. The project is to be completed within the next week or two.
In reference to correspondences put out about Corridor H, Mayor Tomson stated, "I finally got a copy of the correspondence today. After receiving numerous phone calls to include the mayor of Thomas and who all had copies of this correspondence saying what is Davis doing, what is Davis's position. The letter was sent out by two private individuals, but they also happen to regency put in there that they were part of the Town Council Corridor H Committee. Which did not need to be put in there if you are sending out private correspondences. 
And, I am particularly distressed in the correspondence by the one individual that is an engineer, and the other that is an architect and a planner. They put in all these issues to think about that we were really hoping people would start looking at factually. The compounders of the issues that are in the correspondence are biased. They are not projective. They are subjective. They are people's opinions that vary from as many people that you might run into and overall, I think that the letter that was sent out by the members of the Corridor H Committee did a disservice to their reputations and to the Town."
Building permits were approved for Patrick Paugh at 623 Fifth Street to replace a 12 X 20 shed, and Pamela Cosner at 229 Blackwater Avenue for a 10 X 12 shed. 
The next Town of Davis Council meeting will be held on January 25, 2023, at 6:30 p.m. and located at the Davis Town Hall.