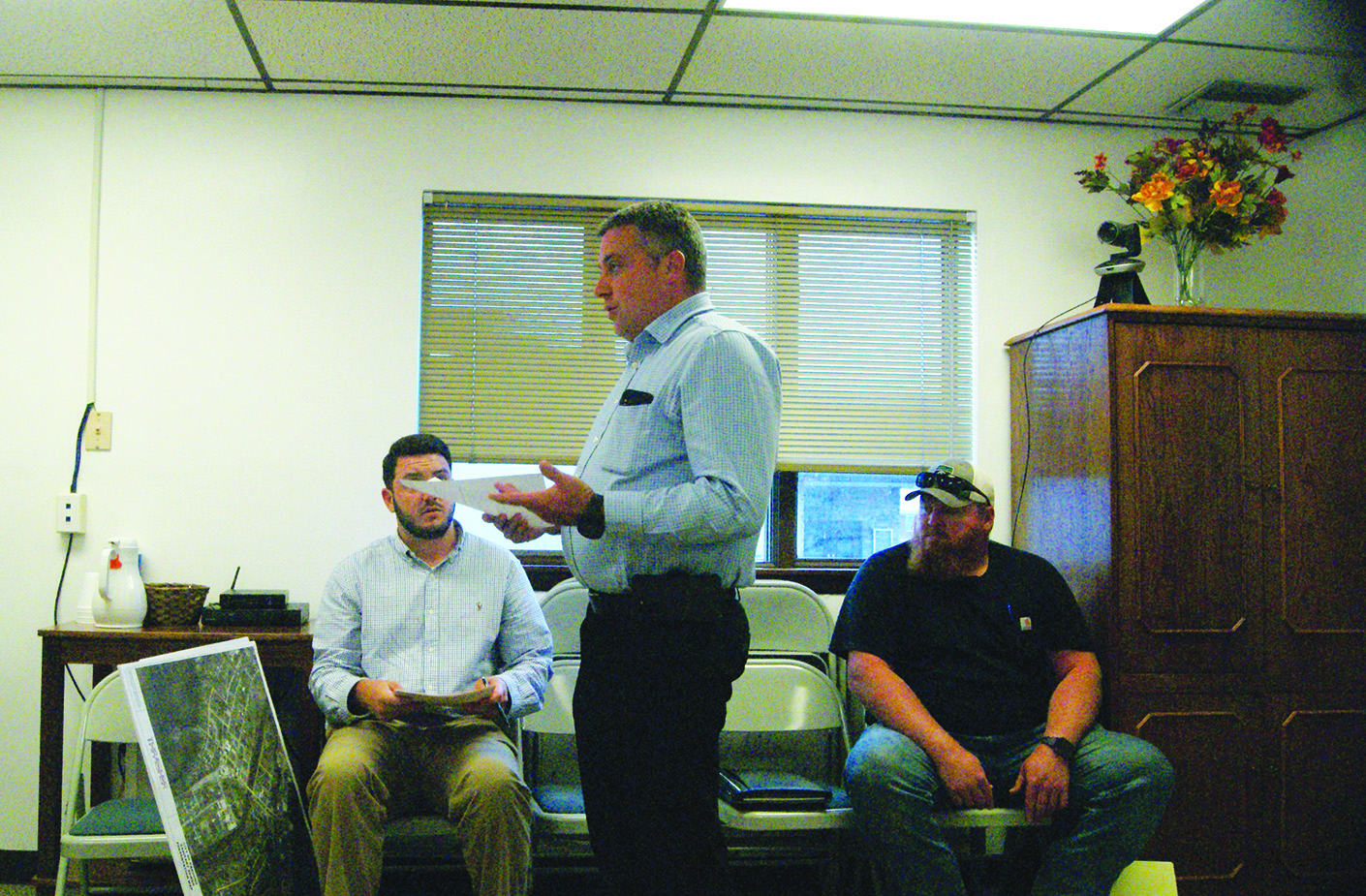 By: Lydia Crawley
The Parsons Advocate
Representatives from The Thrasher Group addressed the Parsons City Council.  Project Manager Eric Sherrard and Staff Engineer Zac Musgrove informed the Council that the Parsons-Hamrick PSD Emergency Interconnection Project was now set to bid and tentatively break ground the first of the year.
Sherrard said the project was slated to go to bid this month and that he expected a large turnout of bidders.  "Of course, the big news is we are going to have our pre-bid meeting for the River Crossing Project," Sherrard said.  "Bid opening date is October 31st.  We've already had several calls from contractors on that. So, we're expecting a pretty big turnout for bidders."
According to Sherrard, the pre-bid meeting was not mandatory and that there would be bidders who would still submit bids without participating in the meeting.  "One thing to note is the pre-bid meeting is not mandatory," Sherrard said.  "So, there will be contractors that aren't at the pre-bid meeting that are going to submit a bid."
Sherrard said he hopes to be able to award the bid two months after opening the bid process.  "Once we open bids, we're expecting it to be about two months before we can award," Sherrard said.  "Hopefully sooner than that, but it is going to come down to Small City's Block Grant, getting all the documentation out for their end to close."
Bids are tentatively scheduled to be awarded on the project by Christmas, according to Sherrard.  "We actually have a 90-day bid hold," Sherrard said. "We have scheduled tentatively to award before Christmas, though."
Sherrard said once the bids were opened, they should be able to start the process.  "Once we open bids, we will know who the apparent low bidder is and we are going to start the submittal process and everything," Sherrard said.  "So, we can get the ball rolling."
When asked about when ground breaking on the project would begin,  "We're going to proceed as soon as we award it,"   "My guess , I'm hoping right after the first of the year.  A little bit of it is going to be due to availability of pipe, which is not far out, but it could be four to six weeks once they get notice to proceed."
According to Sherrard, the construction period should last three months on the project.  "That job, I think we have a three-month construction period allotted for it," Sherrard said.  "So, it shouldn't be too bad."
The only items that could take time, according to Sherrard, are pressure relief valves for the valve vaults on the project.  "The one thing that may take a little bit of time is the PRVs in the vault," Sherrard said.  "But they can build everything out and then put them in when they come in."
Council Member Tim Auvil asked if the cost of the project had remained the same.  "We still looking at the same cost perimeters," Auvil said, "or are we got to reapply once we get the bids?"
Additional funds may need requested on the project, according to Sherrard.  "We may have to ask for, request additional funds," Sherrard said "We already talked to Small City Block about that.    Because we have requested way under the limit.  I think you're eligible for a million and a half and we've asked for 600,000.  So, we told them that with inflation last year, and instead of reapplying and dragging this thing out farther, they said just ask for bid overrun money, cause they get that faster."
Costs have come down since last year, according to Sherrard. "The good news is that since last year, the prices have come down a little bit," Sherrard said.  "So, we're not looking at nearly as much overrun as we were expecting."
According to Sherrard, the first application on the project was submitted in 2015, but the money was not approved until 2021.   "2015 is whenever the first application went in," Sherrard said.  "We didn't get it until 2021."
The next meeting of the Parson's City Council Meeting will be held on October 17th at 6 p.m. at the Charles W. "Bill" Rosenau Municipal Building located at 341 Second Street in Parsons.