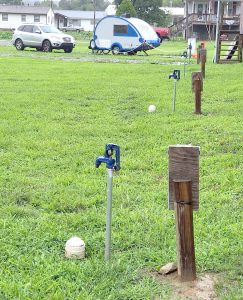 By: Jennifer Britt
The Parsons Advocate
Lifetime Tucker County resident Nancy Oldaker has embarked on a new adventure. Oldaker has beautifully put together, with the help of her husband Tim, a RV rental spot called Recreational Rentals and Sales, LLC. The RV camping spot that was once a garden spot is located in a quiet and serene area just a stone's throw from the river. 
Oldaker said, "We had a garden down here and never had time to work it, so we said let's do something with it. The idea was to help the guys working on the crews for Kokosing Construction Company to have a spot where they could hook up their homes away from home with everything they needed."
The Recreational Rentals and Sales, LLC is a newly constructed RV Park in the city of Parsons, West Virginia.  They offer full-service hook ups to all 11 sites that include water, electric, sewer and trash pick-up. The park offers RV parking spot rentals for $20 a day and monthly rentals for $450.  
Currently there are three spots with crusher run for parking of the RVs, but Oldaker has plans to add more gravel spots in the near future. The lots are capable of holding a 50-foot camper with ease. Oldaker also has plans to expand the existing park by adding other amenities at a later date. Oldaker said, "I still have some ideas of things I want to add eventually."
Conveniently located within walking distance to parks including the play park, basketball court, and baseball field. There is a boat ramp access to Shavers Fork River as well as a pond for catch and release fishing located in the historic Pulp Mill Pond. 
New restaurant The Grand Slam is a five-minute walk away as well as the local pharmacy, a farmers' market, a general store and the historic Train Depot and Depot Restaurant.
The Rails and Trails bike and walking trails are within walking distance from site. Downtown Parsons with its many other local attractions like the Pocket Park and the float rentals can be found by taking a two-minute drive.  
Currently tents are not allowed due to there being no bath houses. Pets are welcome though as long as renters abide by the City of Parsons leash laws. There is a shared picnic table and bonfire pit for use as well. 
Recreational Rentals and Sales, LLC  is located on Kohler Street, Parsons. Oldaker can be reached at 304.614.8901 or 304.614.8902.