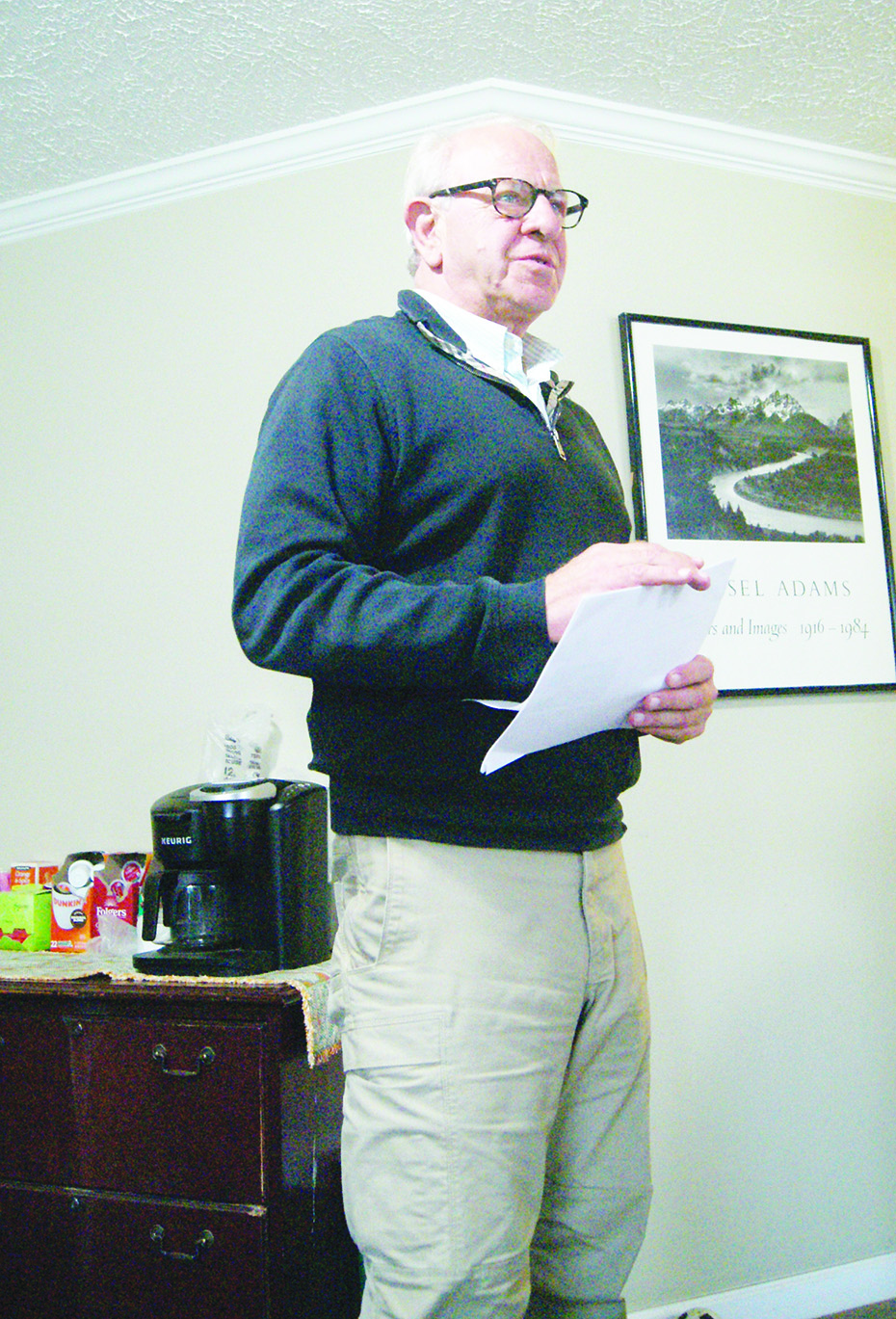 By: Lydia Crawley
The Parsons Advocate
Jeffrey Craig of Renewable Natural Gas Company, LLC addressed the Tucker County Solid Waste Authority at the board's regular meeting on September 18th.  Craig and his company proposed a partnership to collect, process and sell renewable methane gas produced at the Tucker County Landfill in Davis.  According to Craig and in documents he supplied to the the Parsons Advocate and the Solid Waste Authority Board, the arrangement could yield the TCSWA an approximate $370,000 in 2025 increasing to an approximate $459,000 in 2043.
Craig said he had first visited the board in December with a preliminary presentation and due to recent developments, his company is excited about the prospect of developing the Landfill site.  "Its been about a year since I first came down here," Craig said.  "In December we came down and gave a preliminary presentation.  And a lot has happened since then.  Both inside our company and in the industry so we're really excited about the opportunity to work down here."
"What we're proposing is to pay 12% of the gross revenues we receive from the gas," Craig said.  "If we paid you a royalty of 12% a year, I think you could reasonably expect over the next 15 to 20 years, in the range of 300 to 400,000 dollars."
According to Craig, the estimated price he gave the board was lower than market price currently.  "This price is very low compared to what the market price is right now," Craig said.  "For evaluation purposes I've used a market price of $18, we're probably over $25."
According to Craig, installation of the gas collection system would be at no charge to the Solid Waste Authority.  "What we're proposing is at our nickel to install a gas collection system on the landfill to collect as much gas, the methane, as we can collect and then interconnect with the Columbia Gas Transmission Pipeline," Craig said.  "Which is, as you know, runs right around  the landfill."
According to Craig, his company would handle the design and permitting of the project.  "What we would do is pay for the installation of the system," Craig said.  "Whether it be the design, the permit.  We would own it, we would operate it.  And actually that works out better.  We prefer that.  We do a lot of operations for a lot of sites."
Craig said he did not anticipate there being any issues with tying into the Columbia Pipeline as his company has an established relationship with the pipeline.  "We've worked with Columbia on other projects in the past," Craig said.  "Which was one of the benefits of this project because they're really great to work with.   A lot of pipelines are not, but Columbia is.  They really know what they are doing.  Because their system collects a lot of natural gas, they're used to having people tap into  their line and deliver them gas.  A lot of pipelines are not and it makes it very difficult."
According to Craig, all the equipment in the proposed project is temporary and easily moved.  "As you will see, all the equipment is skid mounted, nothing that is stick built.  Everything comes in on skids.  You either have it on foundations or  like the compressor unit, on gravel and then you wire it together and you pipe it together.  So there's not anything fixed to the site that can't be moved or relocated if we had to."  
Craig said Chemex Global of Houston is the Project Team member company in charge of fabrication.  "That's what Chemex does," Craig said.  "They build the skids."  Other companies in the Project Team include Atlanta based ET Environmental and Lee Enterprises Consulting, according to Craig.
Craig said the landfill had the potential to produce over a million diesel gallons equivalents of gas a year.   "Believe it or not, this site has the capability to produce over a million diesel gallon equivalents a year," Craig said.  "So what does that mean?  Well, the BTU volume in a million cubic feet of gas and the BTU volume in a gallon of diesel that's where that comparison comes from."
According to Craig, his company sells the gas in BTUs.  "So the way we sell this gas is in BTUs," Craig said.  "And there's about, I want to say…probably depending on how much gas, I'm sure a million and maybe close to a million and a half of gasoline or diesel gallon equivalents."
According to Craig, UPS is one of his company's main customers.  Craig said. "Our principal customers are UPS… They now have over 300 delivery vehicles operating on compressed natural gas and that compressed natural gas is actually a lot of our renewable natural gas.   Nationwide, they want their fleet of over 25,000 vehicles all converted to natural gas, or compressed natural gas, what we called compressed natural gas, renewable natural gas, by 2030.  So right now there's not nearly enough gas to supply them.  There's far more demand for renewable natural gas than there is supply…The other big customers are FedEx and Amazon.  Who's got trucks on the road?  Fleets, those are our customers."
Craig said  his company had also been contacted by a manufacturer of jet fuel wanting to purchase their natural gas.  "The other interesting – and we got contacted last week by a company out of Houston who wants to buy our gas to make jet fuel.  They'll use it in their process to make jet fuel.  So the renewables aren't a fad, they're here to stay." 
According to Craig, renewable natural gas is inexpensive to collect and process. "Renewable natural gas, of all the renewable fuels, is the cleanest and its the cheapest," Craig said.  "Because to collect gas out of landfill and clean it up and make it pipeline quality is not expensive compared to doing a lot of other things.  So long term, we think this is a great business to be in."  
According to Craig, the gas is produced by the decomposition of waste within the landfill and creates methane, which is what his company collects and refines.  Craig also said that unlike conventional natural gas wells that have a decline curve, landfill gas is dependent on how much material is added to the landfill.  "The BTUs is all contained in the methane," Craig said.  "The more waste to add to the landfill, the more gas you produce.  So unlike a natural gas well that will have a decline curve, ours is just the opposite.  We would expect on this site, for the gas curve to continue to increase, the amount of gas to increase as long as more waste was added to the landfill." 
Craig said that the project would not be able to process all of the gas with the average being around 75%.    According to Craig, the site could yield upwards of 1,000 cubic feet per minute of gas generated.  "So we say, out of the thousand, how much can we reasonably expect to be able to process? I would say about 750 standard cubic feet per minute."  
The next meeting of the Tucker County Solid Waste Authority will be held on October 30 at 3 p.m. at the TCSWA Office located at 284 Landfill Road in Davis.