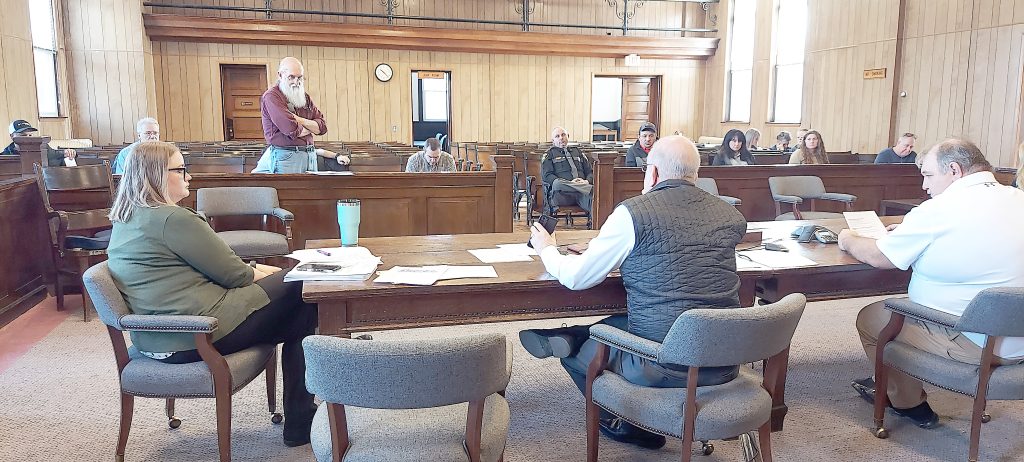 By: Jennifer Britt
The Parsons Advocate
Guest speaker Bob Ekholm spoke with the Tucker County Commission to discuss the never-ending battle with large trucks on Leadmine, Sugarlands, Horseshoe Run, and Holly Meadows roads. Ekholm said, "I have put some research into this starting with Mike Simmons (Interim 911 Director) over at the 911 center. I asked him if there was a list I could obtain from all the tractor trailer incidents that occurred through last year. Not vehicles, just tractor trailers. He proceeded to give me a list of 49 incidents. Out of those 49 incidents 27 of those were on Holly Meadows Road, Sugarlands, Leadmine Mountain, or Horseshoe Run. All four of those roads intercept onto Holly Meadows. 
I live on Holly Meadows, on top of Slip Hill, where a number of these incidents occur because of the extremely sharp hair pin curve there. I have spoken to the Sheriff about this. I even went over to Kingsford earlier to talk to them because a lot of the vehicles involved are hauling charcoal out of their plant."
Ekholm continued explaining that the trucks are taking this route because the GPS apps take the trucks on this route. Many of the truck drivers have said that the company they drive for, mostly Swift Trucking, have a company policy that does not allow for them to deviate from the path that GPS takes them on. EKholm said, "Just since January of this year there has already been eight incidents."
Sheriff  J.E. Kopec said, "The other day we had one get stuck and then he went down the road, flipped over, and dumped 48,000 pounds of charcoal."
At this point Commissioner Mike Rosenau called DOH representative Travis Long on his cell phone to obtain updates. Rosenau asked Long if the IT guy that was taking the routes off of GPS had done so. Long said, "Well it is not quite that simple. He cannot take them off the GPSs but we can send a request to do that." Long explained that Google did not have the option to eliminate the route of being a truck route but did have the option to label the route local traffic only. 
The discussion of labeling the route local traffic included the options for AirBNBs that may be in that area or if a tourist was using the GPS to travel those roads for things like fishing. Tucker County Prosecutor Savannah Hull Wilkins said, "I think there are some AirBNBs out along that way. I think that also those particular owners could give specific directions to the people that are going out there. I mean I know our officers are frustrated. It ties up a lot of our resources. It does seem to be primarily Kingsford, so what if we schedule a meeting between myself, get some numbers that you (Ekholm) got from 911 about how often, and maybe with Jake (Sheriff Kopec), and those agencies and maybe just sit down and talk to them and say this a drain on our county resources and just put some pressure on Kingsford to give their drivers a little better education on which route they need to be taking. I do not know what else to do except for the officers to give tickets."
Long said that even though Google may change the route to local traffic only it may not solve the problem completely because there are other map apps out there, but it will definitely help. Rosenau asked if flashing lights could be added to the existing signage along these roads. Long stated that he would talk to the person that could approve that and he did not see a problem with it. 
OEM Director Kevin White presented his monthly report to the Commission. He reported that during the month there were several events that included search and rescues, water leaks at the City of Thomas' water tank, and many meetings throughout the county. White said, "I do want to touch base on a search and rescue event that happened the 31 (January) and 1 (February) and while utilizing the drone it met up with a catastrophic accident. It is out now for repair, and they do believe they can repair it. We are not exactly sure what happened, but it fell out of the sky. We do not know what caused that and that is why we have insurance on it."
White explained that the positive side of using the drone was the area coverage the drone could complete was vastly larger and faster than if done by people. White said, "It is equipped with infrared, so it does pick up heat. It has a camera on it that sends a signal back to the console so we can see things that we may not pick up walking on the ground. A lot of the time you can not get a helicopter for different reasons." White stated that the drone has been used several times in the past year that included a river search and rescue.
Many people wear different "hats" or roles in the county and White is one of them. During the meeting White switched his "hat" to Fire Chief of the Parsons Fire Department and reported that for the year 2022 the fire department responded to 248 calls. The amount of calls the station is answering is in an upward trend. For 2021 the station answered 230 calls. In 2020 there were 225 calls and in 2019 there were 180 calls answered. 
Of the 248 calls for 2022 there were five for structures, 14 for motor vehicle crashes with injuries, 50 for motor vehicle crashes without injury, 15 for traffic control, four for search and rescues, 21 for mutual aid, 21 for landing zone, one hazmat, 11 gas leaks, four brush fires, 21 services to public, one vehicle fire, two fire or CO alarms, seven for electric lines down, one water rescue, 11 smoke and odor investigations, two ATV or UTV crashes and 57 EMS assists.
White explained that while the calls being answered were increasing the number of volunteers is decreasing. This is not just a county issue it is a nation-wide issue. White said, "There is a strain on our volunteer fire services to provide services for not just our residents but our guest also or just people traveling through our area from point A to point B. 
We know that the road is being built. We know that it is in a position where it is touching both ends of our county and soon to be further in county by my understanding of construction dates. I just want people to understand how important it is to get this road done to make things a little safer. Because a lot of the accidents and a lot of the situations we are seeing in are on an inadequate road that is bringing this traffic to us. And I am calling 219 inadequate for the type of traffic we are getting." 
Commissioner Rosenau thanked White for his report and said, "Having the numbers before us sure helps. Like you said it is surely through out the county that they have increased. From the Commission we thank you and the fire department for all that you do for our community."
Animal Shelter Director Bailey Falls presented her monthly report to the Commission. During the report Falls stated that there were several upcoming events that will help with funding for the shelter. Those included a slumber party hosted by the animal shelter on March 25, a Save a Stray Soiree hosted by the Friends of Tucker County Animal Shelter (TCAS) on April 1, a rabies clinic on April 22, a golf tournament with Friends of TCAS on May 21, and dog wash with Friends of TCAS on June 3. All events can be found the TCAS website at www.tcanimalshelter.org. 
Falls stated the TCAS has been informed that a funding and labor grant will be awarded from the Sundt Foundation employee funded grant program to construct a canine quarantine area. During the past the foundation has been to the shelter on three separate occasions with engineers, contractors, and plumbers. 
Falls said, "Our existing dog shelter was and is still not great but we had some rusty kennels that were a danger to the animals that were housed there and our staff was not able to safely move through there. It is still not perfect, but they were able to get the side that is most easily heated usable. We had two usable kennels on that side, and we now have seven. They did not charge us anything and we did not have to buy any material." A grooming tub has also been installed to replace the rusted and cracked old tub. 
The commissioners accepted the resignation of Terry Silk from the Ambulance Authority board. In his letter of resignation Silk explained that due to the passing of his wife of 60 years and other personal health issues he felt it necessary to resign. Silk stated that it had been an honor to serve on the board and offered prayers for continuing the work of putting the EMS back together. 
The Commission next appointed Edward Watson to the OEM Advisory Board and re-appointed Phil Fansler to the Park and Recreation Board.
Executive Director of Region VII Region and Development Council Shane Whitehair requested funding of $1,500 for the Hazard Mitigation Plan. The match requirement for the program is $28,000. The Regional Council is coming up with an estimated $12,000 and is asking each county commission for $1,500 and a hand full of municipalities for $1,000 each. Whitehair said, "Today I have three commissions that have committed $1,500. Four municipalities that have agreed to pay $1,000 and there are two more that I am going to visit as well."
Whitehair said, "We submitted the application in December of 2021. We were notified in November of 2022 that we were approved, however between those dates the State of West Virginia has taken up a position that they are requiring local governments to match rather than the State of West Virginia not coming up with the 25 percent non-federal shares."
Rosenau said, "In order for us to apply for grants on the federal level we have to have a mitigation plan." 
The Commission approved the request. 
Tucker Community Foundation Executive Director David Cooper and the Development and Marketing Officer Hannah Snyder presented the Commission with a request for a $5,000 contribution to the Run For It program. The Commission has participated in the program since 2009 and since that time their total investment has been $65,000 with a return on that investment in excess of $1,182,000. This year's race is scheduled for September 23 in Davis and the registration is set to begin on April 1, 2023.
The Commission approved the request.
Mayor of Thomas Jodi Flanagan presented a request in the amount of $6,900 for a welder. The welder would be used by the City of Davis to help maintain the integrity of the city's water tank. The tank recently cracked and began to leak water. A new tank has been ordered but to prevent any further leaking Flanagan would like to purchase a used welder with 400 hours of service on it and includes a trailer from United Rentals to patch the tank. A certified welder is on staff at the water treatment plant and can complete the work required. 
The Commission approved the request.
Director of EMS Amanda Simmons asked the Commission to table the two items that were placed on the agenda for matching contributions from the AFG Grant and the Stryker cots. Simmons and the Commission had held a work session to discuss these contributions but at the time the correct numbers for the total cost of the lift system was unknown. It is now known that the cost will be in the area of $87,000 for everything that is needed to install one cot. 
The items were tabled and another work session will be scheduled to discuss the matter further.
The Commission scheduled a budget meeting for March 15 at 9 a.m. to review the annual budget. During that day the Commission will meet with elected officials from the Assessor, Sheriff, Prosecutor's, Circuit Court, 911 Director, TCAS, and OEM Director for funding requests. On March 16 at 9 a.m., the Commission will meet again to construct the budget. The budget will then be unofficially approved at the Commission meeting on March 22 before sending it to the state auditor.
Commissioner Fred Davis gave an update. Davis said, "We have been working hard going to Charleston for a few weeks working for our county. We are working with EMS the best we can. We have some work sessions coming up where we are going to try to get some trade schools. Eastern College, the Tucker County Foundation, and the school superintendent will be there. This is not just for kids but adults also. The classes can be expensive but with grants anyone can get discounts or free college classes. Some of the classes are CDLs, maybe VET tech, phlebotomy class, nursing assistant, and grant writing. I am hoping to get some heating/air conditioning technician classes as well."
By phone, Commissioner Tim Knotts said, "Sorry I cannot be there today the old COVID virus finally caught up to me after all these years, but I am doing well. I want to say that we went to Charleston last week for four more days, and we met with many Senators and legislators from districts in other counties. They are having the same problems as we are." Knotts urged the residents of Tucker County to call our legislators, Delegates, or Senators and push to get the bills passed that would add additional funding to the county for emergency services. Knotts said, "Tucker County is not all residents and we have a great number of people coming in here that we are supplying emergency service for. We need some help! So, please, please, call our Delegates and Senators and put some pressure on them."
Rosenau highlighted some the things that happened in Charleston. He stated that the Tucker County representatives have been working diligently to get the bills passed and apply them. Rosenau explained the process a bill goes through and how the tourist lobbyist are very diligent in Charleston. Rosenau said, "This Commission is never against tourism. Never think that. We applaud tourism. The guest coming to our county brings so much revenue. We are not against tourism. I am for them paying their percentage for emergency services when they come to our county. Sixty-five hundred people cannot support a million guests. They may not use this service, but the service is there for them to utilize as needed."
The next Tucker County Commission is scheduled to be held on March 8, 2023, at 9 a.m. in the Tucker County Courthouse Courtroom located at 211 First Street, Parsons, WV, 26287.