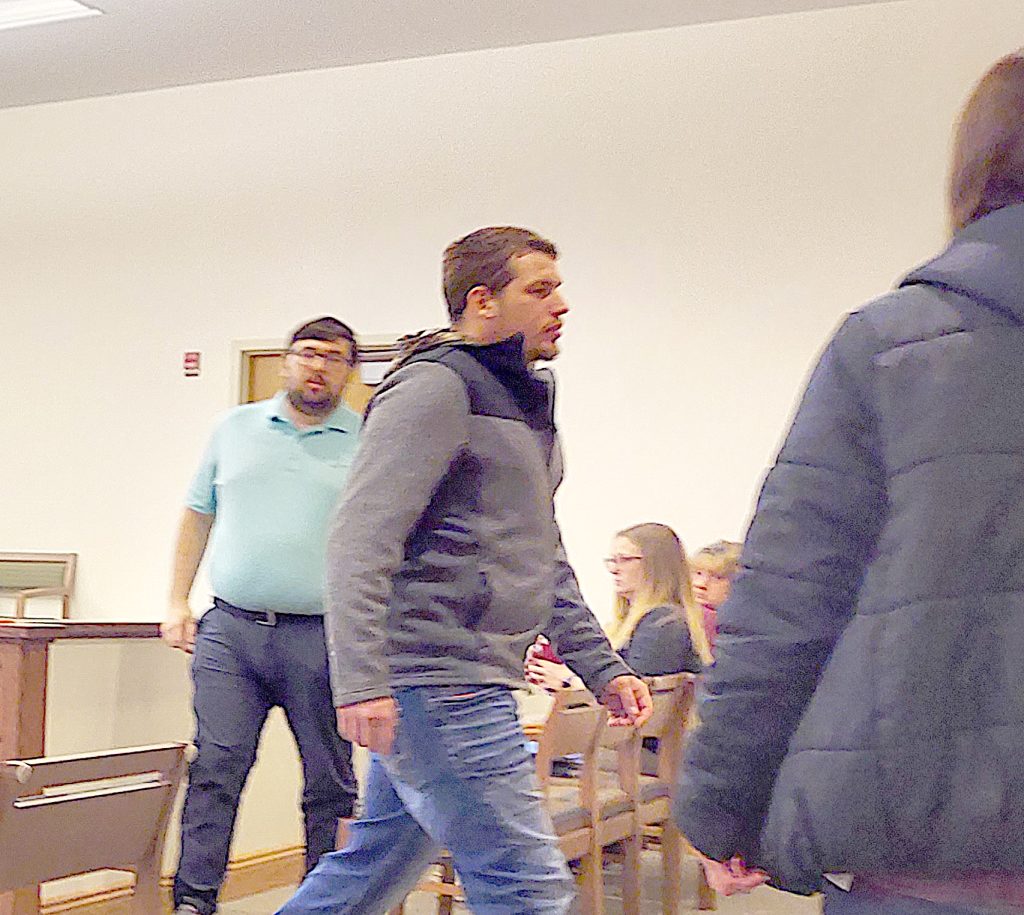 By: Jennifer Britt
The Parsons Advocate
The criminal cases of the state verses Trevor Roy and the state verses Tammy Mook were heard in the court room of the Honorable Judge James Courrier. Defendants Roy and Mook were represented in court by Public Defender Attorney Brent Easton, and both cases are being prosecuted by the Tucker County Prosecuting Attorney Savannah Hull Wilkins. 
Roy was the first to appear. Wilkins presented to the court a plea bargain that would reduce Roy's charges from a felony to a misdemeanor. The plea agreement consisted of two counts of domestic battery. According to state code §61-2-28. "Domestic violence — criminal acts. (a) Domestic battery. — Any person who unlawfully and intentionally makes physical contact of an insulting or provoking nature with his or her family or household member, or unlawfully and intentionally causes physical harm to his or her family or household member, is guilty of a misdemeanor and, upon conviction thereof, shall be confined in jail for not more than twelve months or fined not more than $500, or both fined and confined."
These charges are not subject to deferred adjudication. Deferred adjudication is a plea bargain in which an offender pleads guilty or no contest to what he is being charged for. In exchange for the guilty plea, not only does he avoid jail time, but he also gets the opportunity to have the charges dismissed or expunged from his criminal record. In Roy's case with no deferred adjudication for the charges presented in the plea agreement jail time is sentenced according to state code.
According to statement made by Wilkins, in June of 2019 Roy threw Cheyenne Davis, of Tucker County, to the ground repeatedly and struck her several times. Judge Courrier asked if Davis was in agreement with the plea and Wilkins said, "The victim understands. She is not in 100 percent of agreement, but she understands."
Judge Courrier explained the conditions of the agreement. Since the charges are considered domestic violence Roy will be unable to possess, carry, or be in the presence of any firearm. This a permanent band and only in rare instances are rights restored. Roy will give up his rights to a jury by peers, to challenge any evidence obtained and to appeal the case in a higher court. There may also be higher enhanced penalties if the charges are repeated. 
Courrier also explained to Roy that he will have to pay court cost along with court appointed lawyer fees. If Roy does not pay these in a timely manner further charges could arise. He was advised to see the Circuit Court Clerk to set up payment arrangements.
Judge Courrier asked Roy if he understood everything explained to him to which Roy stated he did and had signed the plea without pressure from anyone. Courrier agreed to the plea agreement presented to the court and sentenced Roy to one year jail confinement for each count of domestic battery with time to run consecutively. Roy had already served the sentenced time in jail and was awarded time served. He was ordered to pay the court cost, lawyer fees, and to have no unwanted contact with the victim.
Mook's case was continued once again. Mook is charged with receiving stolen property. Easton, attorney for Mook, stated to Judge Courrier that the defendant is hoping to get the matter resolved without going to trial. Wilkins said, "If we are to resolve it, can we get there already? We want it to end one way or another." Courrier set a pretrial/plea bargain date for March 10 at 9:30 a.m. with the possibility of February 14 being a contingent date if Easton's work schedule allows.