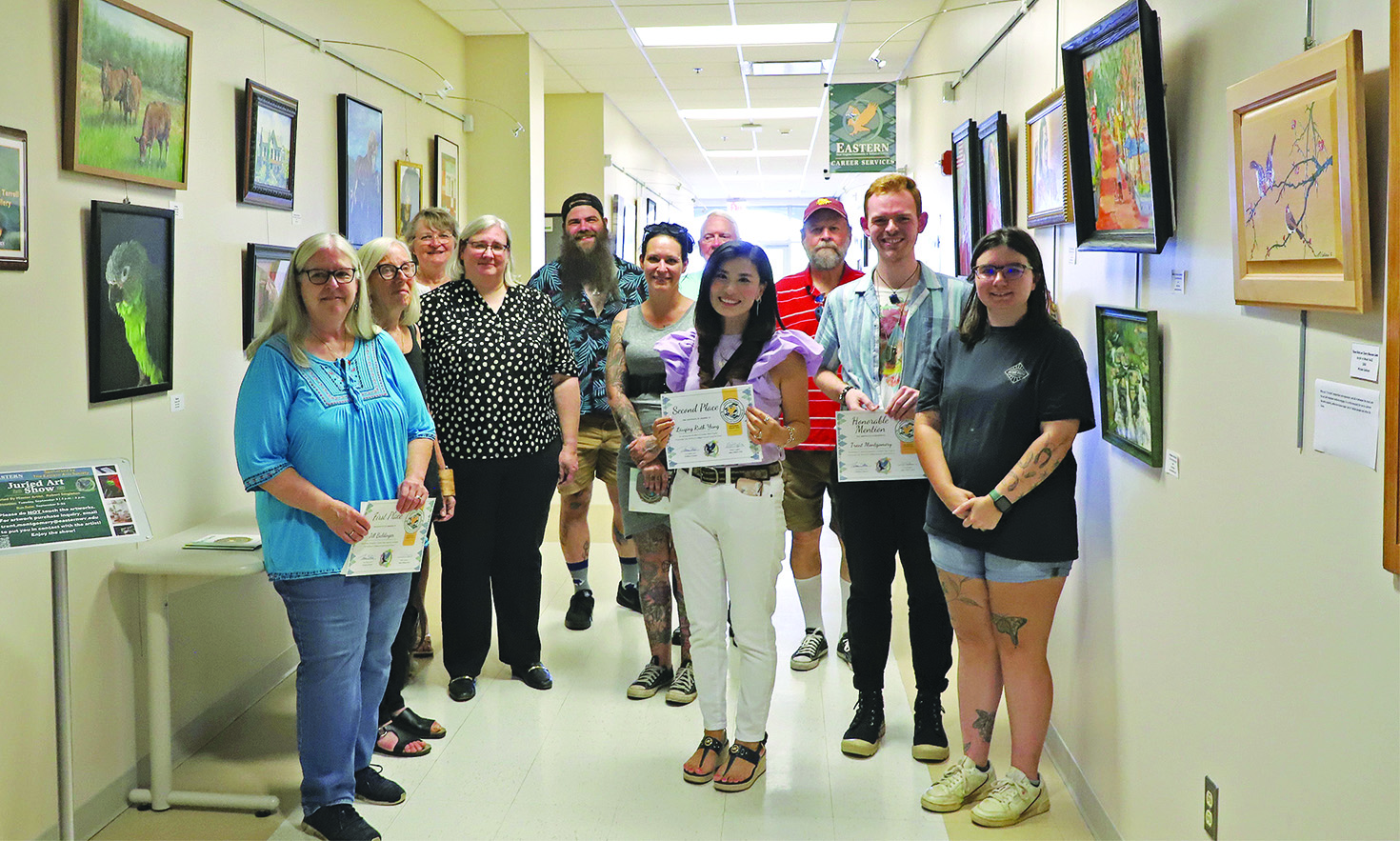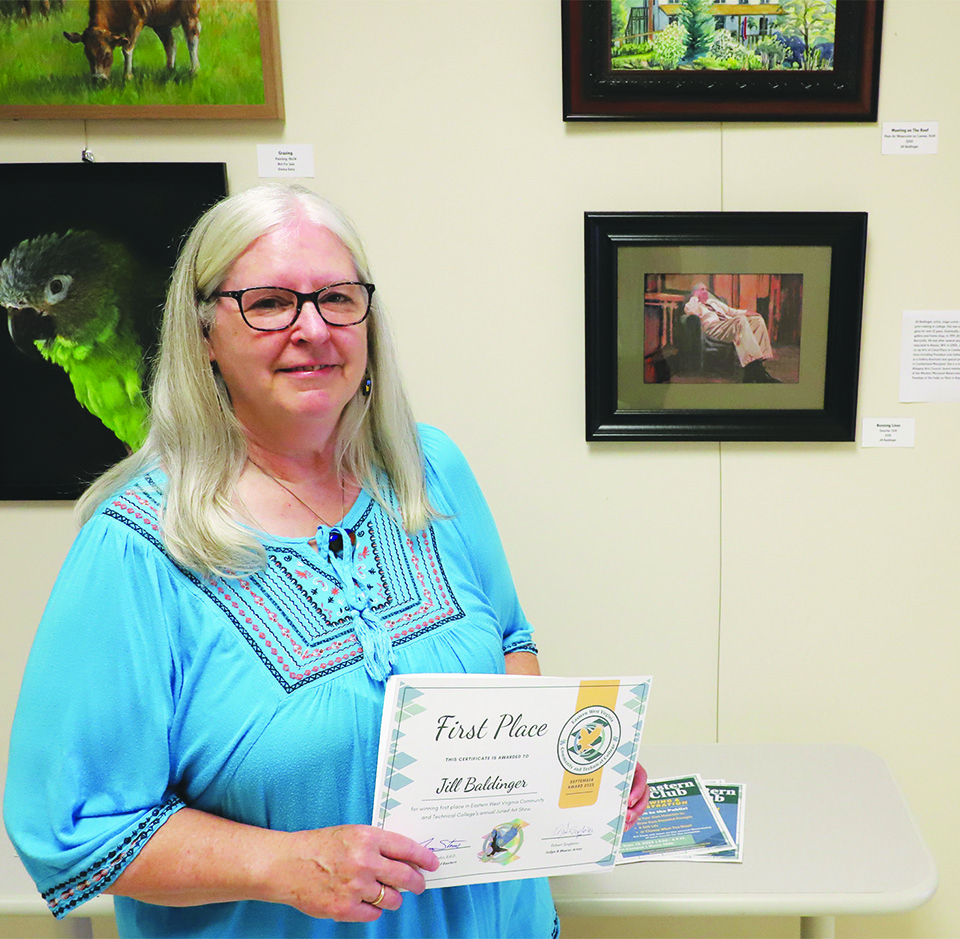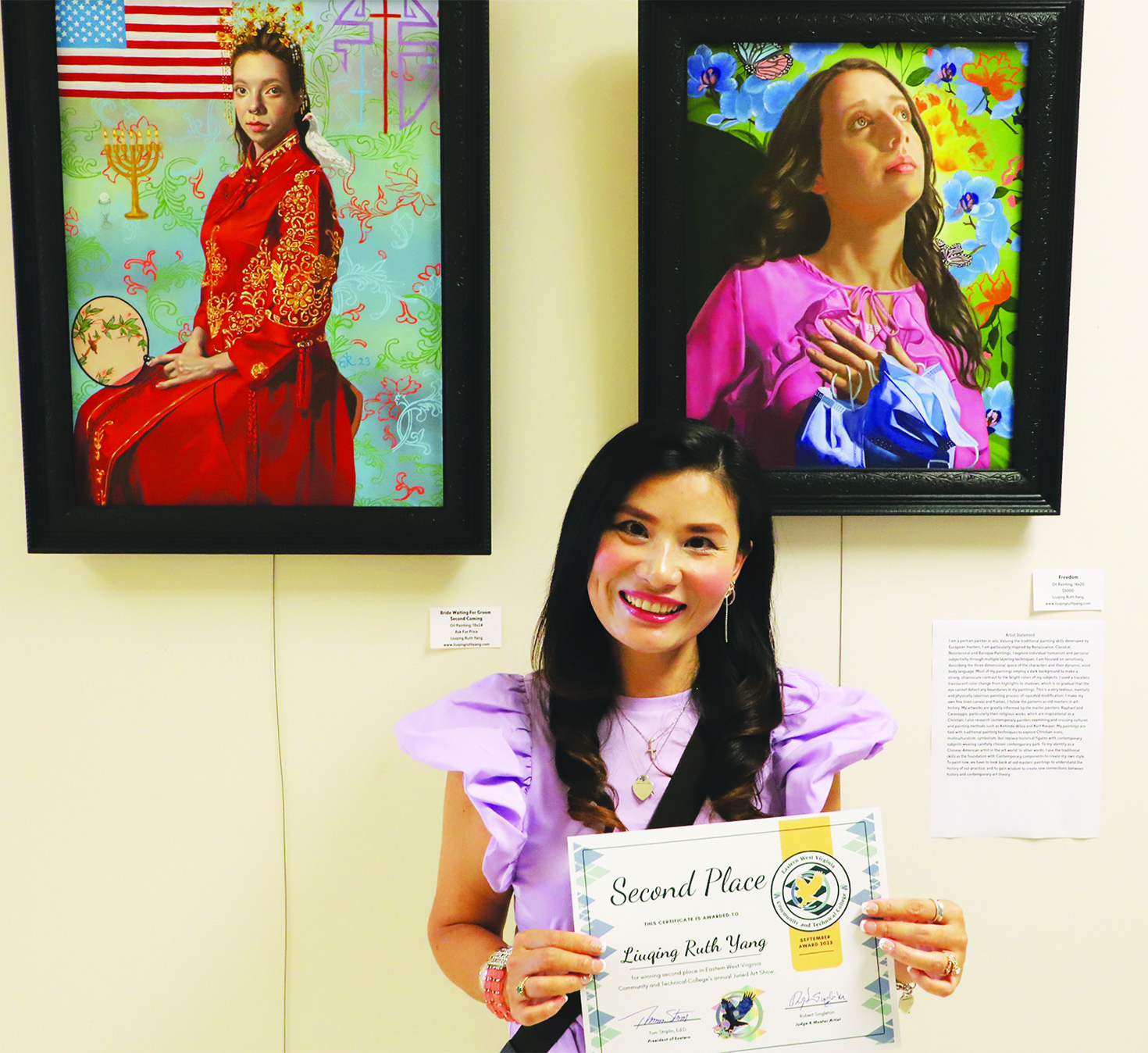 MOOREFIELD, W.Va. – Eastern West Virginia Community and Technical College (Eastern) is currently holding a juried art show in the Charles D. Terrell art gallery at their main campus. This show was juried by Robert Singleton, who is considered a master artist by the Tamarack Foundation for the Arts with over sixty-five years of working experience as an artist. Artists were able to submit up to two of their artworks and it was open to all mediums of art. Artworks created using oil, watercolor, and acrylic paint, graphite pencils, ink pens, photography, digital media, and ceramic are on display. In total, fifty submissions were received, ranging as far as Wheeling and Huntington. The submissions didn't have to be from just West Virginia artists either; some came from Maryland and Virginia residents. Eastern had multiple awards that artists could win as well, with there being a first, second, third, honorable mention, and student award prize tiers.
Curating the show was Trent Montgomery, who manages the design and oversees the marketing efforts of the college. "This was an idea I've had since I started at Eastern. It took many months of thinking about the logistics of it and doing outreach to the art councils in the Potomac Highlands region. They were all very helpful and willing to answer any questions I had," said Montgomery, "President Striplin was also supportive of it from the beginning and suggested that we try to get Robert Singleton to jury the show. Mr. Singleton has known Jaennae Snyder, Eastern HR representative, and Monica Wilson, interim v.p. of academic and student services practically their whole lives, so Jaennae was able to get me his number, I called him, and he was kind enough to agree to be a part of this."
Singleton came to the Eastern campus in person to make his award picks on the Friday before the reception. Before the judging started, he walked through the gallery a few times to take in the art and get a feel for everything. Then, with Montgomery entail, they walked back and forth through the hall where Singleton would tell him to mark a star next to certain artworks. As the stars accumulated for certain artworks, the higher they rose in ranking until finally the pieces with four stars made up the winners. From those, Singleton made his selections for who would win in each prize ranking. "The quality is really outstanding," said Singleton, "It's nice seeing how well done the pieces are from all over West Virginia. It was a tough call to choose the prizes. There was a lot of back and forth."
The reception for the show was held on the evening of Tuesday, September 5 where the artists could socialize over light refreshments, and the winners of the prizes received their awards. President of Eastern, Dr. Tom Striplin, announced the winners at the reception. Jill Baldinger of Keyser, WV won $250 for first place with her gouache painting, Running Lines. Liuqing Ruth Yang of Fairmont, WV won $175 for second place with her oil painting, Freedom. Thanhtay Maung of Moorefield, WV won third place with his oil painting, A Barber Shop in Moorefield. Originally, there was supposed to be one honorable mention, but Singleton asked Montgomery if it could be expanded from the number of good works that were submitted. Four artists received an honorable mention, three with a $50 prize. Gabe DeWitt of Morgantown, WV for his drawing/illustration, Work Notes; Susan Feller, of Augusta, WV, for her textile artwork, Miss Mountaintop Removal; Trenton Johnson of Petersburg, WV, for his oil painting, Put on a Happy Face; Trent Montgomery, of Rawlings, MD with his digital illustration, The Protected Lands, excluded himself from the money since he also served as curator. Hannah Barclay of Hampshire County won $50 and a $50 Eastern gift card for the student prize with her painting, Grace.
The exhibition will run until September 26 and can be seen from 8 a.m. to 4 p.m. without an appointment, Monday through Friday. Eastern plans to hold more art events for the community going forward. "I'm an artist, I'm passionate about it, and it's exciting what can be done for the arts here on campus," said Montgomery, "I think this has already opened a lot of doors for what we can do, and I'm excited to see where it goes." Montgomery has put together the Eastern Art Club, which is open to everyone who would like to attend. This will start on Wednesday, September 13 at the main campus in Moorefield; more info can be found at www.easternwv.edu/events/.
This exhibition was sponsored by The Eastern Arts Society, a branch of the Eastern Foundation which is led by Robert Burns, director of non-profits. The prize amounts were provided through Eastern Foundation which funds events like these through the generous support from donations given by members of the community. To donate in support of the arts and local affordable higher education, email Robert Burns at robert.burns@easternwv.edu. The Eastern Arts Society celebrates, promotes, and fosters creativity through its publication (Eagle's Nest), sponsored events, and activities coordinated by the Arts Society, like the Art Club and the annual Juried Art Show. All students are welcome and encouraged to join the Arts Society. For inquiries about the Arts Society, email trent.montgomery@easternwv.edu. The refreshments and food were purchased by Monica Wilson, interim v. p. of academic and student services through the Equity for Diversity Grant by WVCTCS/WVHEPC that Eastern was awarded.