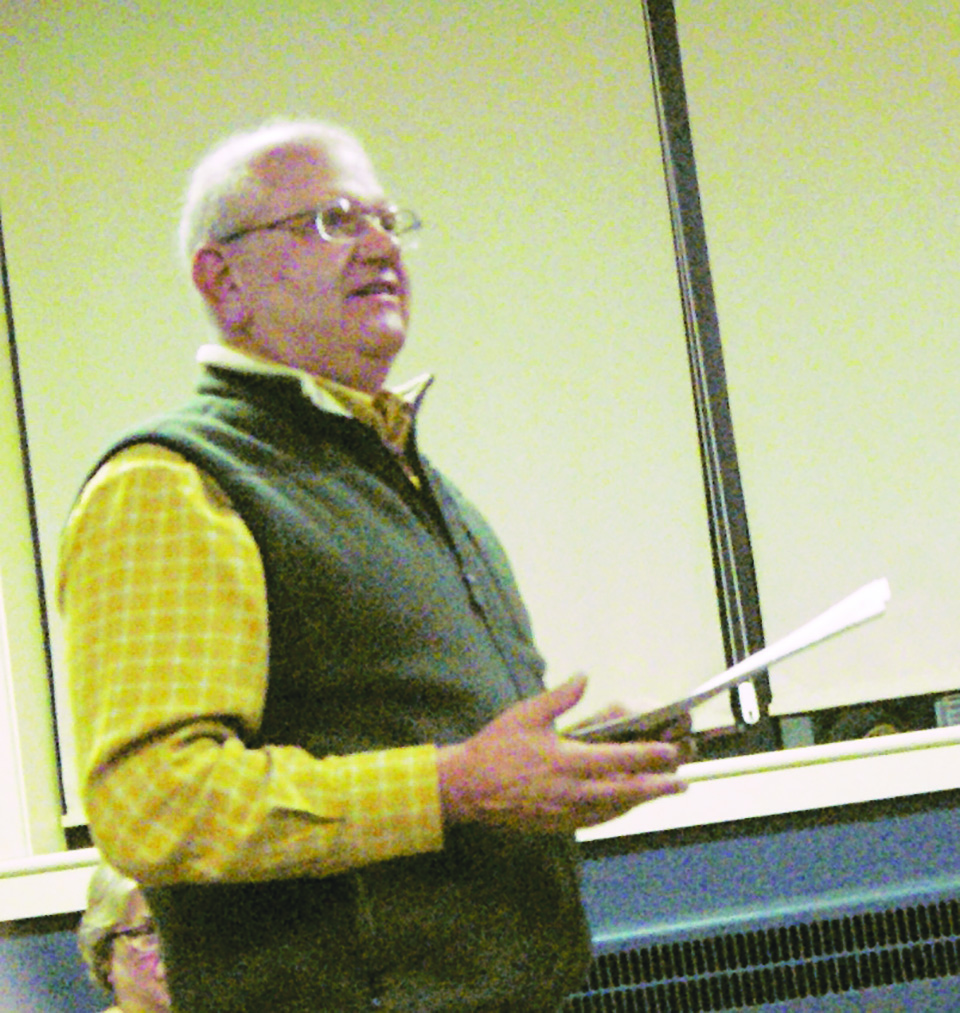 By: Lydia Crawley
The Parsons Advocate
Tucker County Commission President Mike Rosenau and Commissioner Tim Knotts attending the Monday, November 6th meeting of the Tucker County Board of Education to address the Board regarding the Commission's concerns over the future of the building at 100 Education Lane that currently houses the Board of Education offices.  "The reason we are here tonight is to request a meeting with the Board of Education so we can have a sit down with our Building Commission," Rosenau said.  
According to Rosenau, the Commission has concerns over the details of the proposed lease with Woodlands Development Group, especially in regards to requirements laid out in the grant funding Woodlands is seeking for the renovation project and the vicinity any low-income or homeless housing would be to the school sports facilities at the site.  "The County Commission, we're a little concerned about that," Rosenau said.  "So, with the sports facilities this close, the gymnasium this close, so we're not a Commission to just sit back.  We thought we'd give some alternatives." 
Rosenau said the Commission has already begun talks with various entities in regards to what the County could do.  "We've met with an architect, we've met with your Superintendent of Schools, we've met with our Building Commission, we've met with our Development Authority and we've met with Region VII," Rosenau said.
There are alternatives to housing for the site, according to Rosenau.  "So there's some possibilities other than housing, possibly for this building, through the County Commission," Rosenau said.  "One thing that struck me in all the research we've been doing is you all can't charge rent," Rosenau said.  "The County Commission can and there's a lot of availability, possibly, for businesses to come in that just needs a work from home space."
Rosenau said an official announcement on Broadband expansion through Tucker County is being made at the next County Commission meeting, but the roll out could impact work from home opportunities in the area.  "A high-tech," Rosenau said.  "You know, we've got Broadband, we're going to make an announcement at the next Commission meeting, you'll have Broadband coming all through this lower end of the County, from the Preston County line all the way through  St. George area, all up through."
The County has invested $50,000 into the $8 million project, according to Rosenau.  "Its an eight million dollar project," Rosenau said.  "The Commission has $50,000 invested in it.  Its going to increase our visibility for people who may want to work from home."
Rosenau said the Commission wanted to know what the Board of Education felt in regards to exploring other options before the County continued forward with the proposal.  "We have a copy.  I have already reviewed your lease," Rosenau said.  "But before it made it any further, before we put any money in it, as far as getting an attorney to look at a lease and to work through a lease with us,  I wanted to make sure it was ok for the Board of Education if we pursue that avenue."
Superintendent of Schools Alicia Lambert said she needed to know whether the Board agreed to the negotiations or if they were committed to the Woodlands project. "I just need the board to give me kind of a yes, we're interested in seeing what we can explore from this or no, we're committed to Woodlands and the decision was made there," Lambert said.  "Either way, I'm fine.  If you want to explore this route, we can definitely send the lease agreement at that point to our attorney to look over to see if there is anything binding in it before we have the sit down meeting with them or we obligate ourselves to anything.  But I told him I didn't want to do that until I knew where the Board stance was, whether you wanted to continue with Woodlands or you wanted to look at an alternate avenue."
According to Rosenau, he had reviewed the Woodlands Lease Agreement and since the document was unsigned, the Board would not be bound to the agreement if they chose to explore other options.  "I've read your lease proposal with Woodlands," Rosenau said.  "And since its not signed, it says that, it says in here that if it is not signed in so many days, its null and void. 'Your agreement shall become null and void unless executed by the seller by May 24th, 2023 or otherwise extended.'"
According to Board President Daniel "Chopper" Evans and Lambert, the Board only gave Woodlands permission to explore funding, but have not agreed to any sale of the property.   "We have given them the authority to pursue funding," Lambert said.  "We haven't signed anything that transfers over the rights to the building.  We gave them our support in them looking for money to transform."
Lambert clarified what the Board had intended from the Low Income Housing portion of the project.  "One thing I will say and I know it has been a stickler in the community for the context of Low Income Housing," Lambert said.  "When we met with Woodlands for this project, it was very specific about the housing that we were looking for something for teachers moving to the area.  Not exactly what you think of when you think of Low Income Housing."
According to Lambert, much of Tucker County qualifies for Low Income Housing, but starting teachers salaries unfortunately are well within the guidelines, as well." But over 60% of our County qualifies for Low Income Housing and I'm sorry to say that a starting teacher's salary is Low Income Housing and that's kind of sad, but its the truth," Lambert said.  "We've lost a lot of professionals throughout the years because when they come here, they don't have anywhere to live.  If you don't have relatives in the area, you don't have a place that you can go and rent, or you don't qualify for HUD, which is a little bit different,  then there's no housing."
Lambert said the goal of the Low Income Housing for the Board has always been prioritizing starting teachers.  "So we were looking at the housing portion of that kind of specific to beginning teachers," Lambert said.  "And I know that is not the communication that has gotten across to through the County, but that was kind of our stance on what we we we looking at for that."
Rosenau commended the Board's efforts to help starting teachers with affordable housing, but pointed out the short falls with the grants that Woodlands had been exploring.  "I applaud you for wanting Low Income Housing or Affordable Housing, let's put it this way, let's put Affordable Housing where it is, Affordable Housing for professionals, but we can't with these grants  that they are applying for.  You can't weed out."
Rosenau said he has been hearing a lot about problems other areas around the state have been having with transients, including issues in nearby Elkins.  "We've got so many meetings at the State level, the problems they're having in areas west: Elkins, all over with transients coming in," Rosenau said.  "That's the only concern  the Commission had."
Lambert said she agreed that the decision of who would have priority and who would eventually live at the site would be out of the Board's control under the Woodlands project.  "It would totally be their control for who they put in," Lambert said.  
According to Lambert, when negotiations about the project began years ago, Woodlands were the only ones who expressed interest.  "Woodlands was really kind of the only entity that came to the table when we started these  discussions years ago," Lambert said.  
According to Lambert, the details of the Commission's proposal were the same as what was currently proposed by Woodlands.  "We are looking at the same agreement," Lambert said.  "So the Board is aware, we're looking at the same agreement with the Commission that we would be looking at with Woodlands, except they are looking at more office space instead of rental properties.  The same 25 years to stay rent free.  We'll just pay our utilities in that portion of the building and they would take over the rest. The gym would stay with us, the football field ownership stays with us, you know all of that."
The Board unanimously voiced interest in the Commission's proposal and gave Lambert verbal confirmation to pursue negotiations as there was no action item needing vote regarding the issue.  A meeting with the County Commission will be scheduled to review, discuss and revise the details of any lease agreement prior to attorney review.  However, no definitive decision for transfer of the property has been made to either Woodlands or the Tucker County Commission as of yet by the Tucker County Board of Education. 
The next meeting of the Tucker County Board of Education will be held at the BOE Office at 100 Education Lane in Parsons December 4th at 4:30 p.m.