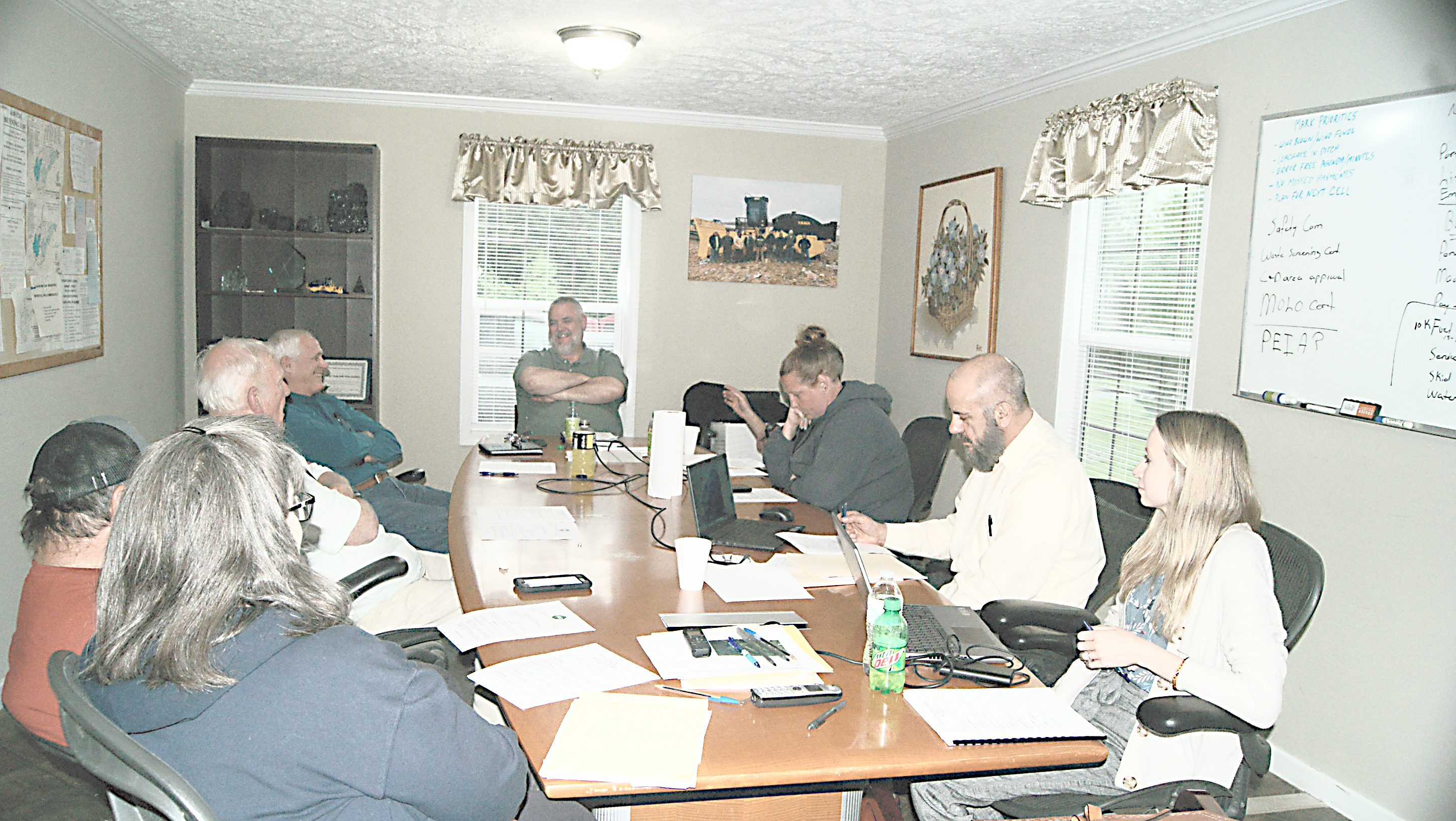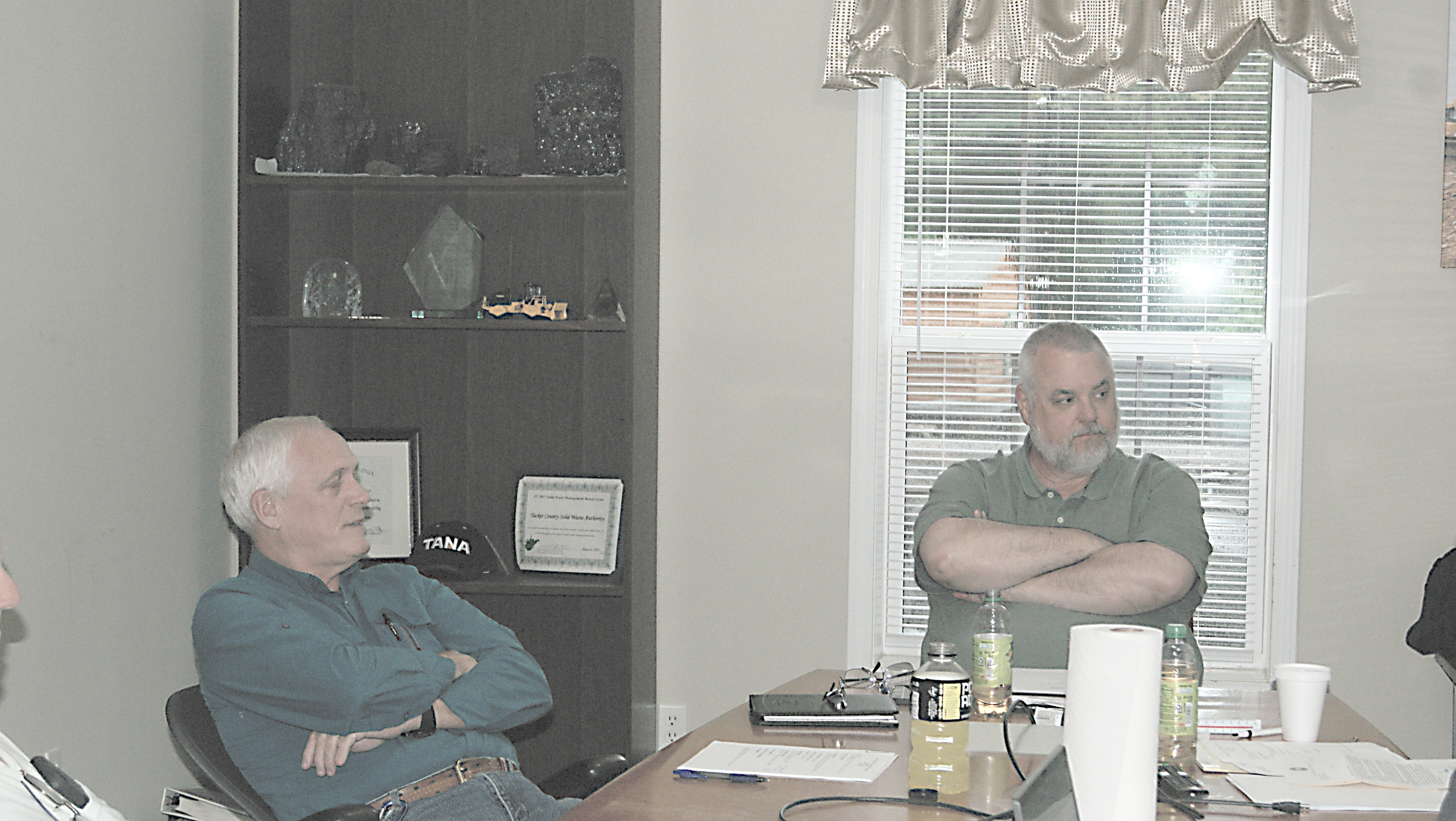 By: Lydia Crawley
The Parsons Advocate
The Tucker County Solid Waste Authority met in regular session at the T.C.S.W.A. Office.  Items on the agenda included financial reports and a Director's Report.  
The Authority heard the Leachate totals for the landfill were the lowest in 10 fiscal years. In March, 399,560 gallons were hauled in a total of 65 loads to Moorefield, Westernport, Md, and the City of Thomas, respectively, with a treatment cost of $12,310.91.
"I will point out," Presiding Chair Mark Holstine said, "That is the lowest treatment quantity in the last 10 fiscal years for March."
The board was informed that accounts receivable totaled $363,681.34 of which four accounts were overdue with three paid and the remaining one out for collection.  All accounts payable were reported to be paid in full. Deposits and Billings started with a balance of $141,071.06 with deposits in the amount of $381,481.46 and total disbursements of $415,798.22 for an ending balance of $106,754.30.
Mark Joseph delivered the Accountant Report to the Authority with mostly good news for the board.  
"This is our Quarterly Dashboard Report hitting our key metrics associated with the organization financial performance," Joseph said.  "What we're doing here is we are comparing here in column E, March 31, 2022 compared to a year later which was this most recent March 31.  Our total cash on hand at the time $361,000 last year, $229,000 this year.  That was a change roughly of $133,000 decrease.  We used primarily, a good bit of that was to help with our debt service over this past year. But we've maintained our own on our current ratio. That again, that is the ratio of current assets compared to current liabilities. It's a good measure of our liquidity and it's staying above 1.0 which is where we want it to be.  The measure came in at 1.40 which is 4% improvement from the end of the last period March 31."
According to Joseph, the Authority's dept amount is down, but long-term debt is increased due to the financing of a new compactor.  The authority's fixed assets were reported by Joseph to be $1.2 million.  Joseph also reported that an audit that had been completed on the Authority had positive results with according to Joseph, everything appearing to be in balance.
"We did receive, finally, the ending audit report from the year ending June 30, 2022," Joseph said.  "It came out with a clean opinion, no material misstatements.  We only had two adjusting entries which were related to the pension liability.  Those were two entries that we're not qualified to make so we rely on the auditor to provide those entries…So, this is the corrected audit.  For the most part its positive.  She gave a positive opinion.  There were no material weaknesses in internal control noted…everything seems to be in balance." 
Presiding Chair Mark Holstine delivered the Director's Report regarding a notice that was received.
"You have in your packet a draft consent order that I've been waylaid with in the last 30 days," Holstine said.  "Without going through it painfully, evidently, there was a notice of violation issued to the Tucker County Solid Waste Authority on September 7, 2017 in reference to the fact that because the capacity of the landfill exceeded 2.5 million megagrams in emissions possibilities, that the Tucker County Solid Waste Authority should have applied for a  Title 5 Air Quality Permit at that time.  That did not occur, time goes by, air quality figures out they haven't done their job in six years so they send me a notice  by email first in April telling me that they are going to send me a consent order and I immediately questioned, 'Why am I getting a consent order because I haven't seen an N.O.V. first and then they drafted this.  This is a draft and sent this to me two days ago, I guess.  I've had multiple conversations with them to no avail. I'm going to have a third conversation with them tomorrow with attorney in tow, I guess because they won't listen to just me."
Holstine said the Title 5 Permit requirement is not the main issue, but rather the time frame given. "I understand that we are supposed to have a Title 5 permit," Holstine said.  "I'm not questioning that we're supposed to have a Title 5 permit, but I wasn't noticed of it until April of 2023.  Why do I need a consent order that has if you get into the details, get back there on the second page, they are putting time order for compliance, they got time frames on those.  So, they want me to have a Title 5 Air Quality Permit when this thing goes final within 30 days. Well, we're still trying to get a consultant to do the permit. We haven't even contracted it yet.  I don't think it's going to be possible for us to submit an Air Quality Permit in 30 days."
Holstine said that the draft also included other requirements as well as the possibility for a $1,000 a day fine. "Then they also want me to do something that I've asked them I don't understand how I'm going to do it," Holstine said.  "They want me to do an emissions statement through the calendar years 2016, 17, 18, 19, 20 and 21.  I can't hardly do that in 2023.  So, I've asked them to clarify that.  I haven't received an answer. We do have to do the certified emissions statement, which is also what we're working with a consultant for.  So, in the end we do anticipate complying with the order.  I'm questioning the need for the order and putting a gun to my head and saying that if I don't hit it within 30 days, they're going to hit us with a thousand dollar a day fine.  That I don't agree with so we're going to fight a little bit on that."
According to Holstine the cost to update the Tier 2 Emissions statements will cost the board $30,000 with the Tier 5 permit costing an additional $20,000 to $25,000.
The Tucker County Solid Waste Authority will next meet June 26 at 3 pm at the T.C.S.W.A. Office located at 284 Landfill Road, Davis.