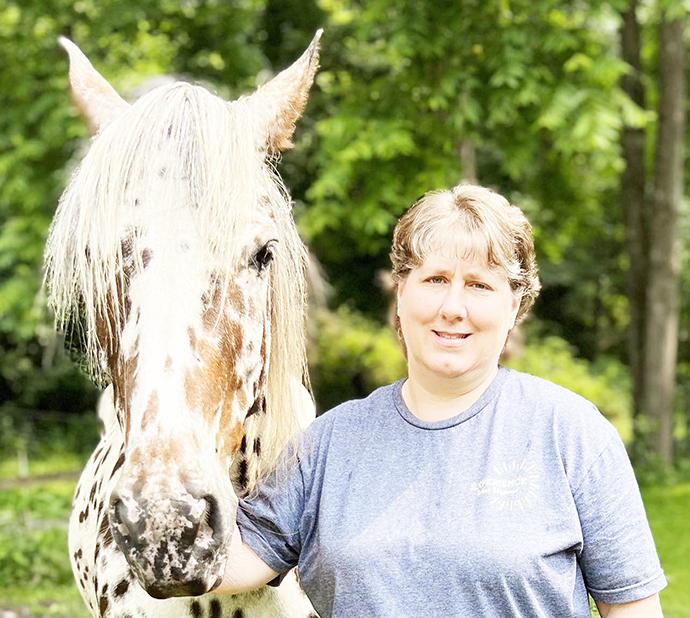 Jenningston, WV – Since West Virginia's beginning, agriculture has played an important part in its development. Agritourism has now become a way to keep traditions alive and many women in agriculture are paving the way for a better future. Marsha Waybright is one of them. She will be awarded the 2023 West Virginia Women in Agriculture Award at the West Virginia State Fair on August 13 at 11 a.m. 
"I've been farming most of my life but now that we've stepped into agritoursim, I think we are making a huge difference in how people see farming," said Waybright. "We allow people to actually step into our lives on the farm and get a genuine authentic experience. After visitors leave the farm they long to come back and learn more. When you can reconnect people with nature and real life on the farm, they leave with enough knowledge to maybe start a little garden where they live. You give them hope that they can grow or make something on their own. That's pretty empowering in today's world." 
Waybright is one of 3 women receiving this annual award. It is given to "women who have made a significant contribution to agriculture and the agricultural industry through forestry, specialized crops and various forms of agriculture within the state," said Kriston Strickler, who heads up the West Virginia Women in Ag program. For each applicant, an application is submitted by friends, family or peers. It is judged by a committee and 3 – 4 women are chosen to receive an award. Strickler said Waybright was chosen due to her "huge impact to agriculture. She has an extensive agricultural background and runs three businesses all in the agritourism field. What she has done is just astounding. " 
Waybright is the property manager of the Laurel River Club Bed & Breakfast, owner of Laurel Fork Farm and founder of the West Virginia School of Traditional Skills. She constantly uses her knowledge and skills to teach others how to preserve the land around them from the 200 acre educational farm surrounding the B&B. Her willingness to "train other people and provide a learning experience, aided in her receiving this award," Strickler said. 
"I feel very honored to be recognized as a woman in agriculture; farming is hard but also very rewarding," said Waybright. "I'm so proud of all the other women in agriculture with whom I share the same passion." 
These women are mentors and have a deep passion for agriculture. Waybright commented that women "should do something with your life that you don't need a vacation from, something you are passionate about." Her passion for "all aspects of farming and teaching others that they can do all this too may be on a smaller scale, of course, but everyone should have enough knowledge to be able to eat without necessarily depending on someone else to provide for them. I love to teach people and although we all need a break from time to time, you should live your life so that you love and appreciate each day that the good Lord has given you. So many people live their lives just looking forward to the next long vacation. I try to live a life I don't need a vacation from!" 
For more information about the Laurel River Club B&B and surrounding farm, upcoming classes through the West Virginia School of Traditional Skills, or to book a stay, please visit www.lrcbnb.com or call (304) 402-7095. Find more info on Facebook, Instagram, TikToc and YouTube.