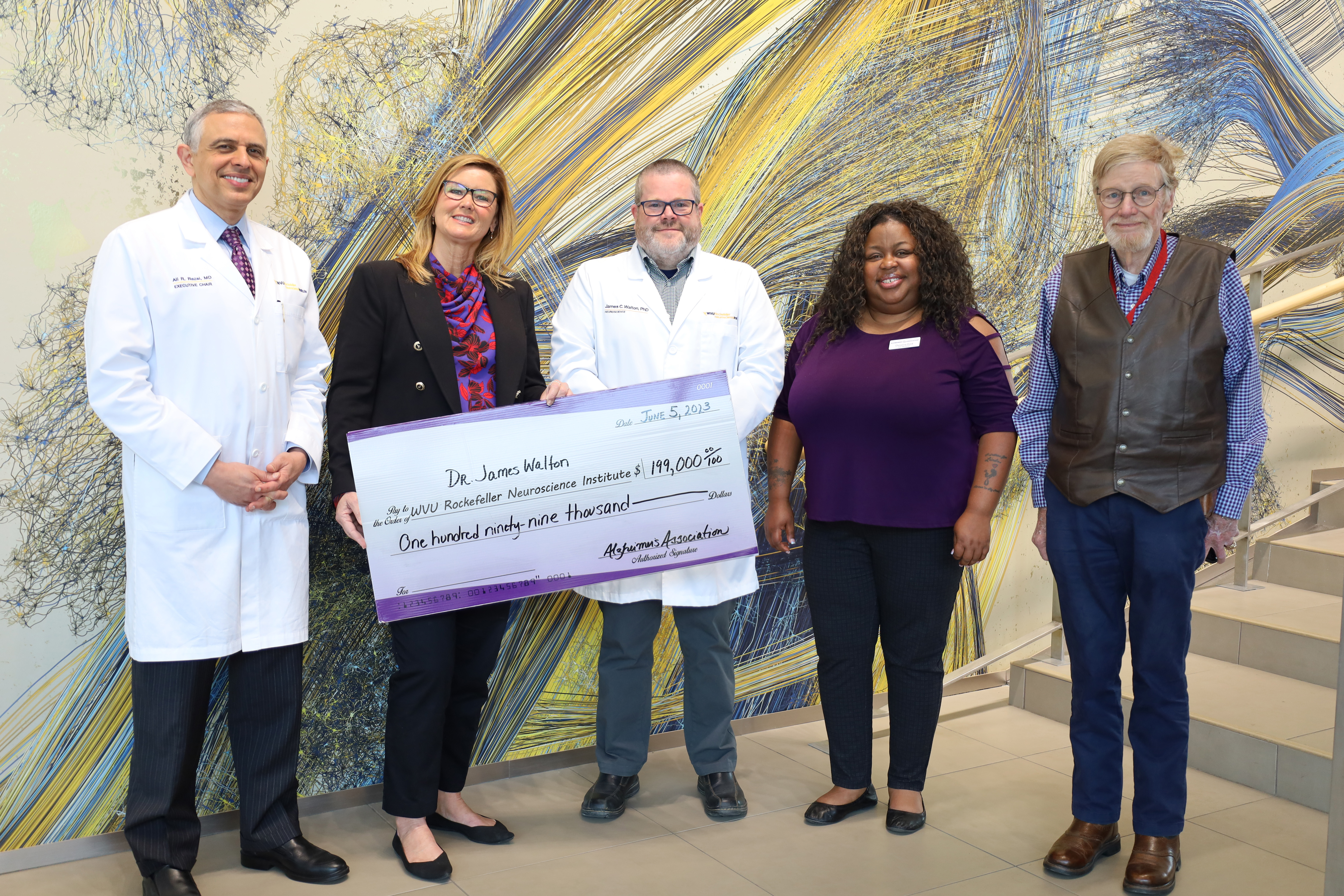 Ali Rezai, Director, Rockefeller Neuroscience Institute; Associate Dean; John D. Rockefeller IV tenured professor in neuroscience
Sharon Covert, MS, Executive Director, Alzheimer's Association West Virginia Chapter
Dr. James Walton, Research Assistant Professor, West Virginia University Department of Neuroscience
Christina Beck, Senior Walk Manager, Alzheimer's Association West Virginia Chapter
Barry Weber, member of Tri-County Walk To End Alzheimer's Committee & West Virginia Chapter Advocate
CHARLESTON, WV, June 7, 2023 – This week, the Alzheimer's Association West Virginia Chapter presented James Walton, an assistant professor of research with the West Virginia University Department of Neuroscience, with a grant in the amount of $199,000 to support his research on sundowning and Alzheimer's disease.
The check presentation took place on June 5 at West Virginia University Rockefeller Neuroscience Institute.
The funds will support Walton's research project, "Environmental Influences on Circadian Rhythms in Sundowning and Alzheimer's," being conducted with the West Virginia University Research Corporation in Morgantown.
Sundowning is a state of increased confusion that people living with Alzheimer's and dementia may experience during the evening and night. It can cause difficulty sleeping, anxiety, agitation, hallucinations, pacing and disorientation.
With the newest Alzheimer's Association International Research Grant awards, the Association is funding more than 1,000 projects in 54 countries, totaling nearly $320 million in active and committed funding. To learn more, visit alz.org/grants.
There are 39,000 West Virginia residents aged 65 and older living with Alzheimer's disease, according to the Alzheimer's Association 2023 "Facts and Figures." That number is expected to increase to 44,000 by 2025.
Those concerned about themselves or a loved one can contact the Alzheimer's Association West Virginia Chapter at 304.343.2717 to schedule a care consultation and be connected to local resources.