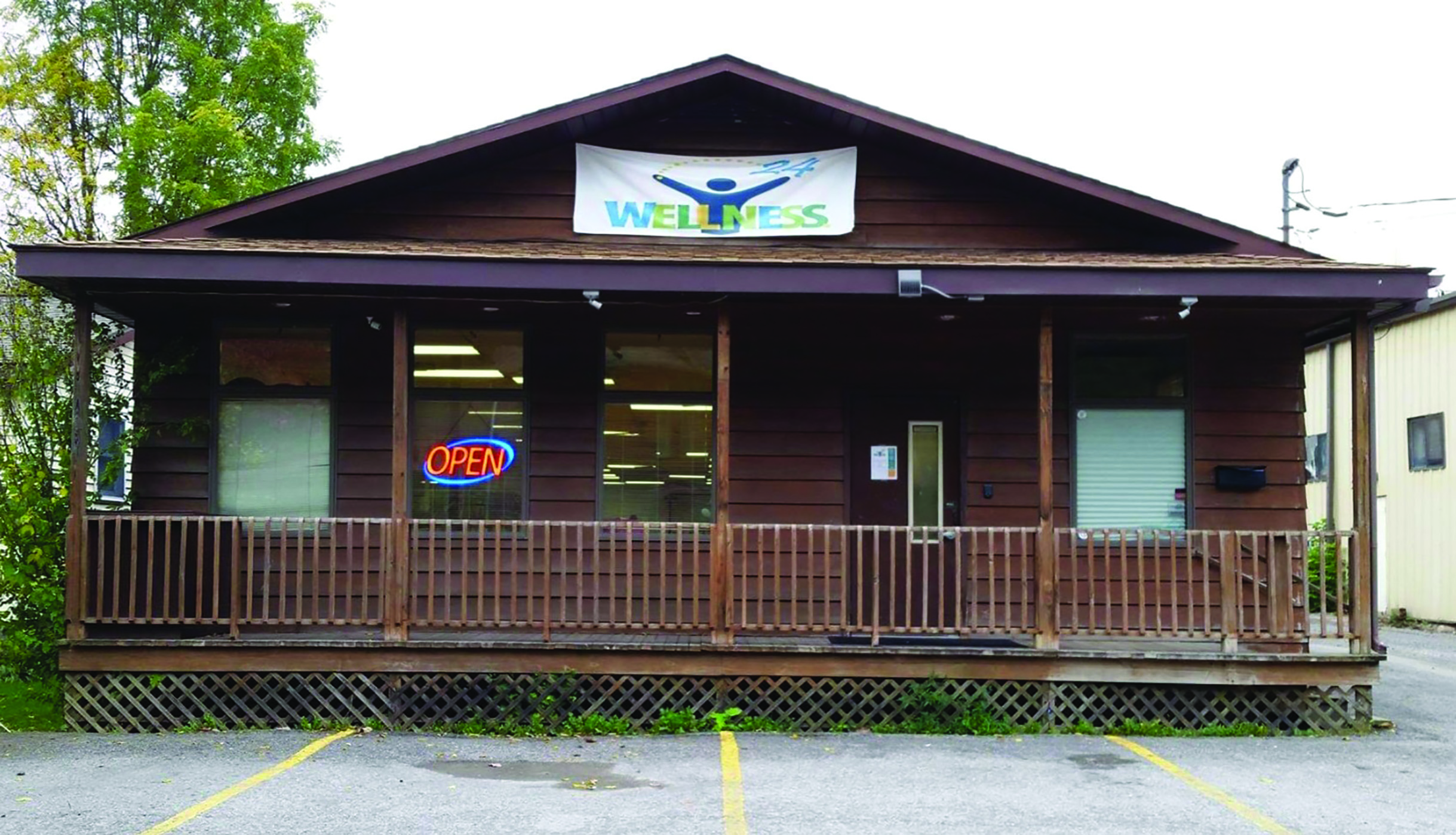 By: Lydia Crawley
The Parsons Advocate
Courtney Barb addressed the City of Parsons Council on November 14th to discuss the issues surrounding the suspension of her 15 year old son from the Wellness 24 Hour Center in Parsons.  The facility is a key club styled center operated by the City of Parsons under the Parks and Recreation Board.  Barb outlined the issues surrounding her son's suspension in a November 18th interview with the Parsons Advocate.
Barb admitted that her son had been made aware of the rule after he had been verbally warned in the past and that she and her husband had made it clear to him that he had to have an adult with him at the Wellness Center.  "He goes to the Wellness Center," Barb said.  "He's supposed to have supervision because he's only 15 and he has been warned of that verbally before and we have made it very clear to him that he is not to be working out in there without an adult."
According to Barb, she was shown the footage from the incident on October 8th that led to her son's suspension, but that the footage she saw did not show her son using the weight equipment.  "So he went into the gym on October the 8th with a friend of his who is 17," Barb said.  "I watched the video, the only video footage that was shown to me at the time, he walked around the gym and he was stretching and preparing to work out, but I never saw him work out.  He didn't lift any weights in this video."
Barb said that city personnel said that her son had left in the video.  "I was told by the office specialist, who was the person showing me the video, that he left," Barb said.  
Her son had been reprimanded for being in the building and waiting for adult, according to Barb.  "I was upset because they reprimanded him for being inside the building when he was just waiting for an adult," Barb said.  "And I didn't think that was very fair."
Mayor Kolsun has reached out to Barb regarding the incident, Barb said.  "So when I approached them at the meeting, they were  adamant that he was not even allowed to be inside the building, which was contradicted yesterday by the mayor," Barb said.   "I got a phone call from the Mayor."
Barb acknowledged that the city states they sent two written warnings, but that since they were not sent certified, there is no proof one way or the other.  Barb also said that other people have claimed they did not receive a second warning, either.  "It just doesn't seem very fair," Barb said.  "I don't even remember receiving the second  warning.  I know there are others who also say that they've never received a written warning.  They don't send it certified so we can't prove whether they're following that second protocol or not."
Barb asserts that neither the Parks Board nor the City Council have viewed the original video and that it was deleted shortly following her request to view it.  "Nobody has watched the video, either," Barb said.  "No body has watched the video and the video was deleted within 48 hours of me asking to watch the video, the video is gone. The entire video is gone and the only images or video footage that we have  left are from another Park Board Member's personal cell phone zoomed in only on my son and you can't see the rest of the gym."
Barb said her son claims he waited twenty minutes for an adult to arrive and just walked around the facility and stretched.  "As far as I know, my son told me that he waited for an adult to show up," Barb said.  "He waited for 20 minutes.  He was in there for 20 minutes walking around and stretching and he waited for an adult to show up."
Barb claims that no one knows the full story, not even her.  "I thought it was a little extreme of a punishment or reprimand without anyone actually knowing the full truth," Barb said.  "I still don't know the full truth."
On November 14th, the City Council discussed the issues in open session as part of the resignation of Parsons Parks and Recreation Board Member Chris Davis.  "This all boils down to the Barb boy," Council Member James Humphrey said.  "He's getting punished for six months because he was being honest.  He put is five dollars into the envelope."
Council Member Melissa Jones stated that the youth had violated the policy.  "That may be true, but what has happened is a violation to the rules that he has signed," Jones said.
According to the City, the youth was seen on camera without adult supervision.  The City also ascertained that two written warning were issued with the second being delivered certified mail.  There was some debate over whether both letters had been sent and if so, if both were sent certified mail.  According to Barb, the Parks and Recreation Board had informed her that both letters were certified and that she would be supplied with receipts.  However, at the meeting, the City ascertained that only the last letter was certified, but that a copy of the first letter did exist, but there would not be a receipt due to it not being sent certified."I totally agree with the rules you are saying," Humphrey said.  "But six months and we have no proof we sent him a letter?"
Council Member Tim Auvil said that the letter had not been sent certified.  "That wasn't sent certified is what we said," Auvil said.
Humphrey stated that it was said in the meeting that the letter had been sent certified.  "It was said in the meeting and three council members set in here and heard somebody say it was certified,' Humphrey said.
City Administrator Agnes Arnold said that she had believed the letter to have been certified, but verified in the office the following day and was informed that she had been mistaken on the fact,  "I believed it was certified until I verified with Mistee today," Arnold said.  
Humphrey maintained that he felt the city was failing the children of Parsons.  "We're supposed to be helping our kids, not hindering them," Humphrey said.
Both Auvil and Mayor Bruce Kolsun said they felt the accusation that they were failing the children was unwarranted.  Auvil said that the Park Board had agreed to review the policies, but the current policy is what the Board has to go by.  "That is up to the Park Board to review those issues and we did agree that we would review them," Auvil said.  "You can't go backward and say change the rules for what has already happened, but for the rules moving forward, yes there can be discussion about possibly changing. "
Jones said that Barb had agreed to bring suggestions before the Parks Board for consideration.  "His mother has suggestions and she's coming to the Park Board with these suggestions," Jones said.  "And she was understanding of the Parks Board's position last night."
The issues surrounding the suspension involve Wellness Center regulations surrounding youths under 16 and their use of weight training equipment.  Under the current regulations, anyone under 16 must be accompanied by an adult to use the weight equipment.  "Under 16 years old you have to have an adult, period," Auvil said.
According to Auvil, the rules exist to comply with the insurance requirements for the facility.  City Attorney Tim Stranko supplied the Council with insurance documentation prior to the meeting.  "It states frankly in here that juveniles under the age of 16, in most facilities, they aren't even allowed in there. Period.  And there is nothing wrong with our policy that anyone under 16 has to have an adult in there with them.  That's the rules we made up when we made that a  24 center."
City Treasurer Quinnlan Buckley asked the Council how much of an increase the City would see if they dropped the age requirement to 14.  "It doesn't matter," Jones said.  "The papers that they sign and go in there on, if they get hurt over there without an adult working out, those papers if you go to court don't mean nothing…we wouldn't have no insurance. They would drop us."
Auvil asserted that everyone agrees to the rules when they sign up for membership and if they did not, they do not have to become a member.  "Everybody signed it," Auvil said.  "If they didn't agree with those rules, don't sign the paper, don't pay your dues and don't  use the facility."
According to Jones, Barb;s husband was at the meeting with the Park Board and was informed that he was welcome to accompany his son to the Wellness Center and just sit there as adult supervision without having to pay a fee for himself.  "I have to say that Nick (Barb) was here last night to discuss it," Jones said.  "And he was informed that he can go with his son anytime he wants to, with his son, he can sit in there as adult supervision and not work out and he doesn't have to pay anything."
According to Auvil there have been a total of seven suspensions in the past year and a half at the facility due to rule violations.  "There's been seven suspensions in the last year and a half, two years," Auvil said.  City Administrator Agnes Arnold also said there had been a couple of warning sent to individuals that resulted in no further violations from them.
According to Auvil, prior to the facility becoming a 24 hour Center, the Center was operating at a large financial shortfall.  "The whole point was whenever it came to that point, the facility wasn't even open half the time because it had to have a full time employees there all the time.  After we made it a 24-7 facility, we dropped the membership dues.  We haven't touched them since.  They've remained the same.  We also gave extra benefits and discounts to veterans and disabled and seniors.  It practically costs nothing. Equipment is expensive, but our membership doubled.  We have twice as many members over there then we ever did have when it was only open part time."
Auvil said that the rules could possibly be changed in the future, but for the time being are what the Board has in place and what must be enforced.  "The rules could possibly be changed in the future," Auvil said.  "But that is what is in place with the policy right now and that is what has to be enforced because that is what has been enforced with everybody else."
The next meeting of the Parsons City Council will be held December 5th at 6 p.m. at the Charles W. "Bill" Rosenau Municipal Building located at 341 Second Street in Parsons.