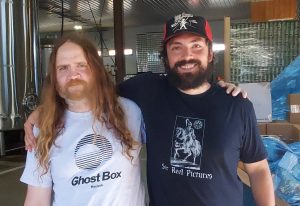 By: Jennifer Britt
The Parsons Advocate
Director and producer Morgan Miller is currently working on his newest slasher movie in the hills and rivers of Davis, Thomas and Canaan Valley titled "Tie Died." "Tie Died" started out as idea of Miller's over 10 years ago. The final draft of the screenplay was finished and ready for production in August of 2021. The movie is produced by Miller's film company called Sir Reel Pictures, LTD and has produced other films such as the awarded Best West Virginia Film "Charles the Tree" at the West Virginia Mountaineer Short Film Festival as well as commercials for hair products and music videos. 
Miller has over 22 years' experience in writing, directing, and editing award winning films. Miller has a bachelor's degree in Film and Photography from Montana State University and has over 10 years of experience playing the piano and scoring music for films that have won multiple awards. Miller has worked on pieces with members of Gentle Giant, Frank Zappa's Band and Academy Award winner Erik Messerschmidt.
Miller said, "The synopsis of the movie is based on a park ranger that is investigating a series of murders that look like they have been by a killer bear. I came up with the "Tie Died" idea around 10 or 12 years ago. At the bare minimum, the film will be aired on Troma, along with some festivals and streaming services. It would be nice to bring it out in some theaters locally." 
Chris Phares is Miller's co-producer and make up specialist. A man of many talents, Phares also stars in the movie. His character portrays a beer hunter looking for a serial killer in his role. To look the part, Phares has been growing a beard and hair since December to give him the perfect look for his role. His look is similar to that of Bill Moseley that stared in the movie "The Devil's Rejects."
Phares has stared in other films such as Bullseye Baby produced by Miller. In this film Phares acts the character of "Sleazy Larry" as he deals with two home invaders who threaten his woman and manhood. This 10-minute film was completed in early 2019 and was selected into the ScareFest Horror Convention in Lexington, Kentucky.
The president of Troma Entertainment, Inc. is Lloyd Kaufman. Kaufman plays the leading role character as the park ranger. Kaufman has directed, produced, and played roles in many films such as "Class of Nuke 'Em High" (1986) and "Rocky" (1976). 
The sheriff's role in the film is play by another big name in horror films, Joe Bob Briggs. According to Brigg's bio online "Briggs's acting persona is that of an unapologetic redneck Texan with an avowed love of the drive-in theater. He specializes in humorous but appreciative reviews of B-movies and cult films, which he calls "drive-in movies".
Tucker County High School student Andie Cartwright is Miller's special effects make-up artist. Phares said, "She has been a good help and is doing an excellent job. And she got to play a dead body in the movie as well. She really wanted to work in this film, and we wanted to help her work in a couple of movies before she graduates and attends Savini's. Hopefully, we will be able to work with her a lot more and she can teach us some secrets." Miller said, "She is already pulling her own weight. She is good." 
Phares said that Cartwright has plans to attend the Tom Savini's Special Make-Up Effects Program upon graduation. The program curriculum was designed by Tom Savini, the legendary horror special effects expert and makeup artist known for his work in the Friday the 13th, Dawn of the Dead, and Day of the Dead movies.
Cartwright is not the only local to play a role in the film. Thomas' very own Fred Davis will also play the part of the friend to Phares' character the bear hunter as a bear hunter in his bear hunting truck and dog boxes. Miller said, "We have had an exciting time with him. He got to meet Lloyd too and they were both so different but enjoyed each other. He is a true West Virginian."
The film will host around 15 actors with all being local residents except for the two celebrity actors and filming should be concluded by the end of September. Miller hopes to have a good edit done by Christmas with the film ready for showing in the Spring of 2023. More information and other productions done by Sir Reel Pictures, LTD can be found at sirreelpicturesdotcom.wordpress.com.