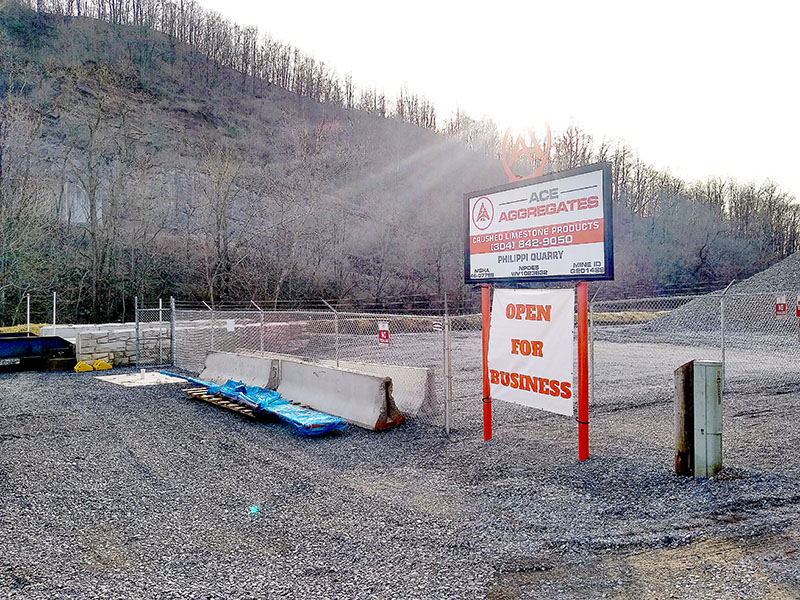 By Heather Clower
The Parsons Advocate
Significant work has been taking place at the limestone quarry at the Tucker and Barbour County line on Route 38. Alex Wolfe, owner of Wolfe Excavating and now Ace Aggregates, along with his crew are open to the public as of Monday, March 2. "We've been working on this for about a year," said Wolfe dating back to when he and his wife Latricia began consideration of purchasing the 160 acre quarry.
Prior to finalizing the agreement, extensive investigations and considerations went into play. Core drilling took place to determine the depth of the limestone seam to assist in the calculation of longevity of the quarry. Results of these drillings indicated approximately 220 feet seem of limestone. "There's definitely a future here," said Wolfe. "Our conservative mining plan is 30 years plus," he said, "and I hope to be here for all of them."
As soon as the sale became official in November 2019, major renovations began on the property including a new scale house, all new crush and screen equipment, loaders, articulated rock trucks, excavators, and water and fuel trucks. "This place has definitely got a face lift within the last month," laughed Wolfe. Six shots have been put off with significant results contributing to their inventory. There are currently 16,000 ton in stockpile along with an estimated 10 million tons of surface reserve and an additional 10 million tons of underground reserve. As far as early mining agenda was concerned, the employees began leveling and installing benches on the mountain for safety purposes.
Products offered for sale include all types of crush and run, clean stone, fifty sevens, number ones, rip rap (12 to 18 inch stone), and limestone sand. Trucking is also available through Ace Aggregates or personal trailers can be loaded on site. As of now, a couple shots are being detonated weekly to properly fill their stock goals and then will be put off as needed.
Eight employees operate the quarry on a daily basis, all of which reside locally between Tucker, Barbour, and Preston Counties, with Justin Colebank serving as mine supervisor. Wolfe also employs approximately 145 workers through his excavation company, which also benefits from having a quarry on hand. Ace Aggregates is always accepting applications, preferably from those with mining experience. When asked why Wolfe and his wife decided to dive into the limestone quarry business, he said, "We just felt there was a market not being met by suppliers."
Wolfe and the crew of Ace have also been seeking approval from the state of W.Va. for their products. "It will meet state specs," assured Wolfe. Preliminary, in house results have all returned positive, with the next steps being state administered testing of the same nature. Once the sate approves of their product, this opens up their supplies to be utilized for state projects, the Department of Highways, and projects being put out for bid.
Quarry hours run Monday through Friday, 6 a.m. until 4 p.m. They can be reached by calling the scale house at 304-457-5671. You can also find them on Facebook by searching for Ace Aggregates.