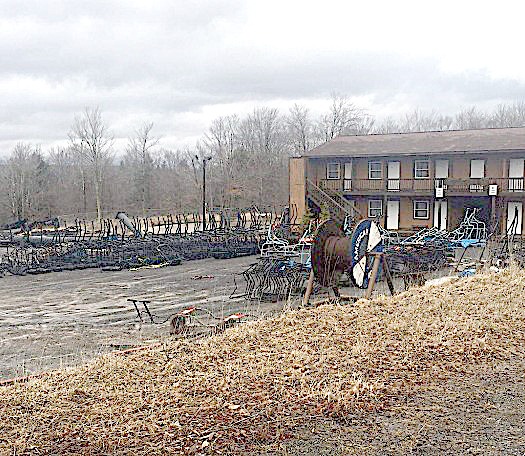 By Heather Clower
The Parsons Advocate
If you have been by Timberline, you would have noticed stacks of ski lift chairs and parts. "You would probably think we are dismantling the place," laughed Jonathan Davis, General Manager of Perfect North Slopes in Indiana.
As the new owners of Timberline, the first item of business was to thoroughly inspect the equipment on their newly acquired property. "Safety is paramount," stated Davis. "We are blessed to have someone with the knowledge and expertise such as John Dearborn," he added. Upon inspection of the ski lift, it became evident that all three were in poor condition and the estimated cost to repair the units would be equal to or exceed the cost of new lifts. "We decided it was time for those old chair lifts to go," Davis stated, "it was something that had to be done." The result will be new chair lifts for guests from the bottom to the top of the slopes.
As expected with any major renovation, Davis stated Timberline will remain a "construction zone all summer." As soon as the weather breaks and the lifts have been addressed, the crew will be inspecting the snow machines with a goal to be up and running for the 2021 ski season. "We're still in the planning stages," Davis said. Many ideas have been discussed amongst the new owners such as plans with the lodge and a potential for mountain biking, though as of now these are just considerations.
The sales listing forms were completed and filed by the Tucker County Clerk's Office on December 27. For those interested in seeing a map of the parcels now owned by Chip Perfect and Timberline Snow Company, LLC, you can visit www.mapwv.gov and type in the tax map and parcel numbers. Those numbers are as follows: tax map 350 parcel 27, tax map 350A parcel 1, tax map 350A parcel 2, tax map 350A parcel 3, tax map 350A parcel 107, tax map 371 parcel 4, tax map 351 parcel 232, tax map 351E parcel 1.51, tax map 351E parcel 1.52, tax map 351E parcel 5, Tax map 351E parcel 4, tax map 351E parcel 2, tax map 351 parcel 1.1, tax map 371 parcel 1.1, tax map 351E parcel 1.25, tax map 351 parcel 1.2, tax map 350 parcel 26, tax map 351B parcel 20.
Perfect, Davis, the new General Manager Daniel "Boonie" Neff, and other appointed staff of the new Timberline are planning to make an appearance in Tucker County next week. On Tuesday, March 17 at 1 p.m. the crew will be hosting a meet and greet at Timberline. At 5 p.m. there will be another opportunity at the Canaan Valley State Park Conference Center at the Lodge. On Friday, March 20 at Blackwater Falls State Park, Perfect and Davis will serve as the guest speakers at the Tucker Count y Chamber of Commerce Annual Membership Meeting.