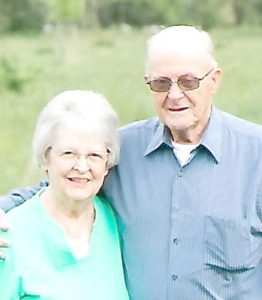 Abbie Carolyn Sponaugle Wamsley, age 81 years, a resident of Hendricks, WV, departed this life Monday morning, January 10, 2022, at West Virginia Caring Hospice Center in Elkins, WV.
She was born Sunday, March 31, 1940, at Hendricks, WV, a daughter of the late John Alvin and Dessie Hedrick Sponaugle.  She was twice married.  First to William "Bill" Holler, Sr. and on June 30, 2006, at Oakland, MD, she was married to Charles Edward Wamsley, Sr., who survives.
Also surviving are two sons, William Lee Holler, Jr of Columbus, OH, and Mark Anthony Holler and wife Basma of Woodbridge, VA; one daughter, Lesa Michele Corley and husband Kenneth, Jr of Elkins; two stepsons, Charles Edward Wamsley, Jr and wife Susan of Hendricks and Michael Paul Wamsley of Erie, PA; one brother, Paul William "Coon" Sponaugle and wife Lela of Parsons; six grandchildren; five great grandchildren; three step grandchildren; and six step great grandchildren; and Abbie's lifelong friend, Sandy Jones, who was like a sister.
Preceding her in death are one daughter Carolyn Dawn Holler; two brothers, Berlin Lee "Bud" Sponaugle and John "Tib" Sponaugle; and four sisters, Ruth Arlene Stalnaker, Evelyn Catherine Parsons, Lorraine Isabel Hedrick and M. Louise Rutherford.
She was a graduate of Parsons High School with the class of 1958, and Davis & Elkins College with an Associate Degree in Nursing.  She had worked for the Rockingham Memorial Hospital in Harrisonburg, VA, the Tucker County Hospital and Davis Memorial Hospital, practicing as an LPN from 1984 to 2001.  She was a homemaker, enjoyed cooking and baking.  Abbie was musically inclined playing guitar and singing gospel music.  She was a member of the Rosendorf Pentecostal Church of God.  
The family received friends at the Lohr & Barb Funeral Home of Parsons on Thursday from 4 to 7 p.m.  Final rites were conducted at the funeral home on Friday, January 14, 2022, at 10 a.m.  Pastor Webb Parsons and Pastor Adam Snyder officiated and interment followed at Bright Chapel Cemetery at Dry Fork, WV.  The Lohr & Barb Funeral Home was in charge of the arrangements for Abbie Carolyn Sponaugle Wamsley.  Condolences may be expressed to the family at; www.lohrbarbfuneralhome.com.