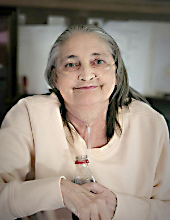 Barbara Ann Lipscomb Johnson, age 64 years, a resident of St. George, WV, departed this life Wednesday, April 12, 2023, at West Virginia Caring Hospice at Elkins, WV, with her family by her side. 
She was born Thursday, November 13, 1958, at Kingwood, WV, a daughter of the late Jack and Glenda Mae Bennett Lipscomb.  On December 3, 1977, at Preston Co, she married her high school sweetheart James E. "Jimmy" Johnson, who survives.  They had celebrated forty-five years of marriage.
Also surviving are one daughter, Jessica Lynn Brown and husband Kevin of Dry Fork; one son, Joseph Brandon "Joey" Johnson and companion Paige Hedrick of Beverly; three grandchildren, Levi Johnson and Kylie and Kaden Brown.
She is the last surviving member of her immediate family having been preceded in death by one brother, Charles Lipscomb; and two sisters, Vicky Jones and Betty Ridenour.
She attended the schools of Preston County and was an in-home nurse's aide for the elderly.  Barbara loved animals and grew up around horses, she loved riding, barrel racing and taking them to shows. She enjoyed gardening and canning her produce.  Most of all she loved her family and especially spending time with her grandkids.
The family received friends at the Lohr & Barb Funeral Home of Parsons, WV on Tuesday, April 18, 2023, from 11 a.m. to 1 p.m.   Final rites were conducted at the funeral home on Tuesday at 1 p.m.  The Reverend Justin Jones officiated and interment followed at the Fairview 1 Cemetery at St. George, WV.  The Lohr & Barb Funeral Home was in charge of the arrangements for Barbara Ann Lipscomb Johnson.  Condolences may be expressed to the family at; www.lohrbarbfuneralhome.com.