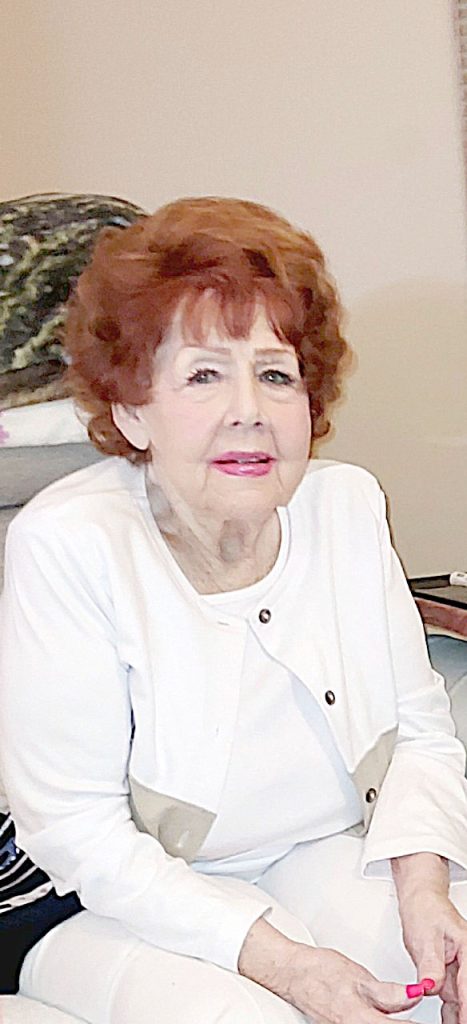 Born to Eternal Life on Christmas Eve peacefully at her home in Waukesha, WI, at the age of 89.
Loving Mother to Brenda Lee (Bruce) Zimmerman, Beverly Jean Andrus, John Stanley (Mary) Andrus, and Edward Paul (Andrea) Andrus; loving Grandmother to Christopher Zimmerman, Grant (Annie) Zimmerman, Garrett (Laurie) Zimmerman, Eric (Leslie) Zimmerman, Stephen (Samantha) Zimmerman, Laura (Tyler) Tomasko, Sheila Andrus, Cassandra (Seth) Workentine (Andrus), James Andrus, and Jonathan Andrus; loving Great-Grandmother to Grace Zimmerman, Wyatt Zimmerman, Christian Zimmerman, Connor Zimmerman, Landon Wegner, Tomi Zimmerman, and another great granddaughter on the way.
She was preceded in death by her sister, Joann Jarosiewicz (nee Bava); brother, Joseph Bava, Jr.; and step-mother, Norma E Bava (nee Bohon).
Additional survivors include four half-brothers: John, James, Pete, and David Bava; and three half-sisters; Diane Phillips (nee Bava), Connie Rosier (nee Bava), and Louanna Carr (nee Bava), all from WV.
Dorothy was born December 15, 1933, as a Coal Miner's daughter in Coketon, WV. First born to the late Joseph Harry Bava Sr. and Alvena Antonia Bava (nee Pregley). Dorothy attended Parsons High School, graduating class of 1951. She was active in school club plays, Home EC, Glee Club, and the Secretary of her class.
Her sister Joann and her were Gospel singers at a young age and later sang for clubs for a short period of time and called themselves the "Bava Singers".
Dorothy was a strong, hard-working woman who carried multiple varieties of employment over the years. 'Keebler' in Philadelphia and after moving to the Midwest. Bartender, waitress, 3M Chemo Lite, and an entertainer at a piano bar. But her fondest years of working were for Michael Cudahy at MEI on Tower Ave. in Milwaukee where she called herself a "High-Tech Grandmom". Her sister, Joann, and her worked for the Service and Supplies department In Jupiter, Florida, for 5 years until the plant closed and she retired at 65 and took a couple of years off. Then she decided to return back to work at 67 for GE Healthcare in Milwaukee, until she was 78 when her job was transferred to China. She loved the people and the family environment and all the fun parties they had.
Dorothy was an excellent seamstress and a musician. She played piano, accordion, and had a singing voice of an angel. She loved to cook and bake free hand old school. She enjoyed golfing, word puzzles, shopping for clothes, and listening to Gospel, Country, Elvis, and Rock & Roll. She loved to watch all her evangelists: Jimmy Swagger, Joel Osteen, Joyce Meyer, Billy Graham, etc. Daily shows included The Price is Right, Jeopardy, GH, Wheel of Fortune, and multiple Reality shows. Daily check in on her FB for family pictures, Elvis's songs, and pictures and recipes. But most of all she loved to sunbathe and be around any body of water. Hated the Midwest winters. Her memorable moments were being around her Midwest family, WV, and East Coast family celebrations and embraced the family she created and any reason to dress up pretty and party.
She was the Matriarch of the family. She stood tall with pride with her two-inch heels and her hour glass frame. She was beautiful and entertaining, and always inspirational to be around with her gorgeous smile; a True Class Act. There was no holding back with her strong opinions and advice, a straight shooter. A wonderful woman with many stories and was dearly loved and respected by all. A Memorable Treasure, she is a hard act to follow and she paid her dues in her long life and is at peace now.
GOD SAW YOU GETTING TIRED AND A CURE WAS NOT TO BE, SO HE PUT HIS ARMS AROUND YOU AND WHISPERED "COME TO ME". A GOLDEN HEART STOPPED BEATING, HARD WORKING HANDS AT REST. GOD BROKE OUR HEARTS TO PROVE TO US HE ONLY TAKES THE BEST.
A private service with immediate family will be held with a celebration of Dottie's life at a later date this summer. Thank you to all our family and friends for your support and prayers