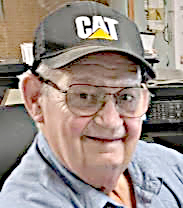 Jerry Brant Flanagan, 77, of Thomas, passed away on July 15, 2023, at Garrett Regional Medical Center, surrounded by his family. Born on March 15, 1946, in Elkins, he was the son of the late Rudolph Ruleman and Mary Virginia (Hinkle) Flanagan.   
Jerry was a 1964 graduate of Mountaineer High School. He attended Fairmont State College and was drafted in the Army in 1966. He served during the Vietnam War, both in Vietnam and Germany. He was an instructor at West Point. He married the love of his life, Anita (DiBacco) Flanagan, on August 16, 1969. Jerry taught at the Tucker County Vocation Center, he was a police officer for both Thomas and Davis, and a Tucker County Sheriff's Deputy. He was a skilled welder and heavy equipment mechanic. After retirement, he owned and operated Flanco, LLC. He served as a Grand Knight in the Knights of Columbus and was a member of the St. Thomas Aquinas Catholic Church. He was also a member of the American Legion Post #22, the FOE #936, the International Union of Operating Engineers #132, and the Mt. Top Hunting Club.
He enjoyed football, baseball, hunting, fishing, and having coffee with his friends and family. He never hesitated to give his advice or opinion to his sons and grandsons. Jerry will be greatly missed by family and friends.
In addition to his wife, he is survived by two sons, Michael Brant Flanagan and wife Melony of Hambleton, and Rudolph Joseph "Jody" Flanagan of Thomas; two grandchildren, Caleb Brant Flanagan and Collin Michael Flanagan; three brothers, Gary L. Flanagan and wife Connie of Springborow, OH, Brian K. Flanagan and wife Kim of Oakland, and Leslie H. Flanagan and wife Kathy of Charlotte, NC;  two sisters in law, Cheryl Flanagan of  Rome TX, Renaa DiBacco of Thomas;  a brother in law Joseph DiBacco of Thomas ;  along with a host of cousins, nieces, and nephews
. 
In addition to his parents, he was preceded in death by two brothers, Rudolph Warren Flanagan, James Hillary Flanagan, and mother and father-in-law, Edith and Guido J. DiBacco.
In accordance with Jerry's wishes, he was cremated. A Mass of Christian Burial will be held on Tuesday, July 25, 2023, at 11 AM in St. Thomas Aquinas Catholic Church with Fr. John V. DiBacco and Fr. Martin Smay as co-celebrants. Interment will follow in the Mt. Calvary Cemetery, where military honors will be accorded. 
In lieu of flowers, memorial donations can be made to Mt. Calvary Cemetery Fund , Knights of Columbus #2010 or St. Thomas Aquinas Catholic church.       
The Hinkle-Fenner Funeral Home is honored to be serving the Flanagan family at this time.