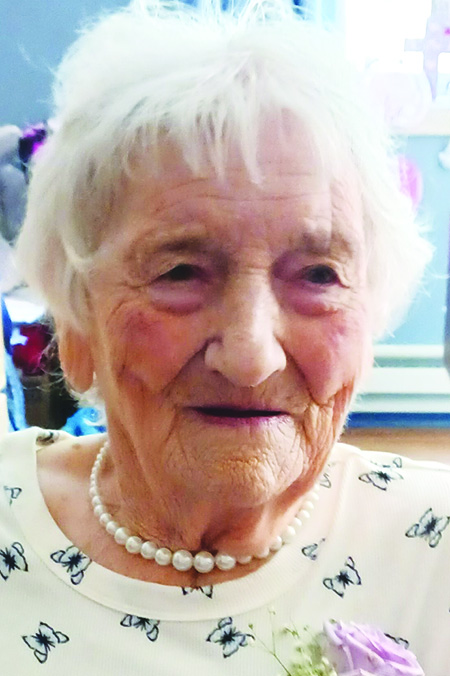 Leota Annis Plum Knotts Parsons, age 96 years, a resident of Parsons, WV, departed this life Thursday morning, November 2, 2023, at the Tygart Valley Health and Rehabilitation Center at Belington, WV.  For the past several years, she has resided at Talbott Assistant Living, and Good Samaritan of Belington, WV.
She was born Tuesday, January 18, 1927, at Parsons, WV, a daughter of the late Albert Plum and Maude Claire Bohon Plum.  Her Grandmother was Mandy Poling.  Leota grew up in Holly Meadows.  Her home was a two-story house that stood where Lipscomb's Storage units were before all the excavating was done.  Later, she lived on top of the hill behind there, which had been cut off, making room for the new Corridor H.  She walked to school, crossing the Moss bridge, to a one room schoolhouse standing on the right.  
She was twice married.  First on September 25, 1942, at Red House, Md. to Denver Aubury Knotts of Horseshoe Run, who preceded her in death on October 17, 1989.  They celebrated forty-seven years of marriage.  Second on November 29, 1991, she married Cyrus "June" Parsons, who preceded her in death on June 26, 2005. They were together for fourteen years before his death.
Left to cherish Leota's memories are two sons, Danny Hayward Knotts and wife Roberta of Holly Meadows, Ricky Anthony Knotts and wife Cindy of Horseshoe Run; six daughters, Linda Paulette Falls and husband Lee and Gloria Faye "Cookie" Frame and husband Marshall, all of Horseshoe Run Road, Janet Susan Nestor and husband Gary of Holly Meadows, Cheryl Annis Maxwell of Parsons, and twins, Wanda Marlene Bohon of St. George and Ronda Darlene Cavalier of Leadmine; stepson, Donald Sypolt; daughters-in-law, Debbie Knotts and Linda Knotts; numerous grandchildren; several great and great-great grandchildren, that she loved very much, and several nieces and nephews.
She is the last surviving member of her immediate family having been preceded in the by two sons, Denver "Mack" Knotts and Edward Lynn Knotts; one daughter, Carol Poster; five brothers, Otto, Claude, Arthur, Lester and Johnny Plum; and five sisters, Dessie Miner, Goldie Loughry, Decota Shahan, Marie Ludwick and Elsie Shupp.
She was a member of the First United Methodist Church at Parsons. Leota truly loved her flowers and gardens, working hard canning and raising their large family on the farm.  Later, she worked at White Gables Nursing home in Parsons and Black Water Falls Kitchen, Davis, WV. 
The family received friends at the Lohr & Barb Funeral Home of Parsons on Monday from 4 to 7 p.m..    Final rites were conducted at the funeral home on Tuesday, November 7, 2023, at 11 a.m.   The Reverend Julie M. Davis officiated and interment followed at the Bonnifield Cemetery at Horseshoe Run Road, St. George, WV.  The Lohr & Barb Funeral Home was in charge of the arrangements for Leota Annis Plum Knotts Parsons.  Condolences may be expressed to the family at; www.lohrbarbfuneralhome.com.