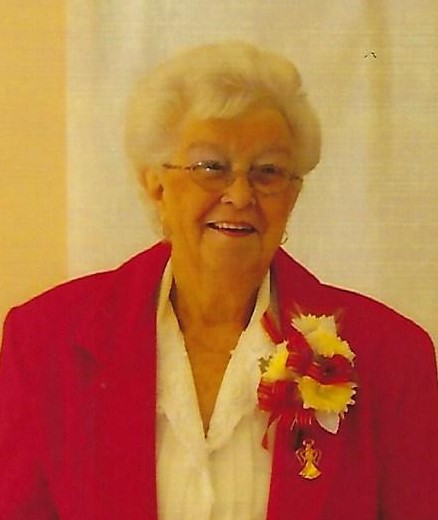 Mary Elizabeth Knotts Watring, age 95 years, a resident of Shaffertown, more recently of Cortland Acres Nursing Home, Thomas, passed this life Tuesday, March 7, 2023 with her devoted and loving family at her side.
Mary was born January 20, 1928 in Thomas, WV, a daughter of the late Arthur Arnsworth and Martha Ellen Helmick Knotts. 
On December 2, 1945, in Red House, MD, she married Berdean O. Watring who preceded her in death October 21, 1994.
Mary attended school in Sugarlands, she later got her GED.  Mary was a homemaker and known for her homemade coconut crème pie.  She enjoyed singing in the choir at church and at the Parsons Senior Center.  Mary loved to cook, bake, read, crochet, embroidery, sew and especially quilting.  She loved to cook for her family.  Mary was a member of the United Methodist Women for over 60 years, serving and held many offices.  She served as a board member of the Parsons Senior Center.  She was a member of CEOS formally known as WV Extension Homemakers for many years.  All who knew her will miss her.
Left to cherish her memory are three daughters, Mary Jane Smith, Rebecca Ann (Rick) Filler, both of Shaffertown and Nancy Moore, of Clover Run.
Five grandsons, Scott (Misty) Filler, Chad (Penny) Smith, Jason (Lisa) Smith, Bryan (Stephanie) Moore, Steven (Cheri) Filler, one granddaughter, Latisha (Tim) Poe; Ten great grandchildren, Adair, Trent, Karlee, Gracie, Camille, Gunnar, Avery, Elizabeth, Jonathon, Brycen and Jaydan.  Two great great-granddaughters, Asa and Zailee and several nieces and nephews.
Preceding her in death besides her parents and husband, were two sisters, Elise (Eston) Roy and Bernice (Clifford) VanMeter and one brother Elwood (Hazel) G. Knotts.  Two son-in-laws, Neil Moore and Wayne Smith.  Mary was the last member of her immediate family.
The family received friends at the Lohr & Barb Funeral Home of Parsons on Sunday from 3 to 5 p.m.  Final rites were conducted at the funeral home on Monday, March 13, 2023, at 11 a.m.  The Rev. J. Michael Lantz officiated and interment followed at the Bethel Cemetery at Holly Meadows.  Family suggests Memorial donations in memory of Mary be made to Fiver Rivers Public Library, 301 Walnut St., Parsons, WV 26287.   The Lohr & Barb Funeral Home is in charge of the arrangements for Mary Elizabeth Knotts Watring.  Condolences may be expressed to the family at; www.lohrbarbfuneralhome.com.