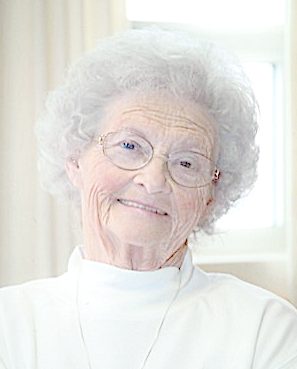 Mary Virginia "Toots' Hinkle Flanagan, 92, of Oakland, MD, passed away peacefully at home, in care of Hospice on November 29, 2019. Virginia was born February 2 "Groundhog Day", 1927, in Cumberland, MD, to Hiesel Carr and Boyd Hinkle. She was raised by her grandparents, Mary Ellen (Bennett) Hinkle and Charles Hinkle, from the age of 5 months. Virginia married the love of her life, Rudolph Ruleman Flanagan, at the age of 16 on Easter Sunday, April 25, 1943. When Rudolph went into the service during WWII, Virginia proudly went where he went and worked.
Virginia and Rudolph raised six sons, Jerry, Warren, Jim, Gary, Brian, and Leslie. She was preceded in death by her parents, Hiesel and Boyd, husband Rudolph, sons Warren and Jim, sister Neva and brother Charles (Chub) and one daughter-in-law, Martha Hardy Flanagan. Virginia is survived by four sons, Jerry (Anita) of Thomas, WV, Gary (Connie) of Cincinnati, OH, Brian (Kim) of Oakland, MD, and Leslie (Kathy) of Charlotte, NC. She is survived by 17 grandchildren, (Mike, Jody, Beth, Jim, Erin, Lauren, Kari, Jared, Travis, Stephanie, Rudy, Chris, Spencer, Ben, Mary, Kevin, Sean), 25 great grandchildren (Caleb, Collin, Jacob, Shelby, William, Isaac, Kamryn, Brock, Kristen, Brooklyn, Aubrin, Reagan, Hadlee, Jaidyn, Jaivry, Alex, Gunner, Giselle, Liam, London, Anna, Lauren, Eli, Julianne, Aubrey) and one great great grandchild, Gage.
After the passing of her dear husband Rudolph in 1976, Virginia pursued her career in nursing in 1978. She graduated from Davis and Elkins College with her LPN in 1979 at the age of 52 years. She worked at Tucker County Hospital, Mountain Top Family Care and Cortland Acres Nursing Home until her retirement in 2001, as a nursing supervisor.
Virginia was a lifetime member of the Eastern Star and The Rebekah's and a member of The Church of Jesus Christ of Latter-day Saints. She served many years as Relief Society President, Gospel Doctrine teacher and truly loved the temple. She loved to read her scriptures, do word searches, home process foods grown and raised by the family and visit with family and friends.
Virginia has been joyfully reunited with Rudolph, her sons, and many family members. Her special spirit will be missed here on the Earth, but her mortal journey is complete. Her legacy will be the many patients she cared for with love and the life lessons she taught.
Virginia will be interred at Flanagan Hill Cemetery in Red Creek, WV. Funeral services are provided by Newman Funeral Homes, P.A., 1100 Memorial Dr., Oakland, MD, 21550. Visitation was held Monday, December 2 from 5 to 7 p.m. and Tuesday, from 10 a.m. to 1 p.m. Service were held in the funeral home chapel following visitation at 1 p.m.  Following the graveside services, a meal was served at the Flanagan Hill Community Center graciously provided by the Flanagan Hill Farm Women's Club and the Relief Society of the Oakland Branch of the Church of Jesus Christ of Latter Day Saints.
In lieu of flowers, donations may be made to the Hospice of Garrett County, 203 S. 2nd St., Oakland, MD, 21550.
Condolences may be sent to her family at www.newmanfuneralhomes.com.