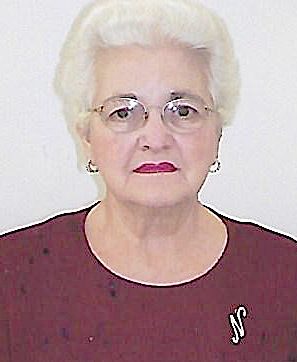 Nettie Genevie Loughry Bright Lipscomb, age 81 years, a resident of the Holly Meadows Community, Parsons, WV departed this life early Wednesday morning, October 9, 2019 at the Ruby Memorial Hospital at Morgantown, WV with her loving family at her side and under the care of WV Caring.
She was born Thursday, March 3, 1938 at Licking Creek, Tucker Co., a daughter of the late Adam H. and Arizona Hershman Loughry.  She was twice married.  On April 14, 1957 at West Union, WV, she was married to Harold Gene "Squeak" Bright, who preceded her in death.   On September 28, 2002 at Parsons, WV, she was married to Jennings Randolph Lipscomb, who survives.
Also surviving are three sons, James Patrick "Pat" Bright of Pifer Mt.; Mark Allen Bright and Paul Keith Bright and wife Marlene of Pheasant Run; one brother, Pete Nestor and wife Pat of Kingwood; two sisters, Juanita Roy of Parsons and Janet Bohon of St. George; one granddaughter, Misty Dawn Ritter and husband Mike of Thomas, WV; two great-grandchildren, Laylah and Austin Ritter of Thomas; a special friend, Jean Myers; and several nieces, nephews and cousins.
Preceding her in death are one son, Michael Lynn Bright; one daughter, Pauletta Kay Canfield; one sister, Linda Sue Cale; one infant brother; and one daughter-in-law; Vickie Rena Freeman Bright.
She attended the one room school at Bull Run and was a graduate of Parsons High School with the class of 1956.  She graduated from D & E College in 1976 with a Bachelor of Science Degree and received her Master's  Degree from West Virginia University.   She was an employee of the Tucker County Board of Education, working at Head Start, the St. George Academy, Parsons Grade School and Tucker Valley Elementary, retiring in 1996, with twenty plus years in education.  She was a member of the Sycamore Grove Church at Bull Run.
Nettie enjoyed traveling, attending plays at Lancaster, PA and Gettysburg, where she enjoyed the history there.   She also enjoyed sewing, quilting, playing Bingo and going to the Senior Center.
The family received friends at the Lohr & Barb Funeral Home of Parsons, WV on Sunday from 4 to 7 p.m.  Final rites were conducted at the funeral home on Monday, October 14, 2019 at 11 a.m.  Rev. Pat Cassidy officiated and interment followed at the Parsons Family Cemetery at Shavers Fork.  The Lohr & Barb Funeral Home was in charge of the arrangements for Nettie Genevie Loughry Bright Lipscomb.  Condolences may be expressed to the family at www.lohrbarbfuneralhome.com