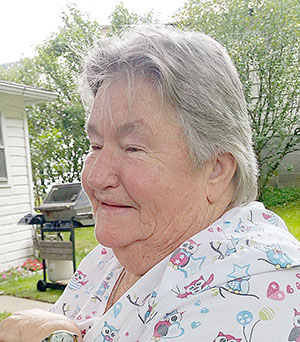 Patricia Elizabeth Pratt White, age 77 years, a resident of the Dry Fork Community, Hendricks, WV, departed this life, Thursday, December 19, 2019 at Mon General Hospital in Morgantown, WV.  She had been in declining health.
She was born Tuesday, March 17, 1942 at Harman, WV, a daughter of the late Walter Solomon and Gettie Laura Pennington Pratt.   On July 2, 1970, she was married to the love of her life David White, Sr., who preceded her in death on February 21, 1992.
Surviving are three sons, Ervin Richard "Rick" White and wife Wanda Ann of Parsons , Michael Walter White of the Dry Fork Comm., Hendricks, and Ronald Keith White of Franklin; three daughters, Kerry Ann Riggleman of Harrisonburg, VA, Janet Lou Bucklew and husband Raymond of New Creek, and Helen Marie Rhodes and husband Kelly of Parsons; one brother, William Wilson Pratt of Elkins; two sisters, Beatrice Kay Johnson and husband Danny of St. George and Dorothy R. Lipscomb and husband John of St. George; six other siblings include, Roger Pratt, Alvin Pratt, Carolyn Large, Judy Moats, Lowell Pratt and Marion Anderson; one half-sister, Bunny of Baker, WV; numerous grandchildren, great grandchildren and great-great grandchildren; and several nieces and nephews.
Preceding her in death one son, David Marshall White; one step-son, David "Eddie" White; one daughter, Frances Kathryn "Kathy" White, two step-daughters, Evangeline Mae Johnston and Goldie Catherine White; two brothers, Walter Lee "Buck" Pratt and Samuel Pratt; one sister, Shirley Temple Davis; two grandchildren, Wayne Whetstone and Cody Jacob Bucklew; and several half brothers and half sisters.
She was a graduate of Parsons High School with the class of 1960.  She was Baptist by faith and followed Charles Stanley.  She was a homemaker and baker and well known for her cinnamon rolls.  She loved to read, work jigsaw puzzles and feed her hummingbirds.
In her earlier years, she loved square-dancing with her husband.  She raised a farm and a garden and canned and preserved her own food.  She retired from the United States Postal Service in Red Creek, WV during 2014.
The family received friends at the Lohr & Barb Funeral Home of Parsons on Sunday from 4 to 8 p.m.  Final rites were conducted at the funeral home on Monday at 11 a.m.  The Rev. Neil Parsons officiated and interment followed at the Brights Chapel Cemetery at Dry Fork, WV.  The family suggest that expressions of sympathy be in the form of contributions to Brights Chapel Cemetery, c/o 68 Rampy Hollow Rd., Hendricks, WV 26271; or Calvary Chapel Mountain Highlands Church at Buckhannon, WV. The Lohr & Barb Funeral Home is in charge of the arrangements for PATRICIA ELIZABETH PRATT WHITE.  Condolences may be expressed to the family at; www.lohrbarbfuneralhome.com.