TCHS Students of the Week
By Jamen Dudley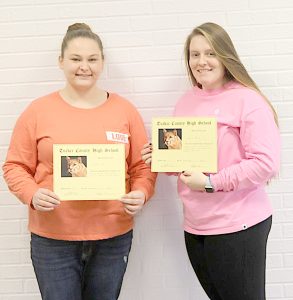 "Change your thoughts and you change your world," said Norman Vincent Peale. At Tucker County High School, students are encouraged to make positive choices. With these choices much thought and effort are required. When young people take the time to think through situations, they start becoming mature adults.
The students who have shown maturity, changed their thoughts, and consistently have worked to go above and beyond academic and behavior expectations to change their world include seniors Gracie Rapp and Candy Cross.
Gracie Rapp was nominated for always being willing to help fellow students and staff with anything they need.
Candy Cross was nominated for always giving 100 per cent effort and volunteering to help others.
These Students of the Week are to be commended for exemplifying the principles of Mountain Lion CARE: courtesy, attitude, responsibility, and engagement.
---
Remodeling TCHS's Restrooms
By Jacob Phillips
Students from TCHS Carpentry I, II, and III classes are currently remodeling the boy's restroom by the office. According to instructor Paul Pennington, the class has been working on this project for about five weeks. The class is removing the metal dividers of the stalls and replacing them with concrete walls. New doors will be installed.
The plan is to eventually remodel all the school's restrooms this school year. The cost of renovating the restrooms will be about $1,000 per restroom.
As Pennington explained, "The benefits of the students completing this project are twofold: we are saving the county money, and the students are getting valuable hands-on experience."
---
Corn Hole Tournament
By Jordan Teter
TCHS Fellowship of Christian Athletes (FCA) is sponsoring a Corn Hole Tournament in the gym on December 20th, the last day of school before Christmas Break. It is $5 to play, and all students can participate if they have a partner. There will be multiple games held at a time – all in a single elimination tournament.
The winning team will receive a prize donated by FCA.
FCA wants to make at least a $100 from the Corn Hole Tournament because the money is going to benefit a family in our community who has been affected by cancer. "We hope to raise a little money to help the family celebrate Christmas." explained Coach Josh Evans, FCA Advisor.
A Corn Hole Tournament has been a traditional fundraiser for FCA.