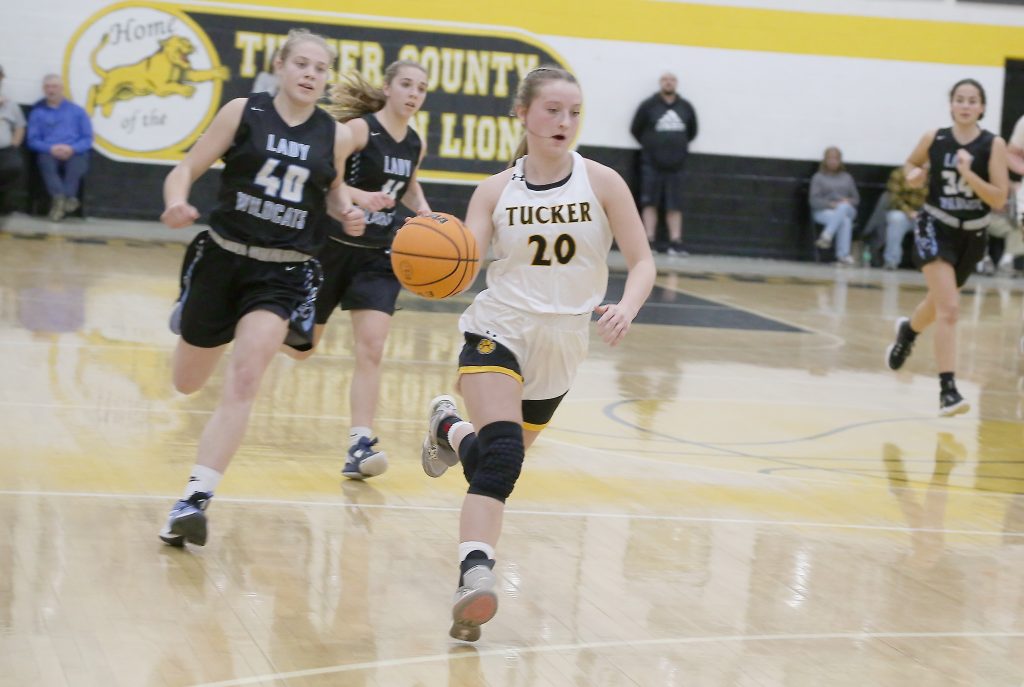 By Chris George
TuckerCountySports.Com
HAMBLETON – The Tucker County Girls' Basketball team hosted Pendleton County for a Varsity only contest on Tuesday January 17th.  The visiting Lady Wildcats built a lead and held off a Lady Mt. Lions comeback to give Pendleton County the 67-54 victory.
The first quarter was controlled by Pendleton County as they led after one quarter 13-7.  The Lady Mt. Lions fought back early in the second quarter, but the Lady Wildcats made a run late in the quarter to outpace Tucker County 14-8 in the second period to make the halftime score 27-15 Pendleton County.
The third quarter was won slightly by Pendleton County 23-19 to give the Lady Wildcats a 50-34.  The Lady Mt. Lions battled in the fourth as they cut the Lady Wildcats lead down to 10 points, but the 20-17 advantage by Tucker County in the fourth was not enough.  Pendleton County got the road win over Tucker County 67-54.
The Lady Mt. Lions were led by Kadie Colebank with 31 points, 14 rebounds and Avery Colebank added 8 points for Tucker County in the loss.  Brylee Wetzel added 5 rebounds and 5 assists for the Lady Mt. Lions in the loss.
DUNMORE – The Lady Mt. Lions Basketball team traveled to Pocahontas County on Friday January 20th for a road game against the Lady Warriors.  Tucker County jumped out to a quick lead and then they cruised to a 65-22 victory.
The first quarter was controlled by the Lady Mt. Lions as led after one quarter 21-4.  Tucker County then outscored the Lady Warriors in the second quarter 17-6 to put the halftime score at 38-10. 
The third quarter was also won by Tucker County 15-9 to push the score to 53-19 Lady Mt. Lions after three quarters of play.  In the fourth quarter Tucker County held Pocahontas County to just 3 points and the Lady Mt. Lions scored 12 points in the fourth to make the final score 65-22 Tucker County.
Kadie Colebnk led Tucker County with 15 points, 10 rebounds.  Macy Helmick added 14 points, 6 rebounds, 6 assists and Ericka Zirk had 14 points in the win for the Lady Mt. Lions.  Brylee Wetzel and Addie Hicks chipped in with 8 points each for Tucker County.  The Lady Mt. Lions JV team won 36-14.
Tucker County(11-1) will return to action on Friday January 27th at home against Gilmer County.  The Lady Mt. Lions will then travel to Elkins on Tuesday January 31st.  The JV games, both nights will start at 5:45pm with the varsity contests to follow the JV games.  For more info go to TuckerCountySports.Com.