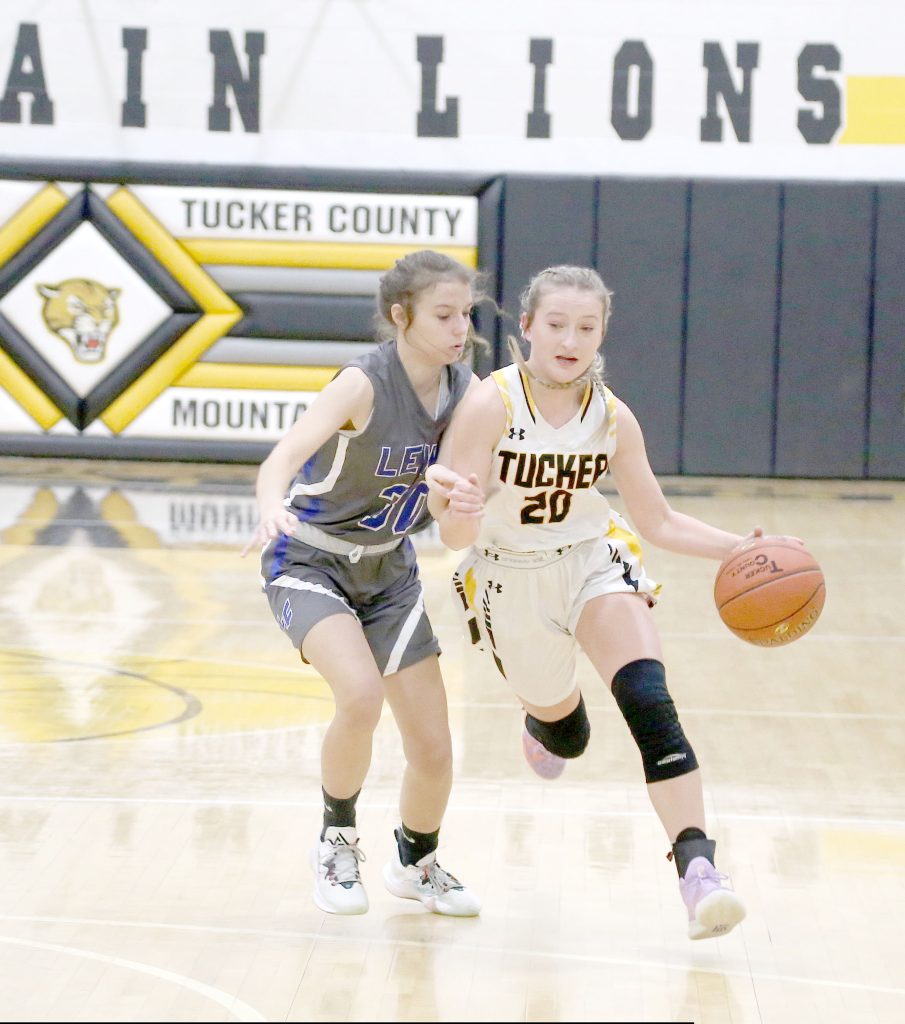 By Chris George
TuckerCountySports.Com
FRANKLIN – The Tucker County Girls' Basketball team traveled to Pendleton County on Tuesday December 14th.  The Lady Mt. Lions jumped out to early lead the went on to win the game by the final score of 58-45.
Tucker County came out fast on offense as they outscored the Lady Wildcats 19-8 in the first quarter.  Tucker County edged Pendleton County on the scoreboard in the second 10-9 to make the halftime score 29-17 Lady Mt. Lions.
Tucker County controlled the third quarter 14-13 to make the score 43-30 Lady Mt. Lions after three.  The fourth quarter was played even 15-15 to give Tucker County the win by the final score of 58-45.
Kadie Colebank led Tucker County with 30 points, 23 rebounds, 4 blocks and Jayden Kuhn added 15 points for the Lady Mt. Lions in the road win.  Avery Colebank chipped in with 7 points and Brylee Wetzel added 9 rebounds for Tucker County.  The Lady Mt. Lions JV team fell in overtime 49-44.
HAMBLETON – The Lady Mt. Lions hosted Lewis County on Saturday December 18th.  Tucker County put together a big second quarter to pull away and get the home win over Lewis County 45-28.
The first quarter was a battle as neither team could build a lead as Tucker County led 8-7 after one.  The Lady Mt. Lions then pulled away in the second quarter as they outscored Lewis County 17-2 to take a commanding 25-9 lead at the half.
Tucker County then extended their lead in the third as they outpaced Lewis 10-6 in the period to put the score to 35-15 after three quarters.  Lewis County tried to rally in the fourth, but Tucker County held off the visitors to capture the victory by the final 45-28..
Tucker County was led by Kadie Colebank with 20 points, 20 rebounds, 7 blocks and Macy Helmick added 16 points, 6 rebounds for the Lady Mt. Lions in the victory.  Avery Colebank also pulled down 8 rebounds for Tucker County in the win.
Tucker County(5-1) will return to action on Tuesday December 28th at home against Gilmer County.  The JV contest will start at 5:45pm with the Varsity game to follow.  For more info go to TuckerCountySports.Com.