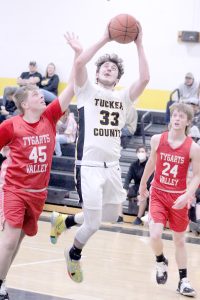 By Dave Helmick
TuckerCountySports.Com
HAMBLETON – The Mt. Lion Boys' Basketball team hosted Tygarts Valley on Wednesday January 12th.  Tucker County got an early lead and cruised to a 60-27 win.
The first quarter was controlled by the Mt. Lions as they pulled out to a 16-7 lead after one quarter.  Tucker County extended their lead in the second quarter as they outscored the Bulldogs 16-8 to make the halftime score 32-15.
The third quarter was even as both teams scored 9 points in the quarter as the end of the third scoreboard was 41-24 Mt. Lions.  The fourth quarter showed a 19-3 advantage by Tucker County to put the final score of 60-27.
Aaron Quattro led the Mt. Lions with 20 points and Maddox Anderson added 11 points for the Mt. Lions.  Zach Long chipped in with 8 points and Ashton Lycliter had a team high 10 rebounds for Tucker County.
KEYSER – Tucker County traveled to Keyser on Friday January 14th.  The Mt. Lions dominated Keyser in the first quarter and picked up the road win by the score of 64-49.
Tucker County exploded for 23 points in the first quarter and held Keyser to 1 point to put the score at 23-1 Mt. Lions after one quarter.  Tucker County then edged Keyser in the second quarter 13-11 to put the halftime score to 36-12 Mt. Lions.
The Golden Tornados fought back in the third to outscore Tucker County 13-7 as Tucker County led after three 43-25.  Keyser would also outpace the Mt. Lions in the fourth 24-21, but Tucker County got the victory by the final score of 34-49.
Owen Knotts led Tucker County with 12 points and Ethan Rosenau added 11 points for the Mt. Lions.  Haden Wamsley and Ashton Lycliter chipped in with 10 points each for Tucker County.  Lycliter collected 10 rebounds and Anderson had 4 assists for the Mt. Lions.  The Tucker County JV team fell by the score of 53-46.    
Tucker County (9-1) will return to action on Friday January 21st at the St. Marys High School Tournament against Van at 6pm.  The Mt. Lions will then play on Saturday January 22nd in the St. Marys Tournament.  The game Saturday will be at 3:30pm for the Consolation game or 7:30pm for the Championship game.  For more info go to TuckerCountySports.Com.