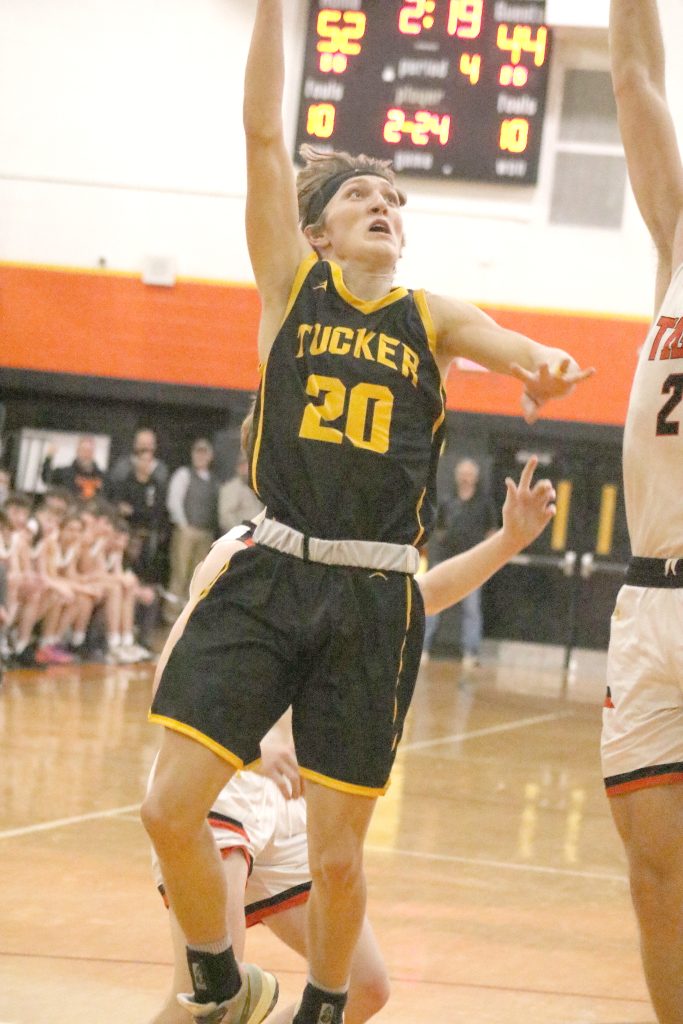 By Dave Helmick
TuckerCountySports.Com
ELKINS – The Mt. Lions Basketball team traveled to Elkins on Saturday December 17th to open their season with a game against the TIgers.  Tucker County trailed 36-25 at the half, but the visiting Mt. Lions could not complete the comeback as they fell in the contest 54-46.
The first quarter went back and forth as both teams battled through a close first quarter.  Elkins led after one 13-9.  The second quarter seen the scoring increase as the homestanding Tigers outscored Tucker County 23-16 to give Elkins a 36-25 lead at the halftime intermission.
The Mt. Lions would fight back in the third quarter as their defense stepped up to hold Elkins to just 3 points in the third.  Tucker County outpaced the Tigers 10-3 in the third quarter to make the score 39-35 at the end of the third.  In the fourth quarter Tucker County got within 2 points with 7:36 left in the game when Trevan Bonner connected on a layup to make the score 39-37 Elkins.  The Mt. Lions would get no closer the rest of the game as Elkins went on to outscore Tucker County 15-9 the rest of the game to capture the win by the final score of 54-46.
Trevan Booner led Tucker County in scoring with 19 points and Ashton Lycliter added 8 points, 16 rebounds in the Mt. Lions loss.  Owen Knotts chipped in with 7 points and 5 rebound for Tucker County.  Elkins was led by Cory Harper with 19 points and Tanner Miller added 17 points for the Tigers.  The Tucker County JV fell in the first game by the score of 48-34. 
Tucker County(0-1) will return to action tonight, Wednesday December 21st at home against Pendleton County.  The JV contest will start at 5:45pm with the varsity game to follow.  For more info go to TuckerCountySports.Com.