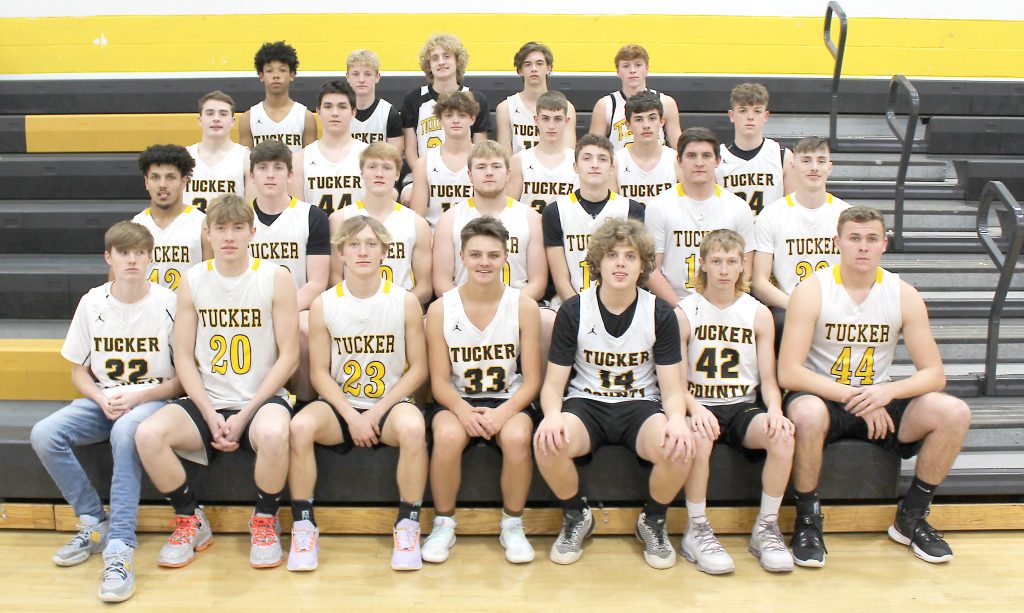 By Dave Helmick
TuckerCountySports.Com
HAMBLETON – The TCHS Boys' Basketball team will get their 2022-2023 season underway at home on December 15th against East Hardy for a JV / Varsity contest starting at 5:45pm.
Head Coach Daniel Helmick returns for his 4th season as the Tucker County Boys' Head Coach.  Last season the Mt. Lions finished the season in the State Semi-Finals with a loss to Greater Beckley Christian 48-40.  Tucker County opened the 2022 State Tournament with a 59-45 win over Pendleton County, but fell in the next game to Greater Beckely.  The Mt. Lions would end the season with a 24-3 record and a great playoff run.  After a Final Four run in Charleston last season there is a great deal of excitement for this year's team.  Helmick said, "This year our goal is to get to the finals, the kids have bought in to guarding on defense and getting stops."  Helmick also added, "We are going to score the ball I think easier than we have the last 3 years."  "We are getting them back to basketball mode after a successful football season for most of these kids."  
This year's team will be made up of 25 players overall JV and Varsity.  Coach Helmick will return several players who gained Varsity experience from last year's State Tournament team.  Senior Players such as Levi Bennett and Aaron Quattro with experience.  Seniors Dom Mullenax and Will McCallister also look to contribute to the team this year.  Juniors Maddox Anderson, Ashton Lycilter, Owen Knotts return from a great sophomore season a year ago.  Juniors Ethan Rosenau, Justin Robeson and Brok Bennett will also see some action this season.  Sophomore Trevan Bonner had a great State Tournament last season as a freshman and Sophomores Garrett Wilfong and Cole Carr will round out the varsity roster for Coach Daniel Helmick.  When asked about this group of players being focused on the goal Helmick said, "These kids want to win, they are great kids, you have to run them out of the gym after practice, they are getting extra shots up before and after practice, it has been great."
The 4 class system is here to stay as the WVSSAC has decided to keep this setup for the future.  This keeps the Mt. Lions in Class "A" going forward and the road to Charleston will be the same as last season as far as teams they play.  The Mt. Lions will again be in the same Section with East Hardy, Union and Paw Paw.  The other side of the Region will again feature Pendleton County, Pocahontas County, Harman and Tygarts Valley.  
Tucker County's schedule this season will be tough once again as the Mt. Lions have added some games that will challenge this team.  The Mt. Lions will play home and away contest with their traditional rivals East Hardy, Moorefield, Tygarts Valley, Pendleton County.  Tucker County has added Southern Garrett, MD back to the schedule for home and away games.  The Mt. Lions will play single games against Elkins, Petersburg, Harman, Mountain Ridge,MD and Pocahontas County.  Tucker County will travel to Tug Valley to participate in games against two quality teams in Cameron and Wesley Christian on December 29 and 30.  The Mt. Lions will also participate in a Tournament at Tyler Consolidated that will feature teams such as defending State Champions James Monroe.  Clay-Battelle and Tyler Consolidated will also participate in the Tournament on January 13 and 14.  This schedule will be tough, but it will prepare this Tucker County team for a post season run.  Helmick had this to say about his schedule, "We have definitely challenged ourselves with this schedule, this has to be one of the toughest schedules in Class A."
The boys' season will get underway on December 15th at home against East Hardy for this Tucker County team.  If you cannot make it out to the games this season all home basketball games will be broadcast live on Youtube.  For more info and a link to the Youtube channel go to TuckerCountySports.Com.